Out of nowhere, Life is Feudal: MMO has opened its gate for new players to try the game for free! And even better, newcomers can also get their 3 days of premium subscription to advantages further into the game quicker!
If you haven't heard of this title yet, let's see for yourself the Middle Ages survival struggles in the trailer below:
Life is Feudal: MMO to follow to F2P route from now on!
Life is Feudal: MMO is a survival title from the independent indie studio - Bitbox. It has gained most of their reputation through the Life is Feudal series, containing three separate games.  Life is Feudal: MMO is among those three titles, and it cost players around $20 to get in its world.
Until now! With its latest update, the developer also took this chance to announce that the game is available for free! It didn't reveal the reasons behind this decision yet, other than "give even more opportunities for newcomers". However, the recent drop in the number of players has caused the studio to struggle a lot. To be mỏe specific, the game only saw an average of 500 people online at the same time, remarkably lower than the number of 3000 in 2018. I think the main reason for this free open is not very far from that!
Bitbox also expressed that it's a tribute to all the players' love for the game, and they will bring more and more contents to the land of Abella in the future. Furthermore, the developer is also giving another sweet treat to the newcomers. Now, if you sign up and try the game for free, you'll receive your premium subscription that will last for 3 days. It's not a long period, but it will certainly speed up your grinding process somehow. After all, you all need a way to catch up with the old players, right!
Regardless of all the reasons behind, we are the one who benefits the most out of this decision! And if you're still hesitating of is it really worth to try this game, then check our summary of the games below:
About its story and gameplay
The game takes the settings of the medieval world - an extremely difficult period of humankind. You'll have to strive in the land of Abella, and will have to compete with many other players to survive.
Comparing to the gameplay of Life is Feudal: MMO, its story worths nothing to mention. First, the game provides a huge sandbox world - a 36x36 km map with a lot of locations for you to explore. However, you should be really careful with your journey, since fights are ready to explode at any times. The fights in this game are designed to be as realistic as possible. You'll have your physical attacks and the abilities to move, dodge and counter. Combining all of them is the key to your success, and you can take anything dropped out from the fallen enemies. Basically, it's really similar to For Honor when it comes to combats. This fighting mechanics very exciting for fight-maniacs. But on the contrary, it's kind of annoying for the newbie who's very likely to get wrecked times and times again. You can't just enjoy the game being dead all the times! Lucky for you, fighting is not the only thing to do to survive in Abella. Instead, you'll need to care about a lot of aspects, including crafting! It's the medieval period, and crafting is a must! You'll have to collect the materials and use them with a wide range of blueprints. The blueprints are not there from the beginning, and you'll have to find and unlock them through your journey. Apart from building stuff, the game also allows you to breeds a wide range of animal species. From pigs or rabbits to eat, you'll further develop into breeding powerful warhorses for future fights. Also, you can plant crops everywhere on the map. Just make sure you take the weather and season into consideration!
To sum up, this game allows you to be anyone that you want. Whether Builder or Architect, Miner or Carpenter, Blacksmith or Farmer, and even and Cook, Herbalist, Alchemist, Hunter, and Animal breeder - you are the one deciding! Teaming up with friends is also a thing in this game. Specifically, you can join a guild and get into raid quests of mysterious native inhabitants with your friends. Additionally, the fights don't just stop with PvE, as you can also join in the 100 vs 100 battle arena alongside your teammate! Last but not least, to further strengthen your power, you'll need to form your own territory. All of the territories have very realistic religious and authority system mechanics, which you can let your imagination bloomed. Even build a sky castle is possible with Life is Feudal: MMO! To be short, the game is pretty like Ark: Survival Evolved and Rust, but with bigger environment and more things to care about. The developer wants to create your second life in this game, and it has somewhat succeeded to do so. However, as there are a lot of things to take care of in this game, it might be quite hard to catch up for the newcomers. That's a double-edged sword, and the developer needs to work hard on it if they want to attract more players to join in.
Where to get to play the game for free?
Life is Feudal: MMO is currently available to play for free on two portals. You can either grab it from the main site of the game, or you can play it on Steam.
However, be aware that there are three distinctive Life is Feudal games on Steam. You should search exactly the "Life is Feudal: MMO", or you won't find your free catch.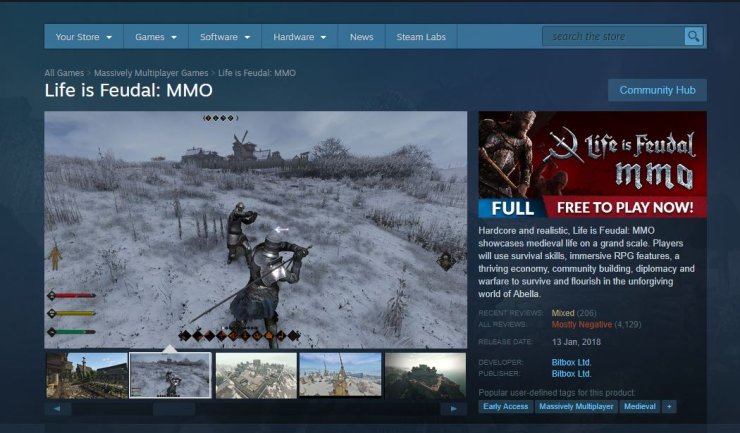 And finally, read the game's PC requirements first. And to prime you, Life is Feudal: MMO demands a decently high-spec PC to play. It requires at least 8GB of RAM and will take up around 50GB of your hard drive space. The CPU and GPU requirements are also quite severe, which you can check on Steam to see for yourself. Good luck with your chances, and be sure to share with us your experience with this game!