We are no stranger to the term Esports. Video games played competitively for spectators have been on the rise in India, especially PUBG Mobile and FIFA 19. With the rise of highly competitive games like these, Esports competitions with real cash on the line are becoming commonplace.
With that, multiple tournaments of large and small scales have been organized within India. Large tournaments can field up to 10 LAKH in prize pool. There are hundreds of pro teams to line up for the biggest competitions like Dew Arena 2019, PUBG Mobile Indian Tour, PUBG Mobile Star Challenge 2019.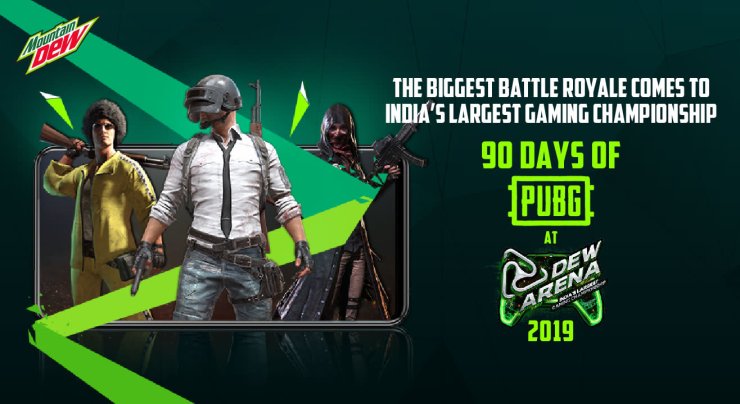 However, you don't have to be a pro to compete in your favorite games. There are several online gaming tournament platforms that offer real cash for champions in games. Enroll in today and earn money for being the best in your favorite games. With money on the line, games are better than ever.
5) BattleIndia.com This is an Esports platform which specializes in PUBG Mobile. The platform regularly hosts online PUBG tournaments for both solo and duo. BattleIndia even hosts TDM (Team Death Match) 3v3 matches to increase the competitiveness of the game. The platform runs on a mobile App which tracks and monitors your competition progress.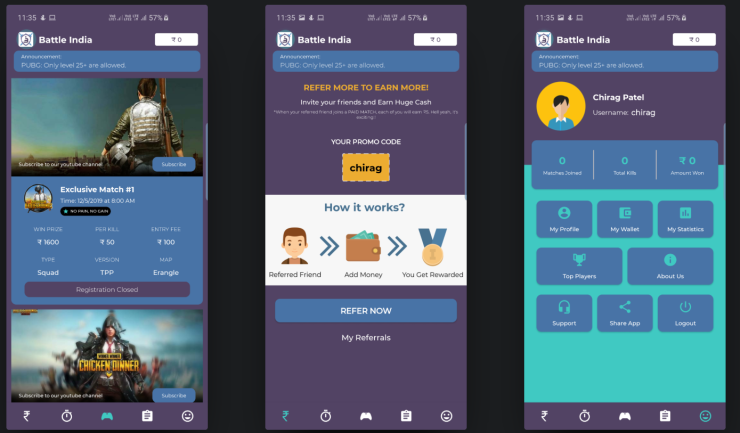 However, each tournament requires a low entry fee ranging from ₹15 up. Worry not, the tournament rewards well for each kill you score. Also, the winner will take a large prize of around 5 or more times of the entry fee. So try your best to secure kills and become the champion.
Moreover, all the matches played in the platform will be streamed regularly on the Battle India Youtube channel. All cheaters are strictly prohibited from the platform. You can also refer your friends to BattleIndia.com to get a bonus of ₹5.
4) GamerJi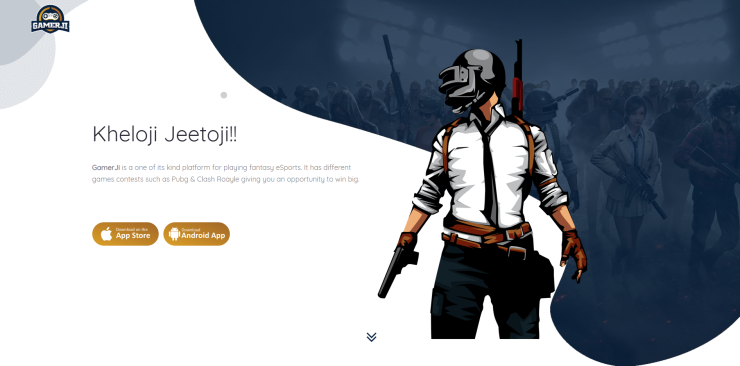 GamerJi is pretty similar to BattleIndia.com as a regular Esports platform. However, GamerJi also offers Clash Royale and PUBG Mobile Squad type tournaments. Moreover, the entry fee and winnings are larger. Moreover, there are more winners than just one. Each player will get a cashback depending on their final standings. It may be less severe if you get knocked out early.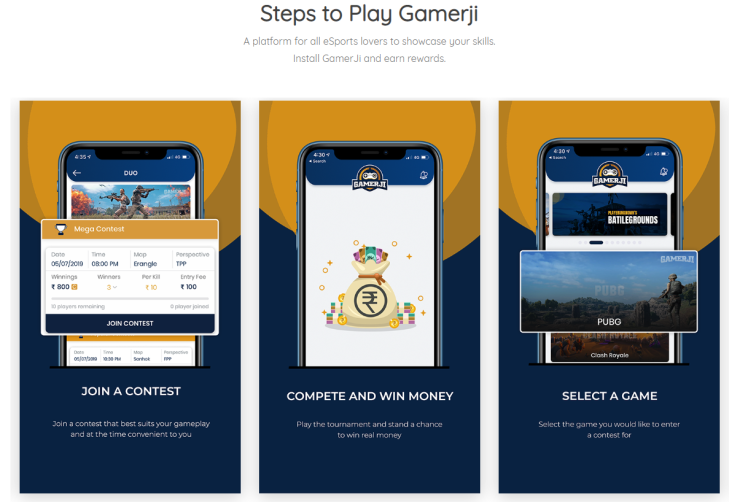 GamerJi also livestreams their matches regularly on the GamerJi Youtube channel.
3) UltimateBattle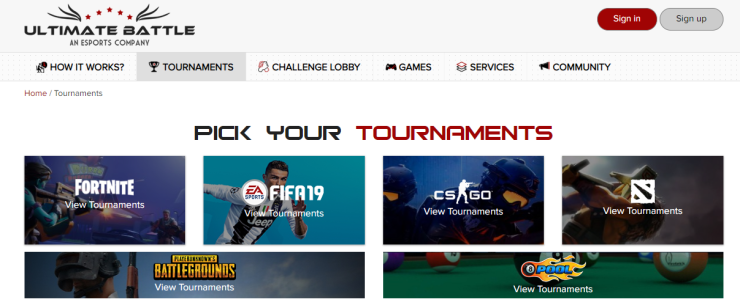 UltimateBattle offers a wider range of tournament. They feature competitions in PUBG Mobile, FIFA 19, Fornite, CS:GO, Dota 2, and 8 Pool. You will also need to register an account on their main website to get information about tournaments as well as participating in.
The Esports platform regularly hosts many tournaments with free entry. UltimateBattle also actively updates information on their Facebook page. Online tournaments on UltimateBattle vary from ₹500 to ₹1250 in prize pool. Their entry fee is pretty acceptable of around ₹50.
2) IGL - Indian LAN Gaming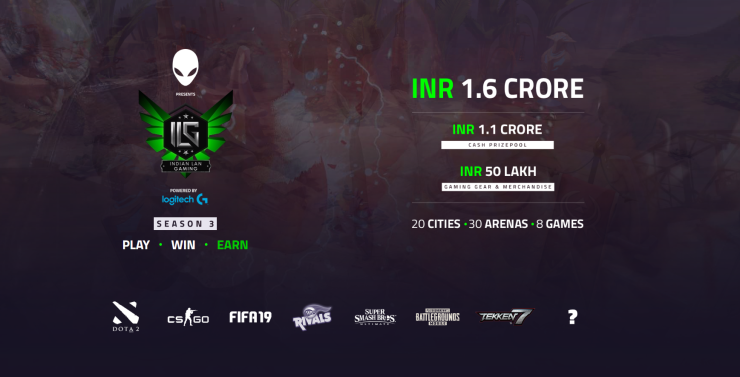 The platform hosts competitions of various popular Esports like PUBG Mobile, FIFA 19, CS:GO, Dota 2, and more. IGL host regular online tournament since July and will continue till the end of 2019. They even host offline tournaments at various cybercafes to determine the winners. Winners in tournament will earn IGL points to redeem real-life gears like gaming mouse, keyboard.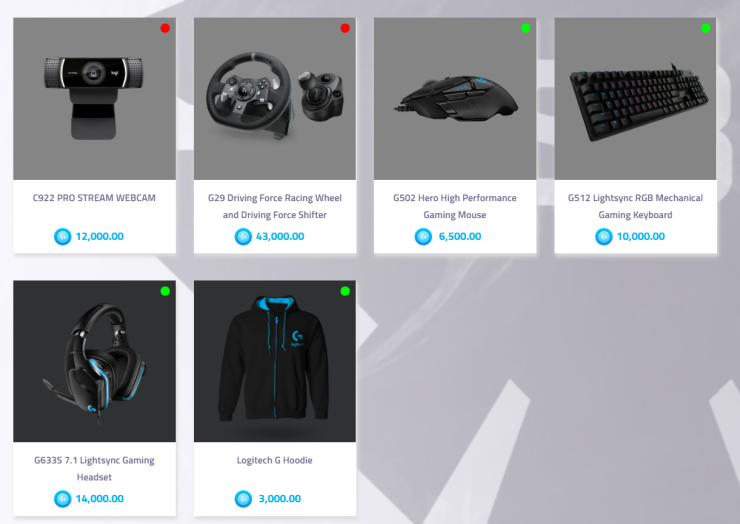 1) GamingMonk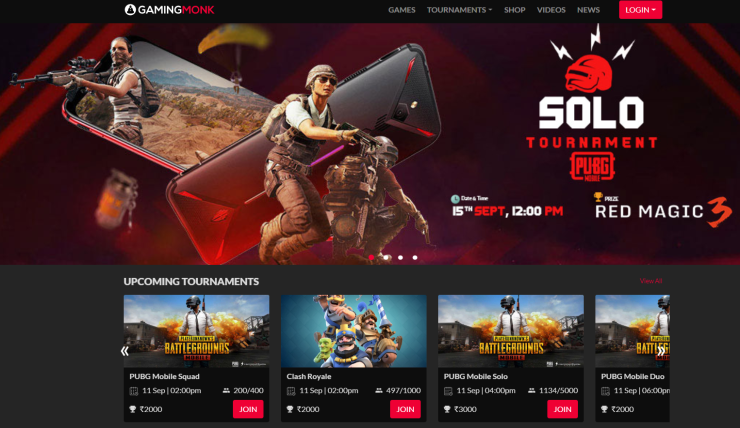 This is yet another diverse Esports platform. The online gaming tournament platform offers tournaments mostly in PUBG and FIFA 2019. GamingMonk also features occasional Clash Royale tournaments. The plus point of GamingMonk is that it is completely free. You don't have to deposit any fee to enter a competition. Just enjoy the game and try your best to win money. Moreover, their FIFA 19 tournaments put a great amount of cash on the line. Tune in for more information about the competition.