EPICENTER is coming up, just days until we get the see our favorite players on stage. Here Gurugamer.com will prove you with Dota 2 best carry players we can rely on. Currently, there are many top carry players Dota 2. They are pretty consistent and often played a large role in one team's victory. Let's name out 5 best players in the role: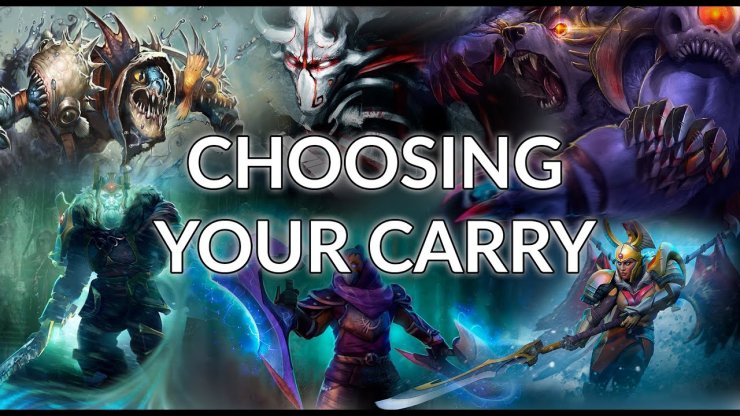 Dota 2 Best Carry Player: Zhang "Paparazi" Chengjun
The Chinese player is the current playing carry role for Vici Gaming. He was once ranked among the best mid players in Dota 2, before he eventually switched to carry role. Paparazi won the DAC 2017 Solo Tournament, defeating Sumail, Sccc, and Miracle, top middle-laners at the moment. He defended the title the next year at the DAC 2018 Solo Tournament. With consistent performance since switching role to carry, Paparazi and his team Vici Gaming won 1 Minor and 1 Major tournament in 2019. Currently, Vici Gaming stays at top 4 with 6300 points in DPC. Paparazi灬 is famous for his signature heroes Lifestealer, Sven and Slark.
Paparazzi vs Sumail, one of the best mid players at the moment
Trivia:
With his tender and somewhat "fragile" appearance, Paparazi was regarded by many as a girl, due to his nickname Yuno. This was intended as a meme by Chinese fans.
Dota 2 Best Carry Player: Roman "RAMZES666" Kushnarev
The Russian player is currently playing carry role for Virtus.pro. RAMZES666 was born 25 April 1999. He started his Dota 2 career in ScaryFaceZ. RAMZES666 played for many CIS squads before eventually joined Virtus.pro in August 2016. Ever since joining the best team in the region, RAMZES666 constantly displayed strong performance, winning countless tournaments with the team. They would go on to be listed among the top contenders in Dota 2, or Tier-1 teams. RAMZES666 is notorious for his aggressive playstyle, playing carry hero with early fighting potential. He is a good late game fighter, with sharp and precise decision. Signature heroes for RAMZES666 are Lifestealer, Ursa and Juggernaut.
RAMZES666 with his awesome plays
Trivia:
RAMZES666 was the first one to ever reach 10,000 MMR in Dota. He appeared in a Head&Shoulder commercial in Russia and RAMZES666 was featured in the list of 30 to 30 in Forbes. Dota 2 Best Carry Player: Artour "Arteezy" Babaev
The Canadian core player rose to popularity since very early of his career. Artour was born in Tashkent, Uzbekistan on July 1st, 1996. He used to play Starcraft before eventually played as a pro in Dota 2. Arteezy started out low, playing for minor teams with his friends. Eventually, he got international attention when standing in for bOne7 in Speed Gaming in November 2013. With his awesome display of skill, Artour easily defeated many elite mid-laners like Mushi and Dendi and eventually won MLG Columbus with his team over Team DK.
Rise of the "babyrage"
He went on to play with many Dota 2 veterans, mostly playing carry role. During his peak of performance in 2014 and 2015, he was named one of the best mid-laners in Dota 2, with Shadow Fiend as the signature hero. However, great performance did not guarantee him great results accordingly. His Dota 2 career got shaky when he switched between Evil Geniuses and Team Secret, both end up with disappointing results. Most notably, when he left EG in 2015 to join Team Secret, his former teammates reached the grand final of The International 2015 and eventually won it. Artour later came back to EG in September 2016 to stay there till now.
Trivia:
Artour "Arteezy" Babaev was notorious for his "inhuman" reactions, using Manta Style to dodge practical any skills and his awesome use of Armlet of Mordiggian.
Arteezy was once named potato farmer, following his video. He indeed plays the role of "farmer" as a carry need to "farm" a lot. This is often used to refer to the moment when Artour played too bad and just stay in the jungle, "farming" all days.
My name Artour Babaev. Sorry bad englandsky. I grow up in small farm to have make potatos. Father say "Arthour, potato harvest is bad. Need you to have play professional DOTO2 in Amerikanski for make money for head-scarf for babushka." I bring honor to komrade and babushka. Plz no copy pasteschniko.
The curse
Arteezy is often nicknamed "Arthreezy" as he seems to be cursed to finish in 3rd place in most of the Dota 2 events he attended. Arteezy recently acquired another nickname "Cliffteezy" due to his consistent incident of getting "cliffed" or pushed to cliffs. Arteezy is the 2nd to reach 9000 MMR and the third to reach 10000 MMR. Arteezy has arguably the best girlfriend in Dota 2 scene: dove >>> Read more:
Dota 2 Best Carry Player: Amer "Miracle-" Al-Barkawi
He is a mid-laner and carry player in Dota 2 for Team Liquid. Amer started out as a pub star, playing ranked matches with countless highlights on Youtube. Miracle- was most notable as a mid-laner in pubs with high-skilled heroes like Invoker, Outworld Devour, Shadow Fiend. On the rise
He began getting recognition for his out-of-this-world skill at a very young age, 18 at the time when he emerged as one of the highest MMR in the world. People would idolize him so much to call him M-god. There was a time when he was so inventive with item builds that once there is a new video of his game, people would immediately copy it, even recklessly. These people are often labeled as "victim of Youtube" or "too much Youtube". Later in 2015, he was invited by N0tail to join Monkey Business, which became OG later on. OG, later on, attended many tournaments with great success, displaying great performance of Shadow Fiend in the hand of Miracle-. This led to many teams' decision to respect ban the hero when going against OG. However, when coming to The International 2016, the team struggled and crashed out of the tournament following an upset loss against TnC Gaming. Crisis and changes
Following the disappointing results of The International 2016, Miracle- parted ways with OG and went for Team Liquid. Under the leadership of Kuroky, the team struggled to adapt new member for quite a time. However, after the addition of GH as a position 4 player, Team Liquid found their good form again to dominate the Dota 2 scene. They went on to win many big tournaments later StarSeries Season 3, StarLadder i-League Invitational #2, EPICENTER, and DreamLeague Season 7 The most notable achievement Team Liquid achieved as The International 2017. They punched their way through the lower bracket to sweep Newbee 3-0 in the Grand Finals. Miracle- and his teammates carved their names on the Aegis and topped the total earnings later. After The International, the team seemed to defy the curse of The International. People would observe and conclude that most teams would disband or fall significantly in performance after winning one The International. Team Liquid may be the first to defy it when they managed to play consistently in 2018.
The inevitable
However, the curse, in this case, seems to come late. 2019 was an unsuccessful year for Team Liquid where they just fell apart and could not play with 5 team members in most tournaments. Recently, the long-time member of Team Liquid, Matumbaman decided to part ways with his teammates just right before EPICENTER. The team is in urgent need to get a replacement for the mid-laner/carry player to switch with Miracle- in the team. All in all, Miracle- was outstanding for his performance as a core player. He was most notable for his dominant mid lane skill and the ability to farm really fast as compared to top players in the scene. His skills and decisions in combat were exceptional, arguably one of the best ever in Dota 2. He was an iconic figure in Dota 2 for his inventive and tremendous potential as a core player
Trivia:
Miracle- is also notorious for his Invoker. His Invoker was once feared and respect banned during the time when the hero was exceptionally strong. People would call it "Dark Moon" if the team managed to draft Invoker for him. Dark Moon in an event where Invoker is the final boss and he cast countless catastrophic skills in all direction, making it a true hell on earth. Invoker in the hand of Miracle would do such similar deed. Another signature hero for Miracle- is Anti-Mage. His level of farming skill is top on the list, rivaled only by the B-god, Burning during his peak. Miracle- was so influential in the Dota 2 that there was an era of Anti-Mage pickers where people would instantly lock pick Anti-Mage every game. Dota 2 Best Carry Player: Anathan "ana" Pham
Australian mid laner/ top carry player Dota 2 is currently playing for OG. ana started his Dota 2 career when he decided to move from Melbourne to Shanghai in December 2015. He joined CDEC in-house league to compete against high-levele Chinese Dota 2 players. With time committed to playing Dota 2, ana dropped out of high school.
Parental support, first steps
He was supported by his family until now with his decision. He started out low, playing with some Chinese professional players. After The International 2016 and the departure of Miracle- from OG, ana found his opportunity in Europe and joined hands with N0tail. Mr.Always-lose-mid?
The team found immediate success with ana's consistent core hero performance. He often lost mid against other higher skilled mid-laners but managed to do well later in the game. There was even a meme calling him "mr.alwayslosemid". This was due to the fact that his favorite heroes were often weak laners like but scaled really well into the mid and late game. This was partly due to the stellar performance Miracle- put during his time with OG. Many people couldn't help but compared the mid lane performance between Miracle- and ana then jumped to the conclusion.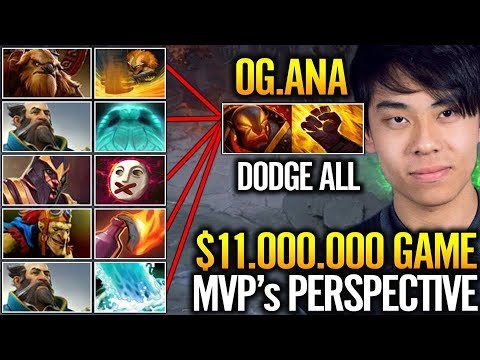 However, the team kept up a good performance in 2017, winning many titles to get invited to The International 2017. OG could not outperform many strong teams here and had to settle for a 7-8th finish after defeated by LGD. Ana then took a break and departed the team.
Reunion
However, "the prodigal son" reunited with OG just before The International 2018 following the departure of Fly and S4. Ana then took the role of carry player. The team looked unpromising with their mid player Topson first time attending a big tournament and other team members were not really well-known. The most compelling Esports story ever
However, OG completed the story of the underdog when they managed to punch their way to the final. Here they were 1-2 down to LGD and almost got eliminated. It was the decisive moment when ana decided to sell his item to get enough gold for buyback that made a world of difference. With that buyback, OG swept LGD team member and made their way to the deciding game. Game 5 saw total dominance of OG. With the signature hero Ember, ana totally destroyed LGD and hoisted The International 2018 trophy, earning $11,234,158 for the team.
The best moments of his awesome The International 2018
Later on, ana once again announced a break from competitive Dota 2. He came back to OG in March 2019 but the team has yet to find decent results. Trivia: Ana's girlfriend is among the prettiest in Dota 2 players'
Here is her Instagram Signature heroes for ana are Ember Spirit, Spectre and Phantom Lancer. In The Internation 2018, most teams had to respect ban Spectre when they were against OG.
Dota 2 Best Carry Player: Michał "Nisha" Jankowski
The Polish carry player is currently playing for Team Secret. Nisha is born on September 28, 2000, and he is one of the youngest talents to compete at the top level of Dota 2. Nisha started out low with many tier-2 teams until eventually discovered by Puppey after The International 2018. The young top carry player Dota 2 contributed well to the team after the post-TI shuffle when Ace and Fata departed Team Secret, leaving the carry position vacant. Since then, the up-and-coming talent fit so well in the lineup, bringing in great results for the team.
Rise of the young talent
Under the leadership of Clement "Puppey" Ivanov, Nisha has won Chonquing Major and MDL Disneyland Paris Major with his teammates. Currently, Team Secret is the team who has the highest DPC points, scoring 14250. They already got 1 slot in The International 2019, the most important event in Dota 2 each year.
The promising talent overwhelmed the audience with his amazing plays and skills
Trivia:
Nisha is left-handed, he controls the keyboard with his right hand and uses the mouse with his left hand. His signature hero is Terrorblade, Arc Warden, and Morphling.