Free Fire's 3rd year anniversary is just around the corner, and Garena is celebrating the occasion through various exciting in-game events. Amongst them, the Faded Wheel event is probably the most hyped for paid players - it is a limited spin that lasts for only one week (from August 20 to August 26) and offers the male bundle of the third anniversary. In this article, we would list out everything you need to know about this event. Which items are included in the spin of Faded Wheel?
The two highly popular Demented Maniac Bundle and XM8 Hysteria Skin are the two grand prizes of this event - there are only 10 prizes in the wheel. The special thing about this event is that you get to remove two unwanted prizes from the pool - afterward, you are left with only 8 rewards which you can get by doing 8 spins.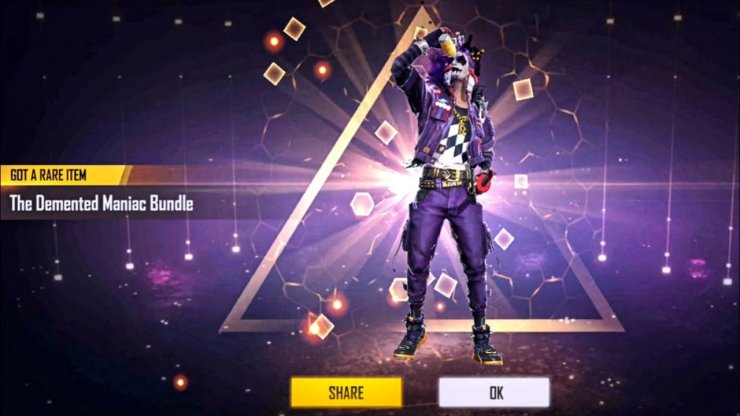 Below is the Event Drop roster In 3rd Anniversary Faded Wheel:
Character Lvl. 4 Card
Scan Playcard (3 Days)
Psycho Maniac Avatar
Welcome to the Circus Parachute
Cube Fragment
Universal Fragment (x100)
Killer Mind Surfboard
Hysteric Maniac Banner
XM8-Hysteria Skin
The Demented Maniac Bundle
How much does it cost to spin the Faded Wheel? The cost increases after every spin, with the last 3 being very expensive. There is a chance for you to get the grand prize in the first free spin, of course.
1st Spin: Free
2nd Spin: 9 Diamonds
3rd Spin: 19 Diamonds
4th Spin: 39 Diamonds
5th Spin: 69 Diamonds
6th Spin: 99 Diamonds
7th Spin: 299 Diamonds
8th Spin: 699 Diamonds
To remove the unwanted items in the prize list, select both of them and click on "Confirm". To get all 8 items, players would need to spend a total of 1233 diamonds - comparing to the usual price of 1442 diamonds, this is a 15% discount.
Interested in more of our posts related to Garena Free Fire? Please check out this article to find out more about the Moco character in Free Fire.