The Free Fire Elite Pass Season 28 was just released a few days ago with tons of new cool sets such as the Demon Fury Backpack, the Street Angel Bundle, or Street Devil Bundle. A new Diamond Royale is also coming with the new Bermuda Plan Kunoichi set. The Money Heist collaboration is also coming. The new Weapon Royale and Luck Royale will be arriving soon. All these things bring to Free Fire a load of new exclusive skins and items but they will also cost you a fortune because they cost Diamonds. I understand your feeling of not having money to buy all of them and so do all these Youtubers on the Internet. That why they took advantage of this and start pulling your leg to get views for their videos and get subscribers for their channel.
The Free Fire 5000 Diamond Hack was just another one of their latest tricks to lure viewers in and subscribe to their channel.
People are getting smarter and not falling for old scams anymore. But this time, they have stepped it up one notch and found a new way to convince people that their trick is real.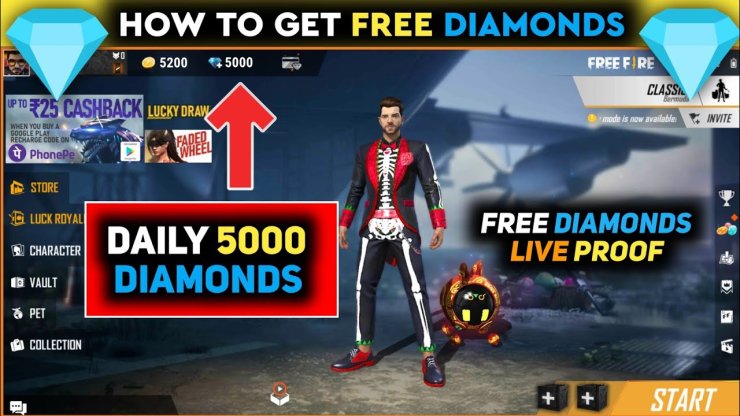 Here in this article, we will explain to you how they have fooled millions of people into watching their video and get nothing back but wasting their time.
Read more: Free Fire Diamond Generator 2020  - An Easy Way To Get Unlimited Diamond In Free Fire
Exposing the Free Fire 5000 Diamond Hack scam
Below here is a Free Fire 5000 Diamond Hack video saying that it can help you get 5000 Diamond through a bug in Free Fire.
For most of the times, all the false hack video get very little views and you can see the comments of other viewers to see if it work or not.
However, this video has a huge number of views of more than 1.9 million views and the comment section is full of real people saying that they got 5000 Diamonds from the trick. The huge number of views and the comments section has made the video look absolutely legit and convincing. I mean if the trick didn't work then why would they comment otherwise and keep watching it, right? Now that is the key point of this Free Fire 5000 Diamond Hack scam.
Here is how they lured millions of people into doing it. There are 2 major steps.
Step 1: The video makes you believe that there is a trick by guiding you through many steps for a long duration. These steps don't matter because they were just there to make sure you watch the video long enough.
Step 2: Now this is the part where they tricking people into commenting things like "thanks for trick i got 5000 diamond". The video will talk about a giveaway, in which you must like the video, subscribe to the channel and comment something like "I got 5000 Diamonds" to be in the giveaway.
Of course, we don't even know if the giveaway is real or not because everyone will just assume that they didn't win. Still, people would just leave a comment with the hope that they will win, accidentally tricking new viewers into believing the video. Even if people find out that the trick doesn't work, they will just assume that Garena fixed it.
This is not the first this trick was used though. Below is a video about how to get Free Diamonds and DJ Alok.
Of course, the trick does not work as well. But people still leave good comments about the video because they want to win the "giveaway". Apart from the comments of real people, these videos also contain a lot of scammers' comments to promote their scam site, which can cause many people to lose their accounts.
Other Free Fire 5000 Diamond Hack Scam
Below is another Free Fire 5000 Diamond Hack Scam video and it even got more than 11 million views. This video uses a different method than the above 2 videos. This video shows you a Free Fire Diamonds Generator site to generate 5000 Diamonds and then show the number of Diamonds on his account as proof.
But the video doesn't reveal the site. It makes viewers like the video, subscribe, download an app called Video Buddy (definitely not a Free Fire 5000 Diamond hack app), and comment their Free Fire ID in the comment so he can send you Diamonds.
Of course, no Diamonds were given as we all know that all the Free Fire Diamonds Generator sites are fake. But he did show the number of Diamonds on his account. How did he do it? The answer is very simple actually. He used an app called GameGuardian to modify the Diamonds number. But this number is just for the show and you can't actually spend it.
I can even show you how to get 99999 Diamonds on your account using GameGuardian. You can check out how to do it in the video below. You are free to try it because it is just a harmless trick. You don't actually get any Diamonds at all.
But with this simple trick, the video fooled tons of people into believing it and do whatever the video says, including downloading the app for him(he get some money whenever a person downloads the app).
If you really want to get some free Diamonds in Free Fire then check out this article: WinZO Gold Free Fire Diamond - How To Play Games And Get Free Fire Diamonds Using WinZO. You will not get like 5000 Diamonds instantly, but at least it is real.