Free Fire has become the most popular mobile game in the Indian market after PUBG Mobile was completely banned from the country. However, compared to PUBG, Free Fire is somewhat Pay-To-Win, as gun skins, characters and pets would give in-game advantages... and the majority of them can only be bought using diamonds.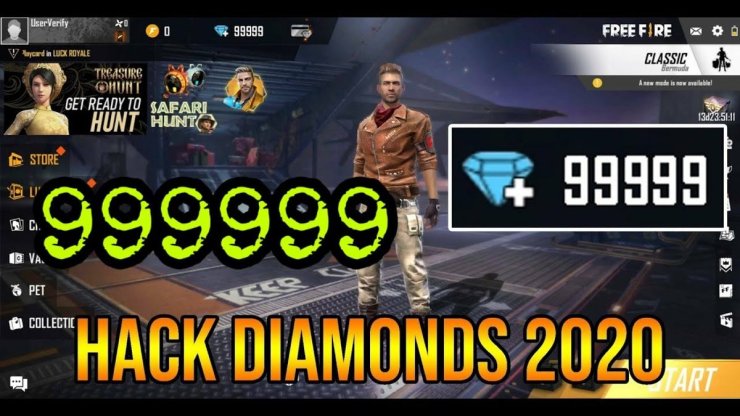 In this article, we would show you how to install Free Fire Diamond Hack New Version 2020 to unlock an unlimited amount of currency so that you can get all the skins and characters you want.
1 - Where to download Free Fire Diamond Hack New Version 2020?
There are 2 reputable pages for Free Fire hack: an1.com and kingmodapk.com. Overall, kingmodapk is the better site - it has faster download mirrors. There are 2 versions of the hack, the first has only money cheat while the second also has gameplay cheats as well. This is probably to cater to players who just want to play the game normally while getting new skins. The best part about this hack is that it is constantly updated to circumvent Garena's Anti-cheat software so that you would not get banned. However, it is best that you create a new account to use the hack, just to be on the safe side. Kingmodapk also has various hacks for other games as well - if you play any other game besides Free Fire, it might be a good idea to download the hacks for them as well. From Clash of Clans to Ludo King, the page has them all. Usually, the hacked version would just have all the premium currency unlocked - the general gameplay would be the same.
You might be interested in:
2 - How to install Free Fire Diamond Hack New Version 2020?
To install the hack on your device, you would need to download the installation file .APK and the data file .OBB from the page. Below are the two links for the page.
kingmodapk.com/garena-free-fire-mod-apks/?download
https://an1.com/4695-garena-free-fire-18.html
Kingmodapk also includes older versions of the hack under the download link for the latest one, however, it is not recommended to download them, as only the latest hack is safe from Free Fire's anti cheat.
You should subscribe or bookmark the Free Fire page of the site so that you would be able to know when the update hit. After the download is complete, you would need to run the APK file after enabling "Unknown Sources" in your devices' settings. It is best that you uninstall any version of the game that you have on your device before this.
Afterward, the OBB file needs to be decompressed with RAR then moved to the directory Sdcard > Android > OBB. You can download the RAR app from the Google Play Store. After the files are moved to the direction, run the game and enjoy the hacks.
You might be interested in:
3 - What can this hack do?
Besides diamond hack, this APK also has many more features.
Aimbot (auto-aim and fire weapon)
You can activate aimbot while playing - with this feature active, your character would automatically aim at any enemy in sight and fire. There are various options for headshots and body shots - it is not recommended to use headshots, as you might get reported. This hack is not really popular because it kills the fun out of the game... However, if you just want to win, aimbot is the fastest way to end the match.
Wallhack
This hack would pinpoint the locations of enemies on the map - you would be able to see them through walls. Overall, this is also a good standalone hack as well - you can just turn it on and use your own ability to end the game, as no one would be able to get the drop on you. Unlimited Health
This cheat is pretty unpopular as enemies might be able to detect you after pouring a whole magazine on your head without getting a kill. On the plus side, you can jump down from anywhere with this hack and survive.
Unlimited Diamonds and Gold
All currency in the game would be set to Maximum - you can spend as much as you want on anything you want. It is possible to buy everything in every shop, as even magic cubes are set to max. Bypass Cheat Detection
This hack would bypass the anti-cheat software that Garena used as security for Free Fire. It is unlikely that you would get banned using this hack, however, you must not log your account into a normal Free Fire app again, as the automatic system might be able to detect you.
No Root Required
You don't have to root your device to install this hack.
Interested in more of our articles related to Garena Free Fire? Please check out this post to find out more about the Top 5 Least Accurate Weapons In Free Fire.