What is the best Free Fire emote unlocker to get all emotes for free? Over the past month, Garena Free Fire has welcomed millions of new players in India and is soaring into the most popular mobile games in the country after the ban of PUBG Mobile. To all newcomers who are getting familiar with the game, you might find there are a lot of common features between the two games apart from unique ones, and emotes is one of the coolest parts you can also have in Free Fire. Just like many other survival games, Free Fire offers its players a vast range of emotes with which players can perform the most awesome poses and actions to show off.
However, you can only have a few default emotes for free while others need to be purchased with diamonds, many players are seeking a free fire emote unlocker which can help them to unlock all emotes for free. Is there any app which can do so and what is the risk of it, keep reading for the answers.

What is Free Fire emotes?
Just like PUBG Mobile and other survival games, Free Fire allows the character to perform special poses and movements called emotes. In fact, this feature has nothing to do with battle skill and character ability but makes the game more interesting. A character can perform 6 different emotes at the same time which each costs around 200-300 diamonds.
Unlock emotes without using unlocker
As each emote is considered an item, you can find all of them on the in-game store and test it before making a purchase. To unlock emotes without using Free Fire emote unlock, players can open the store, go to the Collection and find the Emotes menu.
Each emote will have a short name like Top DJ, Cupid, Doggie … which describe the actions of the character. When you click on the item, your character will perform the emote for preview. The price of it will also be displayed and you can make the purchase with diamonds.
In addition to that, Free Fire emotes can also be obtained via events or redeem codes. For the unversed, there were some events in the past like the Emote Party event which rewards players with Doggie emote. In addition to that, lucky players who earn redeem code also have the chance to claim emotes as well as many other hot items. However, the chances are quite rare that's why many players start searching for free fire remote unlockers on the internet.
Suggested post: Free Fire Flaming Fist Event: What We've Known So Far About The First Hand Skin In Free Fire!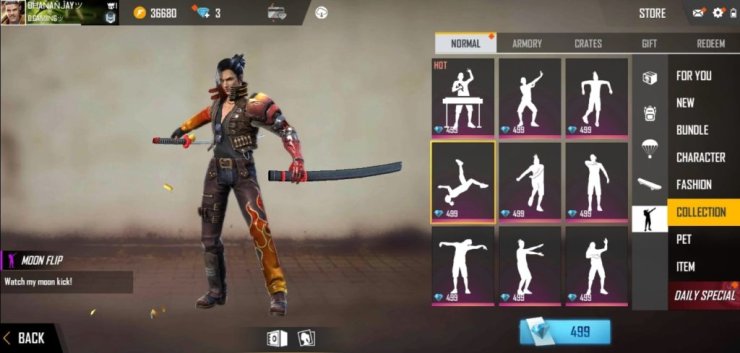 Free Fire emote unlocker: Is it possible?
If you're wondering whether there is something like free fire emotes unlock app or not, the answer is yes, it is. Free Fire mod apk which we mentioned several times is the thing you need. Apart from giving unlimited coins and diamonds, the free fire emote unlocker apk also gives players the advantage in the game by unlocking all features and items including the emotes.
To get free fire emote unlocker app download into your device, you can go search for the file on the internet. There are many websites and sources which provide the latest updates and all you need to do is to follow the instruction and install it into your phone. As Free Fire MOD APK is considered a hack app, we will not introduce further details or specific sources of the app. Please research it on your own.
In addition to that, please note that only ANdroid device is available for emote unlocker for free fire apk download. It means that iPhone users cannot use the app to unlock all emotes for free.
You can also check out the following article for more details: If You're Thinking About Using Unlimited Diamonds Mod APK In Free Fire, Read This Article First The risk of Free Fire emote unlocker
As mentioned above, Free Fire emote unlock app is a hack app which is banned from Garena Free Fire. Therefore, players who try to crack down on the app will face the risk of being banned permanently by Garena. Please note that not only your account will be banned but also your device so that you cannot create a new account on the banned device. As the anti-cheat system of Free Fire is being improved and becoming more and more effective, you'd better not try any hacking app to keep your account safe for the game.
Above is some helpful information about Free Fire emote unlocker. Visit our website Gurugamer.com for more interesting news about games and entertainment!
Also read: Free Fire Redeem Code: Valuable Codes For Today And How To Redeem