Diamonds are the ultimate currency in Garena Free Fire. You can use them to purchase all kinds of items in the game and take part in various events for even more items. But be aware of your spending, because Diamonds cost real money to top up. Apart from the in-game top-up center, you can also use the Free Fire top up website in India as an alternative. Today, we'll guide you over the best websites to use in India. Table of Contents
Games Kharido - The Best Free Fire Top Up Website In India
Speaking of top-up websites in India, it would be a shame not to include Games Kharido. This is Garena's exclusive website for the Indian market, boasting the most impressive deal of all time. It's the ONLY Free Fire double Diamond top up website in India. For first-time users of the service, you will get a 100% bonus on the first top-up from the website. That's too good to miss out on! However, there are a few requirements you need to meet in order to activate the bonus:
#1 You have never used Games Kharido to purchase Diamonds before
#2 You choose Paytm as your payment method
Top-up Diamonds with Games Kharido
#1 Visit the official website of Games Kharido.
#2 Choose Garena Free Fire from the game list.
#3 Log into your Free Fire account using your player ID or Facebook.
#4 Select Paytm as your payment method to activate the first-time top-up bonus. Games Kharido also supports UPI and Netbanking.
#5 Select a denomination of Diamonds.
#6 Confirm making the purchase and wait for a few minutes for the website to process. Check your account for the Diamonds.
Prices for Diamonds on Games Kharido:
#1 INR 40 – 50+50 Diamonds
#2 INR 80 – 100+100 Diamonds
#3 INR 240 – 310+310 Diamonds
#4 INR 400 – 520+520 Diamonds
#5 INR 800 – 1060+1060 Diamonds
#6 INR 1600 – 2315+2315 Diamonds
#7 INR 4000 – 5600+5600 Diamonds The top-up bonus is what allows Games Kharido to dominate the top 10 Free Fire top up websites in India. It offers a deal that no player can turn down. Needless to say, do not miss your chance to double your Diamonds in a single purchase.
Codashop 
This is another popular choice when it comes to Free Fire Diamond top-up websites. But not just for Indian players, others from around the world also enjoy the services of Codashop. It's an all-in-one website, where you can purchase currency for mobile apps and games.
Codashop is also convenient to use since it does not require an account. Here's how to top-up Diamonds from Codashop:
#1: Visit the Codashop website here.
#2: On the game menu on the main page, choose Garena Free Fire.
#3: Enter your Free Fire ID in the text field.
#4: Pick a number of Diamonds you want to top-up and also a preferred payment method.
#5: Proceed to confirm making the payment. The Diamonds will be credited to your Free Fire account. Therefore, make sure you have the ID right! Diamond top-up costs on Codashop are as follows:
50 Diamonds - INR 40
100 Diamonds - INR 80
310 Diamonds - INR 240
520 Diamonds  - INR 400
1060 Diamonds - INR 800
2180 Diamonds - INR 1600
5600 Diamonds - INR 4000
>>> Also Read: How To Top Up Free Fire Diamonds From Codashop
SEAGM
SEA Gamers Mall, or SEAGM for short, is a trusted top-up website that Indian players can access. This site provides two 2 options: direct top-up or gift card purchase. The first option will credit the Diamonds directly into your account. Meanwhile, the second one will give you a redeemable gift card that you send to friends as a present. Here's how to use SEAGM as your Free Fire Diamond top up website India:
#1 Visit SEA Gamers Mall's official website.
#2 Navigate through the page until you find "Free Fire Battlegrounds".
#3 Choose how you want to top-up (direct top-up or purchase gift cards)
#4 Pick a top-up option from the denominations on the screen.
#5 Fill in your Free Fire ID and nickname.
#6 Check out and make the payment.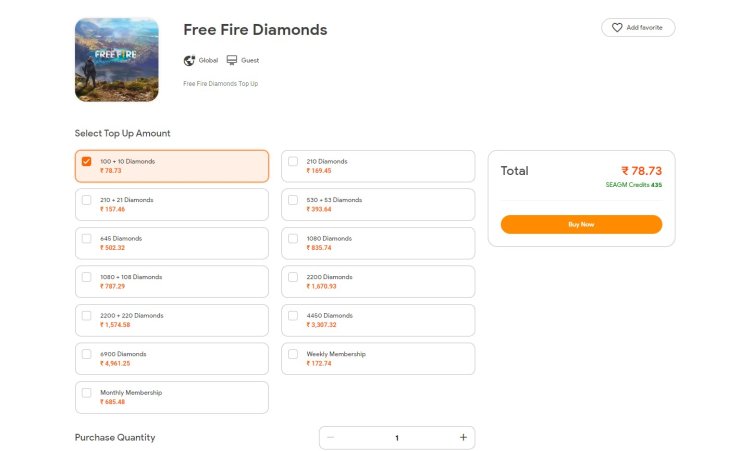 Friendly Reminder: Apart from the regular top-ups, SEAGM also offers Free Fire weekly and monthly memberships.
Top-up Denominations Available on SEAGM
100 + 10 Diamonds - INR 78
210 + 21 Diamonds - INR 157
530 + 53 Diamonds - INR 393
645 Diamonds - INR 502
1080 + 108 Diamonds - INR 787
2200 + 220 Diamonds - INR 1574
4450 Diamonds - INR 3307
6900 Diamonds - INR 4961
Weekly Membership - INR 172
Monthly Membership - INR 685
There you have it, our guide on the Free Fire top up website in India. Which you may choose to top-up Diamonds from is entirely up to you. However, we always recommend taking advantage of the Games Kharido's 100% bonus offer, just because you can! It's too good of a deal to skip and you won't find one anywhere else. If you like our article here, hop on over to our website at GuruGamer.com for more content!
>>> Also Read: 3 Best Apps To Get Free Fire Diamonds With No Cost After OB27 Update