Ganyu, along with Hu Tao, is the most overpowered Genshin Impact character at the moment. The half-qilin Adeptus is straightforward and less demanding than Hu Tao, making her the most sought-after DPS when it comes to practicality.
Although multiple updates and new characters have arrived, Ganyu remains the top carrier in the game. Hence, knowing how to build her, especially the best Ganyu team comp, will make you undefeatable in any combat.
From the best Ganyu best team comp for DPS to F2P, see below for details.
Table of Contents Best team for Ganyu DPS
There are two ways to build the best DPS Ganyu team comp: Freeze team and Melt team. For that matter, follow these recommendations.
1. Ganyu Freeze comp:
Although Ganyu Genshin Impact is a heavy hitter, the Bow user needs a suitable environment in order to hit the largest number of enemies. Moreover, one of her biggest weaknesses is it takes her a bit of time to deal damage if she's under C6.
Nonetheless, the above issues are a no-brainer if she has a reliable Freeze composition. Hence, Mona and Xingqiu are two ideal picks in Ganyu Freeze comp. They will offer Hydro application which aids Ganyu big time. The Guhua geek's Elemental Burst is especially outstanding as it works well with ranged units.
Besides, Diona not only grants a shield but also some Cryo resonance for bonus CRIT. This character will also make sure Ganyu has enough energy to spam her Burst.
Step-to-step playstyle:
Activate Diona's Elemental Skill to summon the shield.
Use Elemental Burst of Xingqiu.
Launch Elemental Burst of Mona.
Switch to Ganyu and summon her Elemental Burst.
Then, do level 2 Charged attacks and eliminate anything that gets frozen.
To reset the combination, hold variant to use Diona's Elemental Skill; immediately switch to Ganyu to let get catch the particles.
Repeat step 2 to assume Xingqiu's Elemental Burst if it's ready.
You can safely skip Mona's Elemental Burst. 2. Ganyu Melt comp:
Ganyu
Venti
Xiangling
Bennett
The straight damage from Melt can be even more powerful than Frozen compositions. And Bennett, Xiangling, Venti are the best candidates if you wish to build the Ganyu best team comp of this matter. First and foremost, apply Cryo status on the enemies with the Elemental Skill of Ganyu, then switch to Venti to use his Elemental Burst. You should also activate Viridescent Venerer's 4-piece artifact set for any opponent affected by Cryo.
Then, switch to Bennett to enhance Ganyu's damage with his Burst field. Afterward, use Xiangling's Elemental Skill or Burst for a Pyro status.
The last step is to change back to Ganyu and launch the level-2 charged shots with 5 to 6-digit damage every 2 seconds. Any enemy in Genshin Impact would be taken down with this procedure.
Step-to-step playstyle:
Give Cryo status using Ganyu's Burst or Elemental skill.
Switch to Venti, then use his Burst.
Launch Bennett's Elemental Burst.
Activate Xiangling's Elemental Burst.
Switch back to Ganyu and emit Charged Attacks on opponents.
Repeat step 1 when Xiangling and Venti's Bursts are ready.
Ganyu team comp F2P
The best Ganyu team composition for DPS mostly requires banner-limited characters. So if you prefer a free-to-play solution, the best team members for her shall be:
Support: Kaeya
Support: Fischl
Heal: Barbara Apart from creating elemental resonance, they help Ganyu's Elemental Skill fire automatically and remain on the battlefield even if Fischl is not active.
Besides, Barbara will grant fast buff and healing from her Thrilling Tales of Dragon Slayers.
More characters to team with Ganyu
Apart from the above characters to make a team with Ganyu, these units are also highly recommended to add to your roster.
1. Raiden Shogun
To be frank, Raiden Shogun synergies better with characters that deal Pyro, Electro, or Physical damage. However, she can be a good backup DPS when Ganyu is fighting Cryo opponents. The Electro Archon can also give Ganyu some energy to keep her Elemental Burst available.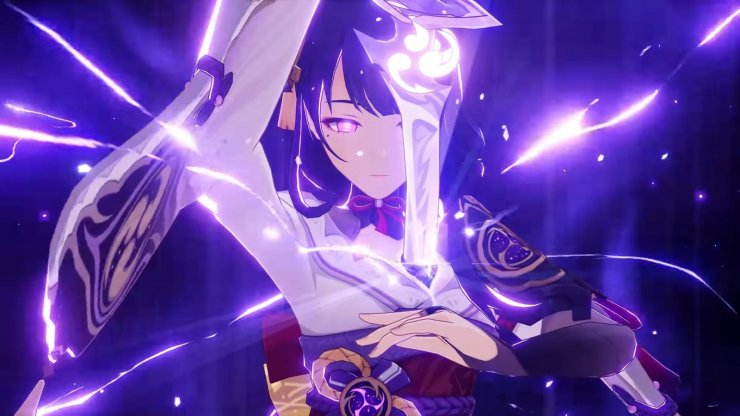 2. Sucrose
This character is a great substitute for Venti if they both have Viridescent Venerer artifact set. Although her grouping skills may not be as prominent as Venti's, Sucrose can compensate for that by being a more consistent Swirl creator. 3. Kazuha
Kaedehara Kazuha seems like a combination of Venti and Sucrose, only with more conservative crows control and less formidable Energy Recharge.
However, you can still add him to Ganyu's Melt team as he can offer a ton of Elemental DMG bonuses with his Elemental Mastery. Kazuha's Elemental Burst also lets him keep applying the element with which he produces a Swirl reaction. This means he can be a fit in a Freeze team.
4. Jean
The Knight is a good healer and she shines bright when put in any composition that needs elemental reactions. Jean can practically debuff enemies and heal team members with the Viridescent Venerer.
>>> Related post: Top 10 Genshin Impact Hottest Characters You Wanna Date In Real Life