With the release of Genshin Impact 3.0 imminent, the Mihoyo Special Program has just announced the release date for the 3.1 patch ahead of time. It is going to arrive next month, on Sept 28, 2022.
Alongside the reveal, the devs have also announced the three new characters to debut in 3.1 banners. In this article, Gurugamer is going to showcase everything available so far about them.
Previous leaks have already revealed that Cyno and Nilou are 5-star characters. Candace, while having an extremely well-made design, is a 4-star. Cyno
Cyno has been the "face" of the Sumeru chapter ever since the Teyvat Chapter Storyline Preview: Travail video. He also makes a brief but noteworthy appearance in the Manga, sent by Sumeru Akademiya at Lisa's behest to treat Collei's affliction.
He has made multiple appearances in Sumeru-related videos recently.  In one video we can see him sparring with Alhaitham using a polearm, while in another, we can spy him carrying an Electro vision. Overall, it is pretty clear that Cyno is a 5-star Electro Polearm user.
About Cyno's kit
Apparently, Cyno is an Electro DPS character with a Dash Skill and a super mode Burst (similar to Xiao and Kokomi...) He is going to scale based on Elemental Mastery, which means players would likely have to run him in a reaction team. There is still too little info to go deeper, but with this patch being Sumeru and Dendro, it is highly likely that Cyno is going to combo well with the aforementioned element.
Nilou
Nilou is a dancer from Sumeru who uses the Hydro element. Widely famous for her dance and elegance, folks have nicknamed her the "Star of Zubayr Theater."
Based on previous leaks, Nilou is going to be a Sword user. She is similar to Heizou - Nilou attacks her opponents with dance moves instead of the weapon she uses.
About Nilou's kit
Nilou is also a DPS character. Nilou's Elemental skill allows players to perform up to 4 Hydro slashes. Pressing the skill releases one slash, and the others can be triggered by either pressing the skill button or a normal attack. They have a similar effect but different animations.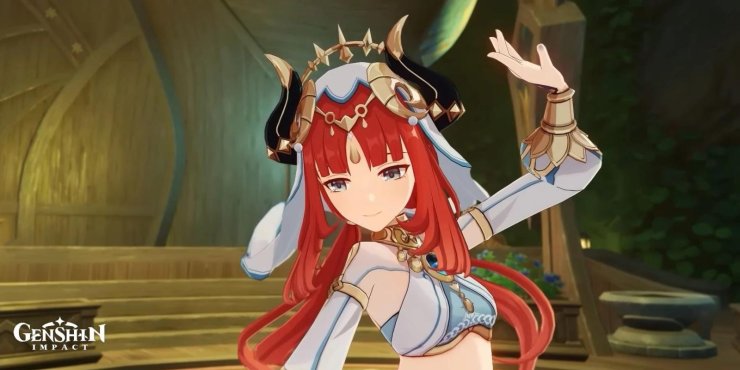 Her Burst deals Hydro damage in a large area around her. Upon inflicting damage to a target, she will deal additional splash damage.
Candace
Candace is one of the few characters that get mentioned constantly but without any leaked character model. The drip marketing has revealed her official appearance for the first time during the stream.
She is a 4-star and the first Hydro Polearm user in the game. Her Skill has three charges and can generate shields, which makes her the first Hydro Shielder.
>>> Read more: Genshin Impact: 3 Reasons Dendro Element Would Be Game-Changing