Nowadays, smartphones have become an essential part of everybody's life. There are tons of apps for you with endless utilities to make your life more convenient and better. It is also a tool for you to entertain anytime anywhere with videos on Youtube, surfing Facebook, or playing games.
You can easily find just about almost anything on Google Play Store and download it for free to your phone to use. However, the best apps, most of the time, come with a price. Other items like books, movies, music on Google Play Store also cost an amount of money. In order to buy stuff on Google Play Store, you need to connect your account to your debit/ credit card or buy Google Credit Card but that is not what we are going to talk about here. Today, we are going to talk about how to get those free Google Credit for free by using Google Play Redeem Code Free 2020.
Google Play Redeem Code Free 2020 - What is it?
A Google Play Redeem code consists of 16 characters(words or numbers). You can use them to redeem a fixed amount of money in Google Play Store once. These codes can be distributed through physical means such as Walmart, Amazon,... or through digital means such as free Google Play Redeem Codes Giveaway 2020.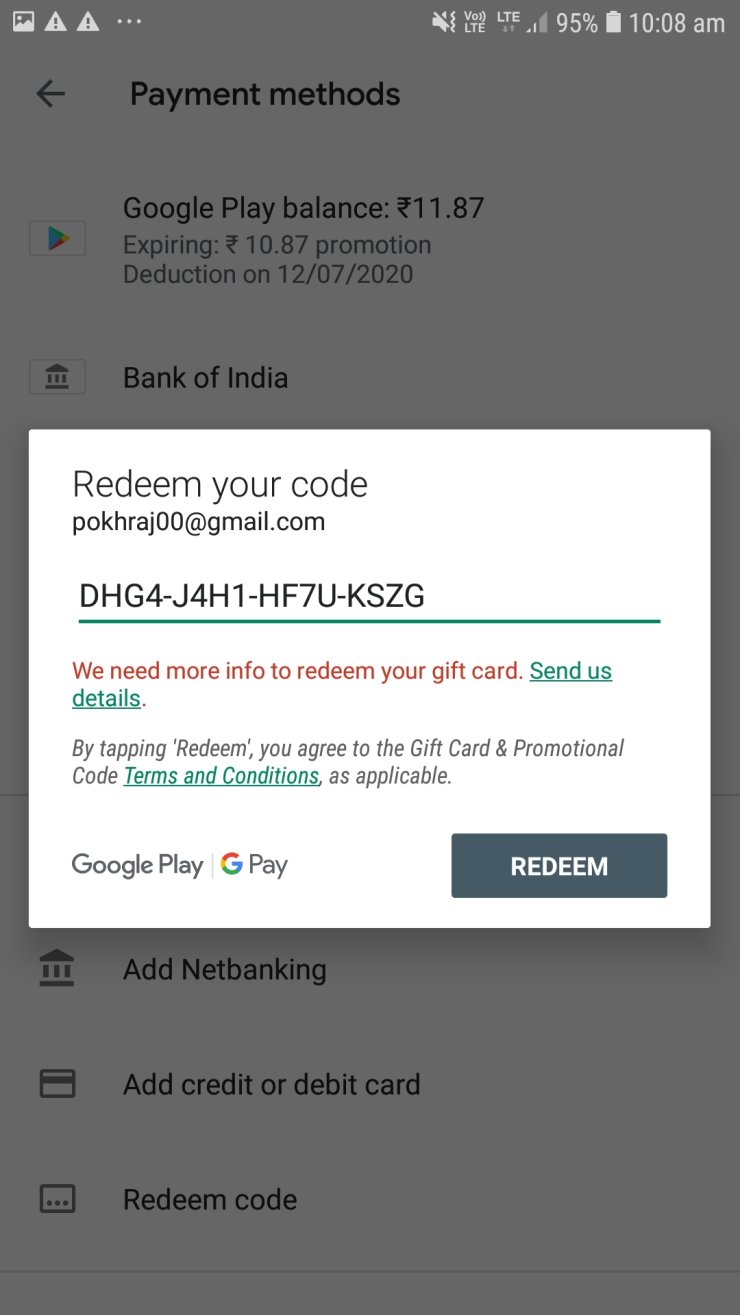 Here are some examples of Google Play Redeem Code so you can get a sense of what they look like.
TH67-KI87-PO98-JYI9
JISU-O6J1-CV4F-6HGU
P0I9-CV35-5GFT-JY87
KJ87-OI77-O2K4-HY58
Q42G-JK78-VB46-H766
Note that those codes above are just to illustrate how Google Play Redeem Codes look like. They can't be used to redeem money in the Google Play Store.
How to get free Google Play Codes easily?
There are many sites and apps on the internet that promises to give you free Google Play Codes. Most of these apps work in the same way. You will have to do simple tasks in the apps such as playing games, downloading apps, answering surveys,... to get points. When you had accumulated enough points, you can exchange those points for Google Play Codes.
However, not all apps are the same. Some apps will cost you less time and effort to get your hand on a Google Play Code. Here are the top 4 apps for you to get a Google Play Code faster while having some fun.
1. FunTap
If you love playing mobile games the FunTap is a great way for you to get free Google Play Code. All you have to do is download FunTap from Google Play Store and start playing games that are available in the app. When you want to play a game in FunTap, click on it and it will be downloaded to your phone. Play the game to get coins in FunTap. When you have enough coins, you can exchange for Google Play codes, Amazon codes, or even your PayPal account.
2. Google Opinion Rewards
This is one of many ways for Google to know what their customers want and they are willing to reward people for doing it. You will find many market surveys in Google Opinion Rewards to complete and get money. These surveys are typically really easy to complete and they come in every one or 2 days. The reward you can get from each survey is varied. Some surveys can even get you up to 1$. When you have accumulated enough money in the app, you can exchange it for Google Play Redeem codes.
3. JunoWallet
Your phone can be a really good tool to get free codes and gift cards if you know the way to do it and JunoWallet will help you with that. You can watch ads, you can do surveys, or you can download apps to get points in JunoWallet. Once you get enough points, you can redeem your Google Play code. As long as you are patient and do at least one or 2 two tasks every day, you will be able to cash out every week.
4. Whaff Rewards
Whaff Rewards is not quite popular as those apps above but it got great reviews from users with a high rating. All you have to do is playing small games and quiz in the app to get rewards. If you really put your time on using this app, you can get up to 20$ per week. Also check out: How To Play No Internet Game Google Chrome Online And Offline