Ditto is one of the most favorite Pokemons in Pokemon GO with insane transformation ability. However, it's not easy to locate this Pokemon and catch it. Check out this guide on how to catch Ditto in Pokemon Go.
Table of Contents
What is Ditto in Pokemon GO?
Ditto is a Pokemon of the normal type in Pokemon GO. It originates from the Kanto region. Ditto is also one of the most wished Pokemon because of its amazing transformation ability. Moreover, this normal-type Pokemon can also copy rare Pokemons in this game. In addition, Ditto can imitate the movement, IQ, and appearance of other Pokemons. It can also produce the next generation with other Pokemons but you cannot use Ditto as a breeding Pokemon. Pokemon trainers can find it in the wild to add this Pokemon to their Pokédex collection and complete some missions, such as unlocking Mew. Where to find Ditto in Pokemon GO 2021?
It's pretty difficult to find and catch Ditto in Pokemon GO because it can appear in the form of another Pokemon in the wild. You don't know whether the Pokemon you see is a Ditto or a real Pokemon. The chance to see it is also small. You will have more chances to encounter it when visiting the best places for Pokemon hunters in the world.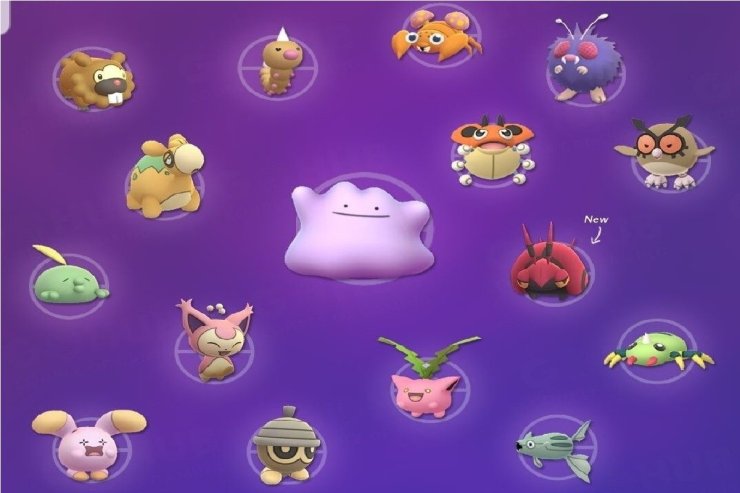 Therefore, Pokemon trainers need to know which Pokemon Ditto disguises at different periods of time to catch it. Then, you will have the opportunity to get a Ditto by chance.
In May 2021, Ditto can take the form of some Pokemons below.
Foongus
Hoothoot
Bidoof
Hoppip
Numel
Remoraid
Gulpin
Whismur Then, you will have half a chance to catch a Ditto when catching these Pokemons. The Pokemon models that Ditto take can change every week and month. For example, it used to take the form of Aipom, Croagunk, and Purrloin in April. The good news is Ditto can copy the appearance of certain Pokemons. Apart from some mentioned names, you should keep an eye on some Pokemons, such as Weedle, Paras, Venonat, Voltorb, Ledyba, Spinarak, Seedot, and Skitty. >>> You May Also Like: Complete Guide On How To Evolve Spritzee In Pokemon Go
How to catch Ditto in Pokemon Go 2021?
There are three ways to catch Ditto in Pokemon Go in 2021 by using nearby radar, lures and incense, and a Pokemon spawn set. The Lucky Egg won't work because you can only catch this Pokemon in the wild. Therefore, don't waste your time on this item. Check details of how to catch Ditto in the game below!
#1. Use your nearby radar
The easiest way to catch Ditto is by using a radar tool, such as Pokemon Go Plus. It can help you catch all Pokemon around you without having to open the app. Dito will be added to your Pokedex automatically even when you are not there to see how it transform. #2. Use lures and incense to catch Ditto
Another way to catch this rare Pokemon is by using lures and incense. You can stay in a place and pop lure or incense to summon more Pokemon around. It helps increase the spawn rate of all Pokemon, including Ditto. It also raises the chance to catch this Pokemon. #3. Get Ditto in Pokemon spawn set
You may have a chance to get a Ditto in the Pokemon spawn set. It's equal to all Pokemon hunters. If you hear someone say that he has caught a Ditto in a specific place, you can also catch a Ditto at that location. The new Ditto will be spawned there for other Pokemon trainers to come and catch. Therefore, you should join some Pokemon Go groups or follow some Pokemon Go trainers to know where to catch this Pokemon in your neighborhood or city. Although the Lucky Egg won't give you a Ditto, it can double the XP. Then, you can use this XP to check the Pokemon you encounter in the wild.
How to get Shiny Ditto in Pokemon GO?
Shiny Ditto is one of the rarest Pokemons in Pokemon GO. You can only catch Shiny Ditto during in-game events, such as Kanto Tour. Pokemon trainers need to complete the Shiny Ditto research task to get this rare Pokemon in their Pokedex. Use the same methods to catch it in the wild. After capturing a Ditto or Shiny Ditto, you should bring it to the Pokemon gym to see how amazing it is. Ditto has two skills, including Transform and Struggle. The skill Transform does not cause damage to the opponent but it can make Ditto copy the form of the opposing Pokemon. This amazing Pokemon can also copy all features and skills of the opponent but still retains its featured CP. This CP only changes when you upgrade Ditto. But you cannot evolve Ditto to have the evolved version of this Pokemon.
These are all tips and guides on how to catch Ditto in Pokemon Go. This rare Pokemon is really amazing. Let's try to catch it now.
>>> Related post: How To Walk In Pokemon GO With Or Without Actually Moving?