Cooking is an important and interesting activity in Genshin Impact. Players can also process ingredients by themselves to cook, but many players haven't discovered the ingredient processing section. Here're the detailed guidelines to process ingredients in Genshin Impact.
Table of Contents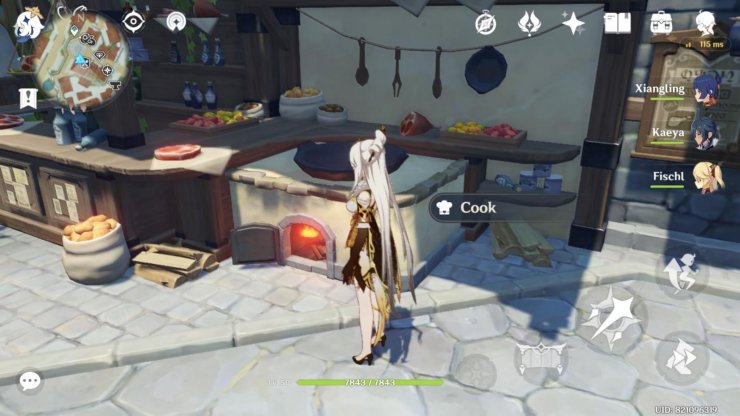 How to process ingredients in Genshin Impact
The processing room in Genshin Impact allows players to make some seasonings or cooking materials. Players can process many ingredients at once. Follow these steps to process an ingredient in this game.
Get close to the cooking pot with a lit fire in nature or near the restaurants in three cities.
Tap on the Cook button to open the cooking menu.
Tap on the Chili icon under the Knife and Fork icon to open the Process section.
You will see twelve ingredients in the Process section, including Flour, Raw Meat, Cream, Smoked Fowl, Butter, Ham, Sugar, Crab Roe, Jam, Cheese, Bacon, and Sausage.
Select the ingredient you want to process but make sure that you have enough materials to process it.
Tap on the Cook button in the bottom right corner of the screen.
After the processing is complete, tap on the Obtain button.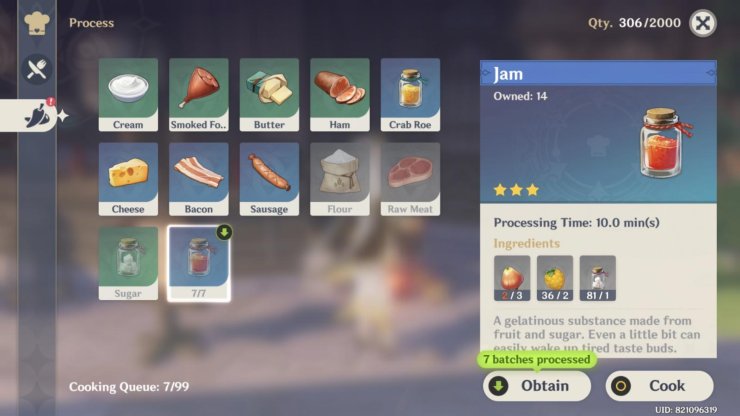 You can process 3 ingredients in Genshin Impact or more at once as long as you have enough materials. Let's check out some examples of how to process ingredients in Genshin Impact below.
1. How to process sugar Genshin Impact
To process a bottle of sugar in Genshin Impact, players need two Sweet Flowers. These flowers can be found in the wild in all three nations Mondstadt, Liyue, and Inazuma. It's very easy to find these flowers, even in the dark.
Sugar is an important ingredient in many dishes, such as Egg Roll, Lotus Seed And Bird Egg Soup, Sakura Mochi, etc. When you have enough Sweet Flowers, you select Sugar and tap on the Cook button. The processing time for sugar is 3 minutes.
In addition, you can buy thirty Sugar bottles in total per day from the restaurant of Sara in Mondstadt, Shimura Kanbei in Inazuma, and Chef Mao in Liyue.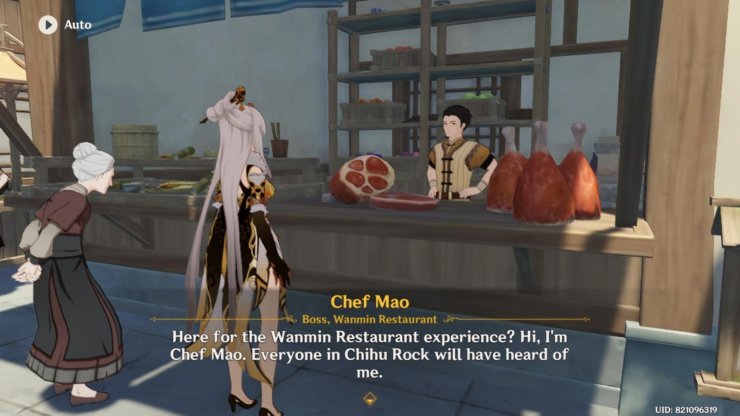 2. How to process flour in Genshin Impact
Flour is also an important cooking ingredient in many dishes, such as Mora Meat, Flaming Red Bolognese, Tea Break Pancake, etc. You can easily make a pack of flour from a piece of wheat in the Process tab. Or else, you can buy 30 packs of flour per day from three restaurants in Mondstadt, Liyue, and Inazuma.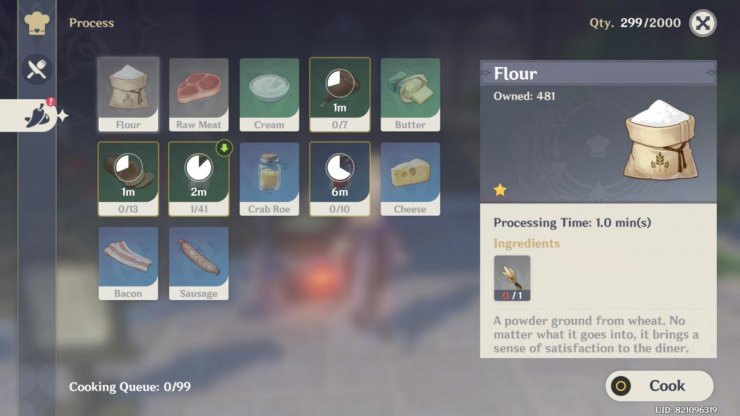 Where to buy ingredients Genshin Impact
You can buy ingredients in Genshin Impact from Sara's restaurant in Mondstadt, Shimura Kanbei's restaurant in Inazuma, and Chef Mao's restaurant in Liyue. Besides, players can buy materials for cooking and ingredient processing from the shop of Blanche in Mondstadt, Dongsheng in Liyue, and Aoi in Inazuma.
Cooking is an interesting experience in this game. Xiangling is an excellent chef that you should use when cooking for the bonus.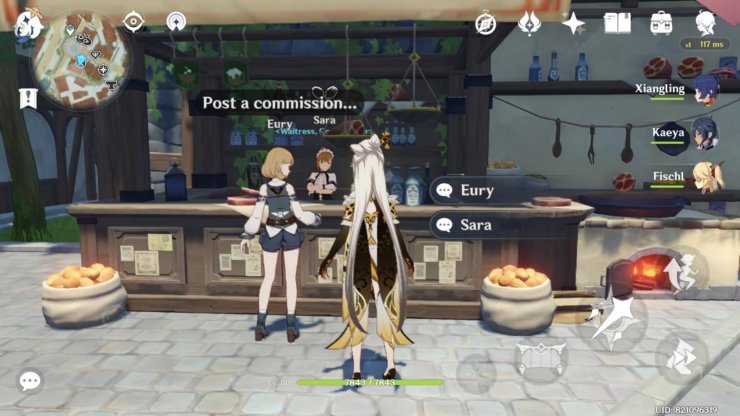 Apart from some similar ingredients, such as salt, pepper, onion, milk, tomato, cabbage, potato, wheat, they also sell some exclusive ingredients.
Aoi's shop: Shrimp meat, Naku Weed, Tofu, Rice. You are limited to buy 5 Naku Weeds per day and 100 pieces of other items.
Dongsheng's shop: Shrimp meat, Tofu, Rice, and Almond. The limited number of these ingredients is 100.
Blanche's shop: all popular ingredients of three shops, including salt, pepper, onion, milk, tomato, cabbage, potato, and wheat. She does not sell any exclusive ingredients.
The restaurant of Sara, Chef Mao, and Shimura Kanbei sell all processable ingredients, some 1-star dishes, and recipes.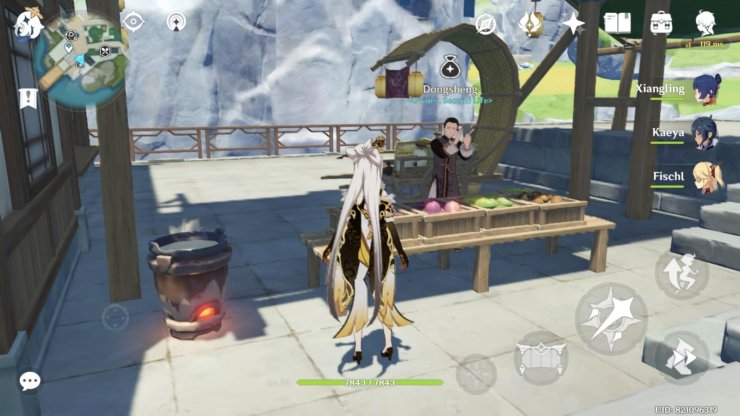 Ingredient processing reward Genshin Impact
Genshin Impact players won't receive rewards from processing ingredients, but they are rewarded for cooking. Here are some rewards you can receive from cooking activities in this game.
The Art of Cooking
The Art of Cooking is a World Quest related to cooking activity in Genshin Impact. You will receive this quest from the NPC Lynn in Starfell Valley, Mondstadt. This quest requires players to cook the dish Chicken-Mushroom Skewer.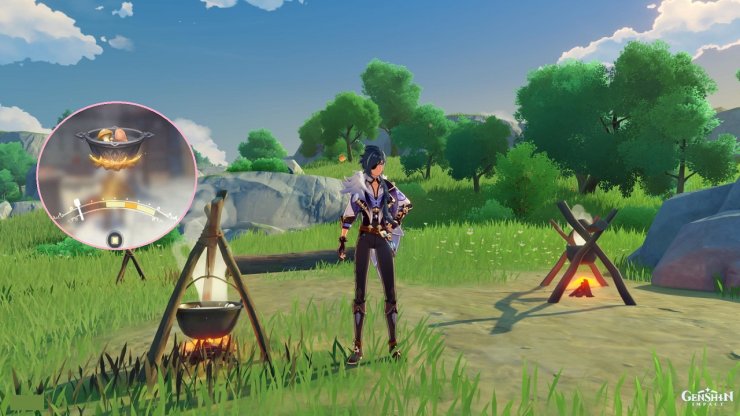 This is a tutorial quest for players to get familiar with the cooking system in the game. You need to gather ingredients and cook the dish at the cooking spots. After completing this quest, you will receive a set of rewards, including 5 Bird Eggs, 10 Fowls, 5 Mushroom, 5 Wheat items, and 2500 Mora.
Battle Pass Rewards
In the Battle Pass, players have a mission that requires them to cook 20 dishes per day. After completing this mission, you will add 360 BEP to the total process. After getting enough 1000 BEP from various Battle Pass missions, you will increase one level and get a random reward.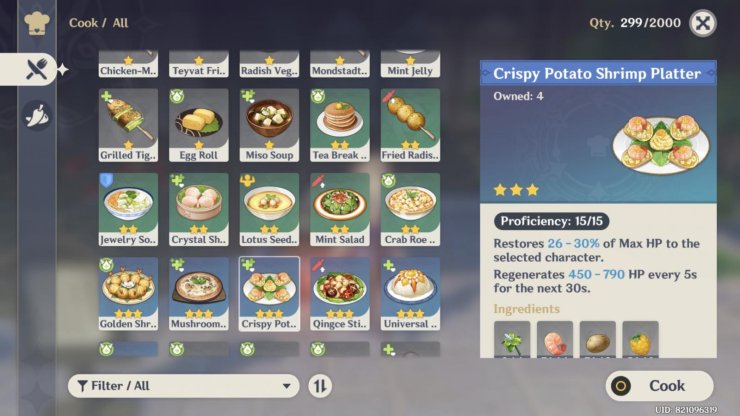 Achievements
When you master 40 recipes in total, you will get 20 Primogems from Star Chef Achievement. It's available to receive in the Achievement section "The Art of Adventure". Exploring the food culture of three nations in Teyvat is more fantastic than you think. You can buy more recipes from three chefs or obtain recipes from missions to complete this Achievement mission.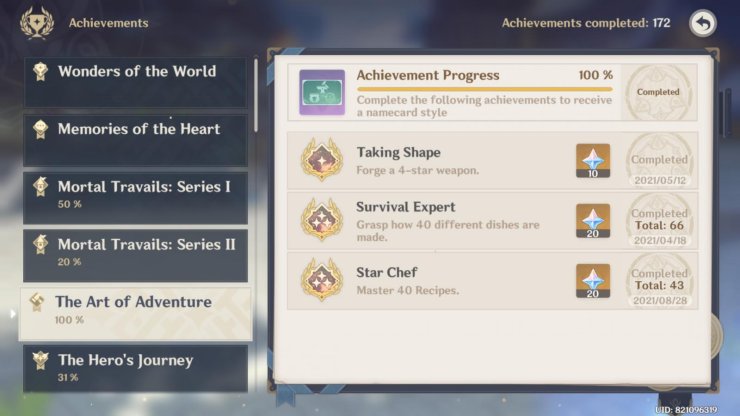 Follow the full guide on how to process ingredients in Genshin Impact above. Then, prepare enough delicious and necessary food for your adventure in this game.
>>> Also Read: Baal Ascension Materials: What To Farm Before Genshin Electro Archon Banner