Kelly is one of the fastest Free Fire characters. Her unique ability increases her running speed, allowing her to get to other places in much less time. This character is widely recognized among FF players, who use her often. When awakened, she becomes Kelly the Swift Free Fire.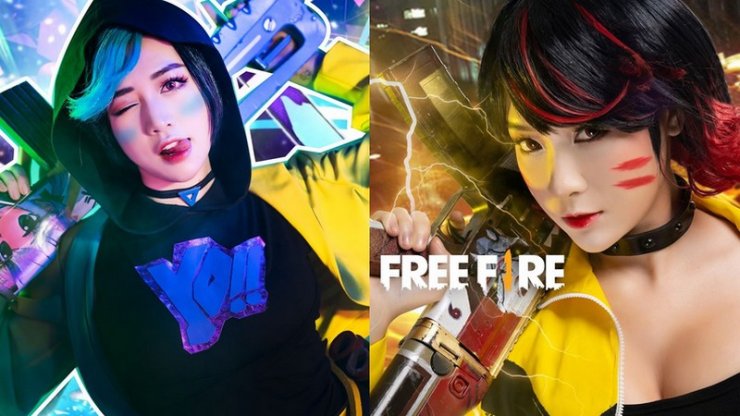 Kelly's real name is Shimada Kiriko. She is a teenager, still a student. She is an elite athlete who does not stop training on the running track or in the academy, which makes her the fastest character in Free Fire.
Running is one of the most important aspects of playing Free Fire. Free Fire Kelly the Swift has the ability to run faster than any other character in the game. With the Dash skill possessed by Kelly, you can more easily go after the safe zone, speed up the process of finding weapons, rotating, or when running away from your opponent's pursuit.
Playing as Kelly will be the best option if we want to get to places before others, or have an advantage in any pursuit on foot. Her ability is easy to understand: she is faster than the rest when she runs. Kelly at her highest level can run 6% more than the others.
It may not seem like much to you, however, that "small" increase makes a big difference. Using a character like Kelly is useful in any game mode. Special ability: Kelly's sprint is faster than normal, allowing us to reach enemies, grab the loot before others, or escape from danger.
Price: 2000 coins or 399 diamonds.
Free Fire Kelly the Swift biography
岛田桐子

Shimada Kiriko

Age: 17

Date of Birth: 1st Apr

Kelly is a high-school sprinter.

She is also known as Shimada Kiriko.

She loves to run, and can always be seen on the track.

Running forward is built into her mind and body. No matter the obstacle, she will always push forward.

Keep Running! KIRIKO!
Kelly the Swift Free Fire special ability
Dash
Increase sprinting speed. Skill Progress
UNLOCK AT LEVEL 1
Sprinting speed increased by 1%
UNLOCK AT LEVEL 2
Sprinting speed increased by 2%
UNLOCK AT LEVEL 3
Sprinting speed increased by 3%
UNLOCK AT LEVEL 4
Sprinting speed increased by 4%
UNLOCK AT LEVEL 5
Unlocks Training Set.
UNLOCK AT LEVEL 6
Sprinting speed increased by 5%
UNLOCK AT LEVEL 7
Kelly's Achievement
UNLOCK AT LEVEL 8
Sprinting speed increased by 6%
Who is Kelly the Swift Free Fire?
The new version of Kelly came out back in March during the Apocalypse event, which introduced several changes to the game system apart from the cosmetic changes. One of the biggest changes was Kelly the Swift Free Fire Awakening version, who can be identified by the red coloration at the end of her hair, which also has a different style. With this new skin also came a skill that can be unlocked by completing Awakening missions.
The new Kelly the Swift Free Fire ability is called 'Deadly Velocity', with which you can deal more damage with the first shot that hits the target. To celebrate the inclusion of this new design for Kelly, Garena decided to release a promotional video telling Kelly's story.
The video recounts the moments of her childhood and how she ended up trying to survive in Bermuda with characters such as Maxim, Misha, and Hayato. Also the video serves to announce a new look that goes with your unique ability. The new Kelly the Swift Free Fire ability allows her first shot at a character to have increased damage.
How to unlock Kelly the Swift?
To obtain this new version of Kelly, you will not need to spend money, since you can unlock it by completing 4 missions. The missions are simple, but some can be time-consuming. One detail that you should take into account is that for them to appear you must select Kelly and then go to the Awakening section, which is under Archives and Character.
Travel a total distance of 600 kilometers by running in any mode (custom room is not counted).
Eliminate 200 enemies in any mode (custom room is not counted).
Get 20 Booyah! in any mode (custom room does not count).
Team up with friends and complete 100 games.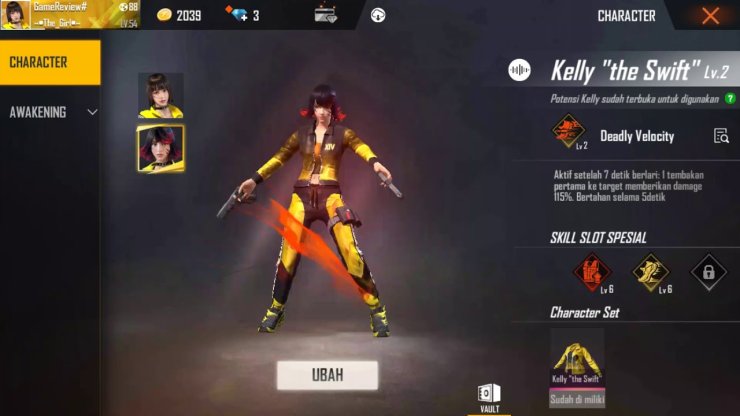 Another thing that you should take into account is that only the actions that you carry out with Kelly count towards the missions, so the attempts made with another character will not be added.
If you have successfully completed the four Kelly the Swift Free Fire missions, you can unlock the unique life story of this character. There are also footages of when she was with Maxim and Caroline. After completing the collection of Elite Kelly fragments, the last thing you need is to get the Awakening Shard. You can get it by exchanging it with 223 badges on Free Pass. The latest Elite Kelly 'Deadly Velocity' skill is activated automatically after running for 7 seconds. Then, the first damage to the enemy in that round will increase by 115% for just 5 seconds.
After that, you can run with the character for 7 more seconds to activate 'Deadly Velocity' again. To maximize this ability, give Kelly the most damaging weapons you can find.
We leave you with some amazing Kelly the Swift Free Fire wallpaper pieces you can save on your devices: If you are looking for more news, updates, guides, lists, etc. on gaming and entertainment like this Kelly the Swift Free Fire article, visit our website at GuruGamer.com for more of what you need.