Free Fire's OB30 update is coming out tomorrow. In this update, Chrono, Wukong, and Andrew's abilities will be nerfed, with the only buff being Shirou. In this article, we are going to showcase all the character changes in Free Fire OB30 and analyze them to see if Shirou could become the top pick or whether Chrono is still usable. 1 - Free Fire OB30 character nerf
Chrono
According to Garena, even after the previous massive nerfs, Chrono's Time Turner remains one of the most reliable and popular abilities in the game. This is why they decided to reduce the duration and increase the cooldown. Additionally, the movement speed bonus inside the bubble is also reduced.
Movement speed: 5/7/9/11/13/15% -> 5/6/7/8/9/10%
Shield duration: 3/4/5/6/7/8s -> 3/3/4/4/5/5s
Cooldown: 200/192/185/179/174/170s -> 250/242/235/229/224/220s
Comparing to the OB30 advance server version of the nerf, Chrono's ability in OB30 is nerfed even harder. The duration is cut down by almost half, speed cut down by 1/3, and cooldown increase by another 50 seconds. You can probably activate this skill once or twice a match now. Overall, Chrono's ability is so badly designed that even with this cooldown, people would probably still use the character. The ability to become invulnerable while still able to shoot enemies is OP. This is going to be one of the most impactful character changes in Free Fire OB30.
Andrew "the Fierce"
Andrew the Fierce's Wolf Pack becomes a problem when the entire team is using it to stack up the effect. Because of that, Garena has decided to reduce the armor damage reduction bonus a little bit.
Damage Reduction: 8/9/10/11/12/14% -> 5/7/8/9/10/11%
A minor nerf, barely noticeable. It is expected that people are still going to run Andrew on all 4 players in a squad. Wukong
According to Garena, Wukong's high mobility while Camouflaged is a problem. Players' movement speed is now reduced while in bush form.
Movement speed while camouflaged: -20%
Overall, this nerf does not matter much at all. It is just a minor inconvenience at best.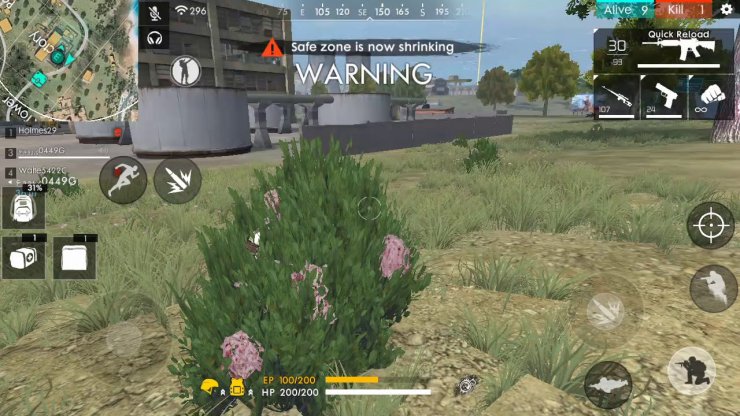 2 - Free Fire OB30 character buff
Shirou is one of the characters who was over-nerfed in the previous patches, with his ability cooldown increases to 20s at max level. This is actually a pretty bad idea, as his skill is already pretty weak - it requires players to get hit to activate. In OB30, Garena is going to heavily buff the cooldown of Damage Delivered.
Cooldown: 35/34/32/29/25/20s -> 25/24/22/19/15/10s
Overall, the previous skill is very unreliable in prolonged or constant combat, as 20s is just too long. By cutting the cooldown in half, Shirou users would have more chance to make use of the bonus. This is one of the most significant character changes in Free Fire OB30 Interested in more of our articles related to Garena Free Fire? Please check out this post to find out more about Free Fire India Championship Fall League 2nd Week Recap: Standings, MVPs, And More!