PUBG Mobile Metro Royale mode has come to this game yesterday in the latest update 1.1. It made a lot of players excited while many others got confused with this new game mode. Here's a completed guide on how to play this game mode. Then, check out some tips and tricks to rank up in Metro Royale here with Gurugamer.com.
About Metro Royale Mode In PUBG Mobile
This new game mode is totally different from other existing game modes in PUBG Mobile. It brings a totally new map, items, and many new features. Besides, there is no need for PUBG Mobile metro royale APK download. Therefore, PUBG Mobile players have to get used to new gameplay, rule, and tactics. Here are things you should know about this new game mode. New Maps
This new game mode introduced completely new maps that you have never seen and explored before. You will play in the Confrontline Confrontation and Old Blockade Zone.
Basic Confrontline Confrontation: This basic map lets you play with a slow pace of combat on a wide battlefield. This urban map gives players a wide field of vision. Moreover, you also engage in fierce combat with One-eyed Cobra and Steel Front in the bases. Basic Old Blockade Zone: This map is smaller than the previous map but it's richer with abundant supplies to loot. However, you also encounter more enemies in this restricted military base. There are two evil forces occupying and dividing this small area. Advanced Old Blockade Zone: This map is only unlocked after you reach level 8 in this Metro Royale Mode. The Base and FortRozhok are the two biggest areas on this map. The advanced map also has a Radiation Zone which does not exist in the basic map.
New Gameplay
Unlike other game modes in PUBG Mobile, Metro Royale brings players totally new gameplay and rules.
You don't fight against real players but have to take down bosses and system-controlled enemies. They are much better than bots you meet in the ranked mode.
You will play in a team of four players, you guys are the four only real players on the map. There are fewer weapons, bullets, attachments, consumables, and armor to loot in this game mode. Therefore, players have to go to the black market to buy these weapons and supplies before entering the match. Only after equip armor can you enter the match. Or else, the system will ask you to buy them in the black market to equip them. Moreover, you have to prepare weapons, consumables, and necessary things before matching or you will start the game with your empty hands. Drag the supplies and load-outs from your inventory to the backpack and character's hands. Your mission is looting valuable items to sell in the black market and earn money. Besides, players also have to take down enemy agents who are set to kill you.
When your backpack is full of supplies, you can head to returning points marked on the map to come back to the lobby. Then, select the items you want to sell to earn a sum of money, buy more supplies, and start a new heist.
Missions
Sometimes, you will feel as like you were playing a new game. In addition to the new maps and new gameplay, this game mode also introduced a new set of missions. There are Challenge Missions, Story Missions, and Favorability Missions.
Challenge mission: There are some challenge missions every week for players to complete and earn rewards, including money, EXP, and Favorability Packs. The mission list will be refreshed every Monday. Story Mission: You need to complete the story mission to unlock the game's story of Metro Royale Mode. Favorability Mission: Players have to do the request of Vera, Katia, and Ian, three characters in the Command Post to receive rewards. Besides, you can use the supplies you loot from the battleground to gift them and increase the Favorability level.
Rewards
In addition, there are a lot of attractive rewards you can get in this game mode. such as:
Chapter Rewards: Obtain when you level up. Event Rewards: The game also gifts you money and supplies, such as weapons, armors every week. If you log in every day, you will get the grand event rewards. For example, players can receive an M416, M763, Groza, and more weapons every week if they log in to this game mode all seven days of the week.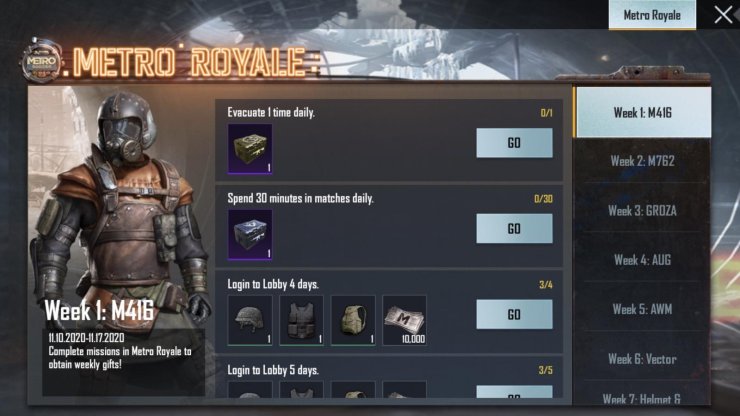 Mission Rewards: Receive after completing given missions.
Those rewards will be useful for you on the battleground and in the black market.
Best Tips For PUBG Mobile Metro Royale Mode
The latest PUBG Mobile Metro Royale Update is available to enjoy in this game now. You can experience it after getting PUBG Mobile Update 1.1. It's also the final quality, so you don't have to play the PUBG Mobile Metro Royale beta version. To enter the Metro Royale, PUBG Mobile players can tap on the Metro Tunnel on the left of the screen. You can invite your friends to join you or the game system will match you with strangers. Then, you need some tips to play this new game mode. Check them out below:
Invest your money in favorite weapon and a level-6 backpack to loot and bring more supplies to the black market.
Stick to your teammates so that you can get supports on time. If you go alone and be killed before returning to the lobby, you will lose everything you bring and loot.
Gift Ian to increase the space of the Inventory, then you will have more rooms for more supplies. Don't sell the guns you loot from the map if you haven't got it yet. The price of these weapons in the black market can be higher. Besides, don't sell ammo if you also need it.
Head to the returning point if you cannot deal with the enemies alone.
Always loot expensive items and throw cheap items away if your backpack is full.
Don't be greedy or you may get bankrupt.
This game mode is ready for you to play now. You don't need to download and play with PUBG Mobile metro royale Apkpure. Using an unofficial game app can make you get banned.
Those are things you need to know about the new PUBG Mobile Metro Royale mode. To update the latest PUBG Mobile game news as well as more tips and tricks for gamers, let's visit our website.