As a result of the coronavirus COVID-19 pandemic, millions, if not billions of people are now under lockdown. And for many of us, the lockdowns don't look like they will be ending anytime soon. Unsurprisingly, social media and messaging applications have become increasingly popular, and so have the puzzles for WhatsApp. Seeing how about 2 billion people used WhatsApp just in February this year, imagine how many people are using the app these last couple of months when half of the world are staying home. One can imagine the playing a puzzle for WhatsApp must also be really popular.
WhatsApp is the most used messaging app out there. Well, it has always been the most used messaging app, period. In which case, why not try out these puzzles on WhatsApp? If you don't know how it is possible to figure out these puzzles for WhatsApp, these fun and easy to play puzzles are puzzles for Whatsapp with answer, so don't worry!
1. Puzzles for WhatsApp in images
The Leopard Test
Many of the puzzles are in the form of images. Here we have one that is played simply by sending this image. Ask the other player to find the leopard among the tigers and point to it.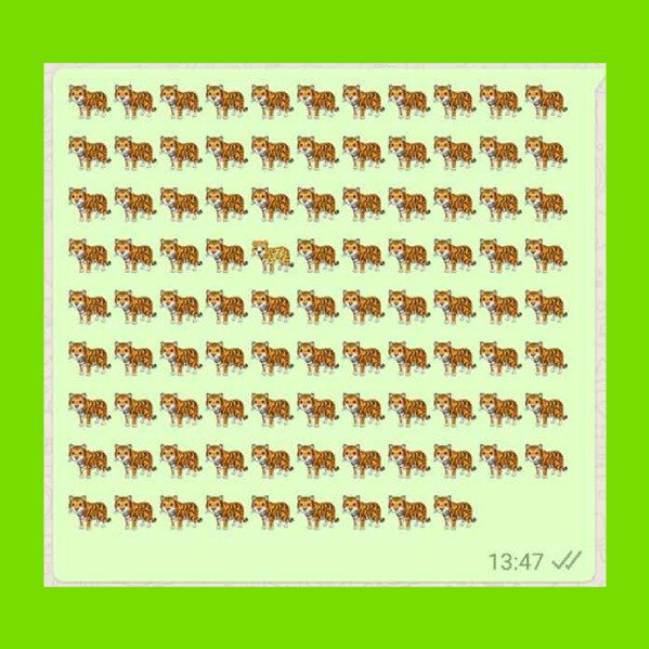 The Dromedary Test
Same puzzle as above but you change the animal species. You have to ask them to find the only dromedary that is among the sea of ​​camels. Camels have 2 humps, and dromedaries only 1.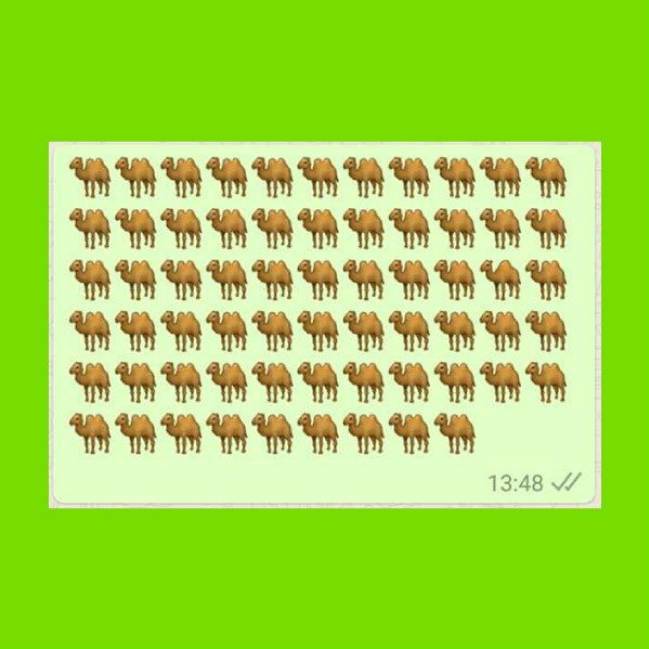 The Indian cities test #1: Answers for Indian city puzzles for WhatsApp #1
1. New Delhi.
2. Chandigarh.
3. Nasik.
4. Cochin.
5. Bombay.
6. Pondicherry.
7. Indore.
8. Calicut.
9. Nagpur.
10. Bhopal
11. Poona.
12. Guwahati.
13. Agra.
14. Bangalore.
15. Satara.
16. Kolkatta.
17. Guntur.
18. Manali.
19. Tirupathi.
20. Mangalore.
The Indian cities test #1: Answers for Indian city puzzles for WhatsApp #2
Indore.
Bombay.
Jalandhar.
Agra.
Chennai.
Calcutta.
Nasik.
Kanyakumari
Pokhran.
Mount Abu.
Callicut.
The Indian cricket players test: Answers for Indian cricket player puzzles for WhatsApp
1. Sachin Tendulkar
2. Dinesh Karthik
3. Rohit Sharma
4. Mahendra Singh Dhoni
5. Yuvraj Singh
6. Ravindra Jadeja
7. Virat Kohli
8. Suresh Raina
9. Kapil Dev
10. Ravichandran Ashwin
11. Vinay Kumar
12. Bhuvneshwar Kumar
13. Murali Vijay
14. Shikhar Dhawan
2. Puzzles for WhatsApp in Hindi
Fill in the blank with a Hindi word The puzzle in English
....... is sweeter than honey,
....... is hotter than the sun,
King needs .......,
Beggar has .......,
Who eats ....... will die.
What is it?
Answer: "Kuch nahin" or "nothing" in English
Guess the dupatta songs in these puzzles for WhatsApp Here are the answers to these emoticons
Lal dupatte wali tera naam to bata.
Lal dupatta uda hawa ke jhoke se
Inhi logon ne le liya dupatta mera
Neela Dupatta Peela suit
Dupatta Tera Nau Rang Da
O hare dupatte wali tera naam to bata
Hawa main udta jaye tera laal dupatta mal mal ka
Agar kare dil tera ....aa rang de ...dupatta mera
Sir se sarka jaaye dupatta beimaan re (Movie : Popkorn khao mast ho jaye)
Dupatta sarak raha hai ...mera dil dhadak raha hai...
The following emoticons are related to lady things, can you solve these puzzles on WhatsApp? These are the answers to these lady things
Ear Ring
Hath phool
Kamar bandh
Angu-ti
Mang-tea-ka
Bindi-ya
Lipstick
Kajal
Nathiya (Nadi-ya)
Baju band
Chun-ri
Pajeb (Payal)
Safety Pin
Powder (Paw-darr)
>>>Go here for more: Quarantine Games For WhatsApp: Did You Know You Can Play Games On WhatsApp When Under Lockdown?
3. Puzzles for WhatsApp in texts
Find the mistake
Next up on the puzzles for WhatsApp, let's start with a simple one, the one that is either caught immediately or requires 50 tries before they tell you what the answer is. The idea is to play with the analytic skills of your WhatsApp contacts, and mentally challenge them. Send them the following text and ask them to find out where the mistake is:
Find the folowing error:
- One
- Two
- Three
- Four
- Five
- Six
- Seven
- Eight
- Nine
- Ten
The answer? Yes, the word "following" is spelled wrong!
Acronyms test #1
Generally, a hand has 5 fingers, and a week has 7 days. These obvious things may not be so obvious if you use initials or just the initial letter instead of whole words. Here are several phraes that your contacts should find out. Some are easy, and others more tricky:
- 206 B in the B
- 24 H in a D
- 7 W of the W
- 5 F on one H
- 7 D in a W
- 64 S on a C
- 12 S of the Z
The answers to each sentence, in the same order, are:
- 206 bones in the body
- 24 hours in a day
- 7 wonders of the world
- 5 fingers on one hand
- 7 days in a week
- 64 squares on a chessboard
- 12 signs of the zodiac
Acronyms test #2
Here's the final acronyms test you can play yourself or with your friends/significant others The answers to each sentence, in the same order, are:
- 12 Numbers in Clock
- 2 Eyes in Face
- 11 Players in Cricket Team
- 9 Planets in Universe
- 19 Coins in Carrom Board
- 24 Frames in Movie
- 3600 Seconds in Hour
- 29 States in India
- 5 Oceans in World
- 3 Seasons in Weather
So these were the fun puzzles for WhatsApp that you can play immediately that are neither complicated nor require a powerful device nor a lot of investment in free time. And if you are looking for more news, updates, guides, lists, etc. on gaming and entertainment like this article, visit our website at GuruGamer.com for more of what you need.