Gloo Wall grenade is a special item in Free Fire that allows players to create a barrier at any time. They are used every match, and a good-looking gloo wall skin would definitely draw the attention of other players. In this article, Gurugamer is going to list out the top 6 best looking Gloo Wall skins in Free Fire MAX.
1. Hayato the Guardian
This skin was added to the game as part of the Midnight Samurai top-up event. Similar to the Shamrock, you can also get this by topping up at least 200 diamonds. 'Hayato the Guardian' skin is electric blue, with a portrait of Hayato carrying a sword on the surface of the wall. If you are a fan of Hayato, getting this skin is a must - this is probably based on Hayato's Awakened form.
2. Plan Bermuda
This skin was released a while ago, as part of the Money Heist collaboration of last year. As it did not come back this year, it is unlikely that players would be able to get this skin at all. Appearance-wise, it is blood red and covered by the infamous masks used in the heist. As players need to acquire this skin via an item shop purchase, the Plan Bermuda Gloo Wall is pretty rare.
3. Hysteria
Garena Free Fire witnessed another set of milestones being crossed for the FFAC finals on November 28. After they got the achievement, they issued a Free Fire redeem code which granted a Brave Crystal token along with other rewards.
Using this token, gamers could redeem one of the 4 available rewards. And Gloo Wall – Hysteria was among that stuff they could get their hands on. 4. Stormbringer
The Stormbringer Gloo Wall was released as part of the Azure Dragon event last year. It is a fusion of futuristic and fantasy design, with a machine-like dragon being the main component of the wall.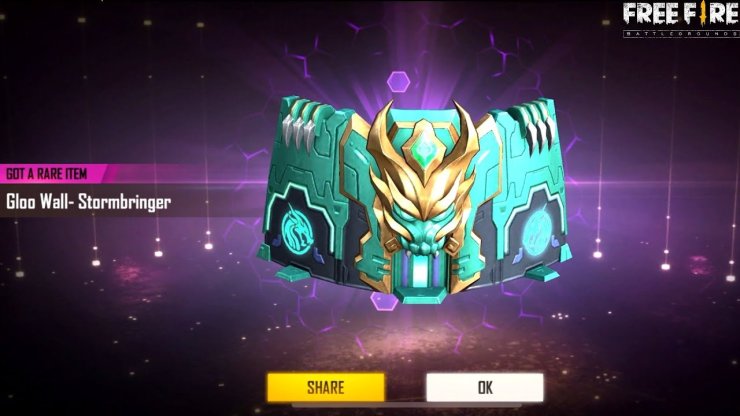 The wall also has various glowing particle effects that would definitely draw the attention of other players.
5. Victory Charge
Items released during Free Fire collaborations are rare and they usually take a long time a return to the game. After the collab with McLaren, special car skins, as well as other items, were introduced into Free Fire. One of the most favorite goodies back then was the Gloo Wall – Victory Change.
It was up for grabs in the McLaren Top Up which lasted from July 28 to August 4. 5. Gold Vault
The recent Money heist collaboration is the final time Free Fire collaborate with this show, and because of that, it brings some of the best items yet. The Vault skin is literally shaped after a bank vault's door, with golden details and the LCDP initials on top of it. Overall, the wall is very well designed and its users would definitely get a lot of attention from other players.
>>> Read more: How To Level Up Faster In Free Fire MAX 2022