Free Fire, being a free-to-play game, has a monetary system consists of multiple types of Luck machines or "Royales". You can either spin those royales with Diamonds or vouchers. In this article, we would list out all types of vouchers and the various ways that you can obtain them in the game.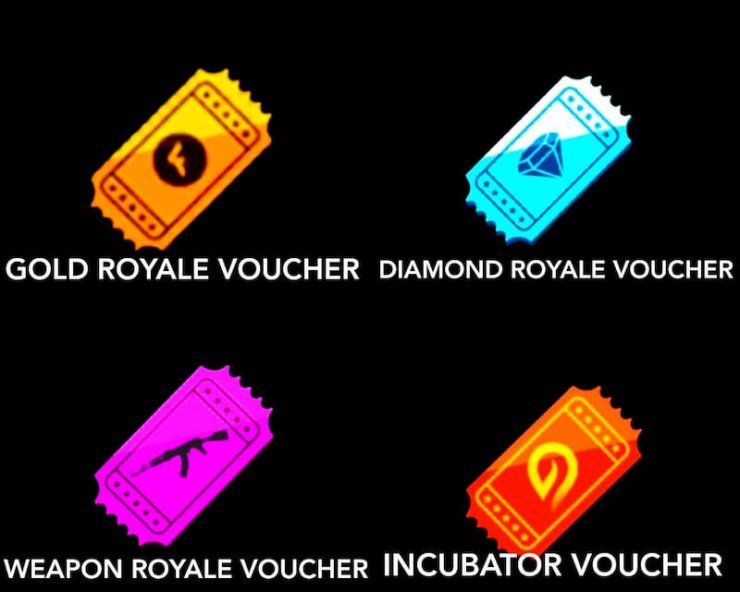 1 - Diamond Royale Voucher
These are the best vouchers that can be used to spin on Diamond Royales. When obtained, the Royale would consume these vouchers first before deducting your diamond stock. The Diamond Royale vouchers can be obtained by spending diamonds in the shop or unlocked as prizes in Elite Pass.
How to get Diamond Royale Vouchers for free? You can get this voucher for free by redeeming FF tokens or guild tokens. They are often given away as prizes in special events as well.
2 - Incubator Voucher
These are vouchers for the Incubator Royale, the place to obtain Free Fire's best weapon skins.
How to get Incubator Vouchers for free? Incubator vouchers can be earned as a challenge event reward, level-up rewards, or exchange prizes in special events.
Read more:
3 - Weapon Royale Voucher
These are the vouchers for Free Fire's Weapon skin Royale. It works similarly to the previous vouchers.
How to get Weapon Royale Vouchers for free? They can be redeemed by exchanging Guild tokens. Besides that, you can get them as a level-up reward or challenge event rewards as well.
4 - Gold Royale Voucher These items are used in Gold Royale to unlock Gold Royale prizes only. Normally, 1 spin would cost 300 gold and 10 spins would cost 3000 gold. These are the easiest voucher to obtain - you can get them from activity rewards, rank up rewards, login rewards, Free Pass, guild tournament rewards, and any featured special events.
Interested in more of our articles related to Garena Free Fire? Please check out this post to find out more about the loadout system of Free Fire.