Genshin Impact 2.7 is going to come out very soon, and with it, the new Hydro bow user Yelan. Her skill has already been leaked a long time ago and based on the leak, Yelan is a highly flexible Hydro Sub DPS. In this article, Gurugamer is going to showcase the 5 best Yelan team comps in Genshin Impact 2.7.
This list is going to showcase teams based on viability, with the strongest teams coming first.
Table of Contents 1. Yelan Vaporize Team
Hu Tao + Yelan + Kazuha + Zhongli
With Yelan functioning the same as Xingqiu, she can replace Xingqiu in a Hu Tao team. This allows players to slow Xingqiu in their second Abyss team if needed. While C6 Xingqiu is more useful than Yelan, damage-wise she is still better. One of Yelan's passive buffs the damage of the active character while her Burst is active, up to a whopping 50%. Hu Tao is the main DPS of this team comp, triggering powerful Vaporize reactions with her Charged Attacks. Zhongli supports Hu Tao with his shield while Kazuha groups up enemies and increases Vaporize damage with his buff.
Players can replace Kazuha with Sucrose and Zhongli with Noelle. Hu Tao prefers shield over heal, as she needs to keep her HP below 50% at all times. Players need to get the Tenacity of the Millelith set on Zhongli and Venerer set on Kazuha for more damage boost/res reduction.
2. Yelan Permafreeze Team
Ayaka + Shenhe + Yelan + Venti
All characters with off-field Hydro applications can work very well in Permafreeze teams, and Yelan is not an exception to this rule. Players can use any Permafreeze duo - Ayaka/Ganyu DPS and Shenhe/Diona/Chongyun as Cryo Support in this team comp. Yelan's main role is to cast her abilities to apply Hydro so that the main DPS can permanently freeze enemies. Ayaka or Ganyu would do their thing, freeze enemies with their full skill set. The Cryo supports would cast their buffs to aid the carry, preferably before switching in Yelan to save her Burst duration.
A full 5 star team with Shenhe as Cryo support would be the best, but that requires a lot of luck and investments. The last slot of the team could be anything, but players should avoid characters who can trigger Shatter (claymore/polearm users and Geo users), as they would break Freeze. A battery character like the Anemo Traveler/Venti/Kazuha can do the trick.
3. Yelan Electro-Charged Team
Raiden Shogun + Kujou Sara + Bennett + Yelan
Raiden Shogun is currently the most powerful character in Genshin Impact, and Yelan can definitely support her in an Electro-Charged team, replacing Xingqiu. In this comp, Raiden would be the main DPS under Yelan and Kujou Sara's support. She also provides Yelan with energy regeneration, giving her Burst more consistency.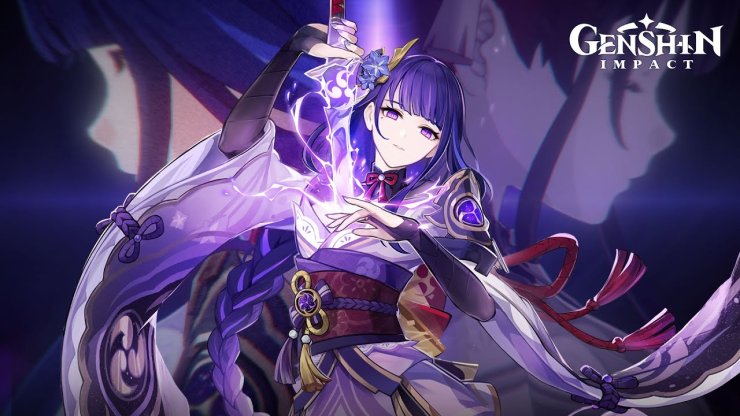 Kujou Sara can be a top tier support for Raiden if you managed to get her to C6. Otherwise, it is possible to replace her with other support characters such as Kazuha or Fischl. Bennett is the final piece of the puzzle, giving the team heal and attack boost. Players can deal massive damage with Raiden's Burst if they time it with Yelan's passive.
4. Yelan Mixed Elements Team (F2P friendly)
Yelan + Yoimiya + Kazuha + Diona
Since Yelan's passive gives her the most bonus in a mixed-element team, players can definitely build her around being a sub or even main DPS. These teams function by having the main DPS characters trigger reactions to deal damage from Yelan's Burst. These kinds of lineup are easy to create if players already have some random units leveled, but don't have the exact team for the above comps. In this team, Yoimiya becomes the main DPS, dealing vaporize damage supported by Yelan's Burst. Kazuha CC and group up enemies while Diona shield and freeze when needed.
Players can sub Kazuha with other Anemo characters such as Sucrose or Venti. Fischl can sub in for Yoimiya to turn the team into Electro charged... and more. Yelan and the DPS characters are going to carry the lineup so players need to build them as much as possible.
5. Yelan Mono Hydro Team
Yelan + Ayato + Xingqiu + Barbara
With the release of Ayato, Mono Hydro team comps are actually getting more and more popular. While they are useless against certain enemies (Oceanid), players can still get a lot of mileage as long as the enemy is not immune to Hydro. Needless to say, this team doesn't rely on Elemental Reactions at all and instead focuses on CRIT. Important characters include C2 Xingqiu with the ability to reduce Hydro res by 15% and C2 Barbara who can increase Hydro dmg by 15%. Yelan and Ayato are the DPS duo, with Ayato staying on the field dealing damage with support from Yelan's Burst.
Players can substitute either Xingqiu or Barbara with Mona, as her Burst amplifies enemies' damage taken. The main DPS slot of Ayato can also be replaced with either Kokomi or Childe.
>>> Read more: Why Should You Pull For Kuki Shinobu In Genshin Impact 2.7