Even though we have landed our first steps in 2020, the PC games scene seems quite stilly. So, while waiting for the famous blockbusters like Moon of Madness or Monster Hunter World: Iceborne to come to PC later this month, let's have a look back on the great 2019's strikes.
We've given you a lot of articles on the best 2019 games, such as the top 5 hidden gems, top 5 PC games with the best plots and the best indie PC games of the decades. And today, we will lead you through the top 8 best PC games with the most beautiful graphics.
Those games are the most outstanding titles that feature stunning visuals on PC, some of which have even pushed beyond the graphical limits of what can a PC game feels like in the decade. To make those PC games beautiful, we must say thanks to the technical empowerment as well as the developers' efforts in the smallest details.
Without further ado, let's get into the first one:
8. A Plague Tale: Innocence
Supported platforms: PC, PS4, Xbox One
I can't count how many times I've written about this game in the year-end complications recently. However, considering how hauntingly beautiful both the visuals and the story of A Plague Tale: Innocence is, it's worth another try. It dates back to the landscape of France in the Middle Ages, where the two siblings have to run away and survive in an unforgiving world.
You can see the trailer below for a more detailed look:
Visual-wise, A Plague Tale: Innocence is definitely one of the most gorgeous PC games in the industry. Thanks to the power of the photogrammetry technology (basically capturing the real world in pictures and render it to pack in the game), the developer Asobo Studio has created a life-like survival experience in the darkest historical era of the world. Additionally, the game has done a great job in the lighting system and making detailed characters, so that you can immerse in the severe conditions that Amicia and her infected brother Hugo has to experience. It still has some flaws like the lip-syncing or some stuttering animations, but overall, A Plague Tale: Innocence is still impressively aesthetic. 7. Tom Clancy's Ghost Recon Breakpoint
Supported platforms: PC, PS4, Xbox One, Stadia
Tom Clancy's Ghost Recon Breakpoint (often called Ghost Recon Breakpoint for short) is the eleventh installment in the Ghost Recon franchise. The game was launched only two months ago for PC, but it doesn't take long to become one of the most beautiful online action-shooter in the industry with its environmental effects.
You can watch its trailer below to see how visually impressive this game is:
Considering its gameplay, Ghost Recon Breakpoint is truly a disappointment. Priming itself as a tactical shooter, Ubisoft's game is more like a pay-to-win title rather than planning or team working one. Setting that aside, Ubisoft has done a great job optimizing the game, making it run smoother than the previous title - Wildlands. Apart from the optimization, Ghost Recon Breakpoint looks great as well. The developer also used the photogrammetry technology to texturize the game, and also bring weather conditions into account. With a decent PC, players can enjoy the beautiful grass waving in the wind while hiding in places waiting for the order to strike. The only thing that this game hasn't done well is the character models not on par with what other rivals like Call of Duty or Battlefield offer.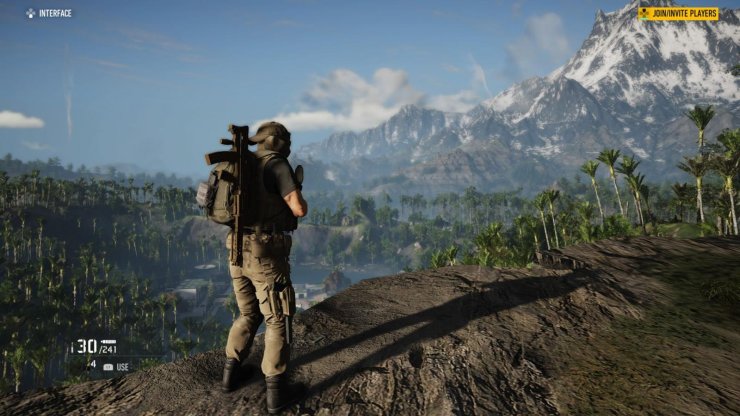 6. Call of Duty: Modern Warfare
Supported platforms: PC, PS4, Xbox One
Following very tightly to Ghost Recon Breakpoint, we've Activision's most ambitious title Call of Duty: Modern Warfare. We can't deny that CoD: Modern Warfare looks great and plays even better, as it has won the Best Online Multiplayer Game of 2019, but it only stands in the third place due to the annoying pop-in issues (basically, your control point keep shrinking with black border).
Nevertheless, you can still see how detailed the missions in Call of Duty: Modern Warfare are:
Call of Duty: Modern Warfare features Ray Tracing supports, which you can turn on to feel how the lighting quality drastically changes. However, as the nature of a first-person shooter, people tend to favor frames rather than quality, so not many decided to use the features. But even without that, the game still looks incredible with its details in every particle effects. To be more specific, the environment looks very realistic, but at the same time, it doesn't obstruct players' abilities to observe battlefields at all. Characters' model has always been CoD advantages and this installment is not an exception. If Activision finds a way to solve its pop-in problems, the game would easily steal a higher place. 5. Resident Evil 2 Remake
Supported platforms: PC, PS4, Xbox One
While the two previous shooters focus on the first-person realistic experience, Resident Evil 2 Remake focuses more on horror elements with creepy zombies that you'll blow their flesh off. Release in January 2019, Capcom's most famous game keeps getting mentioned over and over for its gameplay and story, but little appreciate how horrifying yet beautiful it is.
You can watch the trailer of Resident Evil 2 Remake here:
We all know that remake games often look way better than its original version, but Resident Evil 2 Remake has done much more than that. It has brought the amazing third-person shooting experience in the original game to modern's visual standards, and even push it further by featuring detailed body dismemberment. Featuring one of the best characters model design in the industry, every movement you make and every shot your fire looks absolutely life-like. All of them are embellished by the perfect lighting for a horror game as well as the environment interactivity. It still has some noise problems, especially when you're soaked in the rain, but it's nothing too big to mention here. 4. Red Dead Redemption 2
Supported platforms: PC, PS4, Xbox One, Stadia
Originally released for PlayStation 4 in 2018, Red Dead Redemption 2 has already received a lot of praise from both players and critics for its visuals and also its Wild West concept. So, the moment Rockstar announced that they will port the game to PC, fans have gone hype, but then completely disappointed at how many bugs its PC version has.
Set that aside, if you haven't heard of this blockbuster from GTA's developer, watch this trailer for details:
At least Rockstar is very active in providing patches to make its PC version stable. And if its initial launch version is not a total failure, the game may have a higher spot on this list. Red Dead Redemption 2 stands out for its character models and phenomenal environmental effects, as the developer has successfully portrayed the untouched beauty of nature. You can even see the snowflakes falling from the sky, as well as shining and melting when the sun rises. If you're into an open-world adventure game, Red Dead Redemption 2 is a must-try. But I highly recommend waiting for more bug fixes to come first. 3. Detroit: Become Human
Supported platform: PC, PS4
Detroit: Become Human is the last game from Quantic Dream's PS4-exclusive trilogy including Heavy Rain and Beyond: Two Souls. And as the latest title in the pack, Detroit: Become Human has done what it should be: imagining a futuristic world with Androids in the most detailed way.
You can see it trailer down here to see the journey of the robots that lives even more humane than human:
Even though the game was not optimized well to run on mid-end or low-end PC, it still looks phenomenal if your machine can carry its detailed levels. It's an open-world narrative game with choice-driven mechanics, in which you can enjoy wandering in a futuristic world with a lot of modern technology. However, the most outstanding graphical features of Detroit: Become Human is its lip-syncing that makes you feel like the characters are speaking themselves rather than just mumbling. And together with the well-done quick-time events that freeze time and make everything in slo-mo, it's definitely one of the best looking PC games of 2019. 2. Control
Supported platforms: PC, PS4, Xbox One
The latest game from Remedy Entertainment - Control - would easily secure a spot in every top list regarding visual quality. The game is stunningly beautiful with its real-time ray tracing effects - actually, one of the best PC games in the industry to make use of this new innovative lighting tech.
See the trailer of the game for the details:
You can feel the satisfaction with every time you change the form of your gun, every gunfight with explosions and bullets interaction, as well as every step you make exploring the secret facility. RTX was used in almost everything this game features: shadow, illustrations, reflections effects. Even better, as almost all of this prettiness was successfully brought for consoles as well, making Control one of the best-optimized game of 2019. 1. Quake II RTX
Quake II is a very old game (22 years old), but none of us have expected that its remake can be this ground-breaking. Starting from the work of a fan namely Christoph Shied, Nvidia has picked Quake II RTX up, and doing the best they can to stuff its most advanced ray-tracing effects in.
Quake II RTX is very straight-up, and you'll recognize how brilliant the game is within the first time you dive in this first-person shooter. But if you haven't got the chance yet, feel free to watch the trailer below first:
The only thing similar to Quake II and Quake II RTX is that they are the PC games that only beast machines at their date can handle. At its first demo, the game looks gorgeous with the 'path-tracing' improvements (basically bringing almost everything ray-tracing can do to work independently in a game). However, it resulted in the incapability of making the game running at 60fps - which is not optimal for a first-person shooter. Later on, a patch was delivered by Nvidia, not only optimizing the game significantly but also bring more RTX effects without hurting the game's performance. And now, it's just a perfect combination of the legendary FPS experience and the visuals that surpass our imagination. Do you think we've missed any gorgeous PC games on our list? Don't hesitate to let us know in the comment section below!