Here are the top must-play free offline games for PC Windows 10 that you won't want to miss. Check them out below with Gurugamer.com.
#10. Microsoft Treasure Hunt
This free offline game for PC Window 10 is a puzzle game of Xbox Game Studios. You will have a small character to control and move on the map, break the block, and find a way to the treasures. You can uncover weapons, tools, or hidden bonus levels. You can also collect gold coins to purchase supplies and upgrade to explore further underground worlds. Besides, you can also encounter snakes and traps hidden behind these blocks. But you can defeat these snakes to go through. Moreover, this game also features a multiplayer game mode to allow you to play and compete with friends to have more fun.
#9. Overkill 3
It's one of the best offline games for PC Windows 10 free download. This shooting game of Game Troopers also has a mobile version on Google Play Store. You will enter a grim and dark battleground with a lot of enemies.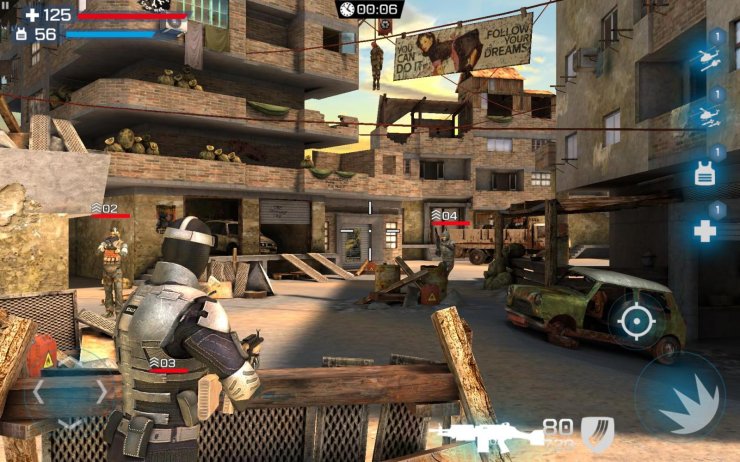 You will be provided with a gun and limited ammo. You also have some frag grenades to kill enemies with explosions. Besides, you can also use smoke grenades to make covers. Players will earn money from each kill and kill combos to buy better guns and more ammo.
#8. Beach Buggy Racing
It's one of the most interesting free download offline car racing games for PC Windows 10. It's an exciting kart-racing island adventure racing game of Vector Unit. This game is also available on Android, iOS, and console platforms. You will control a character driving a kart in a race. Players can drift, block opponents, glide on the race track, obtain tools and boosts to reach the Finish Line first to win the game. In addition, this action-packed racing game has lovely graphics and a fancy soundtrack.
#7. Eternium
This is one of the top free offline games for pc windows 10 free download you should give a try. This interesting game of Making Fun Inc. is also available on iOS and Android. Eternium will remind you of classic action RPGs. You control a warrior with a sword and special skills, eliminate skeletons and demons on your way, and hunt treasures. This action RPG also features loot and craft activities to grow. Use your skills to burn, freeze, and slash enemies. After downloading all game data and resources, you can play it offline. With endless adventure, exciting gameplay, and stunning game graphics, this is a worth-playing game on Windows 10.
#6. Crossy Road
Crossy Road is an interesting arcade game for PC and mobile platforms. You can play it without an internet connection after downloading and installing all game data and necessary resources. Or else, it's available to play online on the official website of Poki.com. You will control a sandbox chicken or item to cross the roads in a dangerous forest with a lot of large predators such as sharks, dinosaurs, or crowded cities with trucks, cars, trains, etc. The game is easy to control, such as going towards, stepping backward, turning left, and turning right.
#5. Despicable Me: Minion Rush
It's a game product of Gameloft SA. If you are a fan of the cute Minions of the Despicable Me franchise, this game is one of the most interesting free offline games for PC Windows 10. You will run, eat bananas, and explore new locations. You also have missions to complete and collect more rank points to rank up faster.
#4. Tiny Troopers 2: Special Ops
Tini Troopers 2 is the sequel of the successful game Tini Troopers. It also has fun and exciting gameplay. The game will give you a small group of soldiers and you will be the captains to lead your team to complete missions. You need to lead your troopers to thread your way to the enemy camp and take them down. There are many medkits on the battleground to heal your troop and revive your soldiers. In addition, you can move left and right to dodge the bullets of the opponents.
#3. Hill Climb Racing
This is another offline racing game on PC Windows 10 but you won't control karts on flat roads. Instead, players will drive vehicles and climb hills and mountains. This offline 2D racing game is also released on iOS and Android.
#2. Candy Crush Saga
It's one of the most-played games on mobile and PC platforms. This puzzle video game has colorful and fancy graphics. You need to put at least three same candies on a line to eliminate them. The game will end when you go out of moves. Only when you complete the round missions can you move to the next level. #1. Asphalt 8: Airborne
This racing game of Gameloft SA is the best free offline game on PC for Windows 10. This game of Asphalt franchise features both single-player mode and multiplayer mode. You can experience the most realistic racing experience and enjoy the race and speed with a large collection of sports cars.
Those are the top 10 free offline games for PC Windows 10 that you should give a try this year. Those games are free to download on the Microsoft Store now. To update the latest PC games as well as more reviews and top lists, let's visit our website.