Vehicles are a big part of GTA Online. There are numerous types of vehicles in the game, from ground to air to water and even underwater. Overall, people tend to be drawn towards those high-tech planes and cars and subs and overlook the motorbikes.
This is actually a huge mistake on their part. While the motorbikes are harder to control, they are much more mobile than any 4-wheeled ground vehicles. In this article, we will list out the top 5 best motorcycles in GTA Online.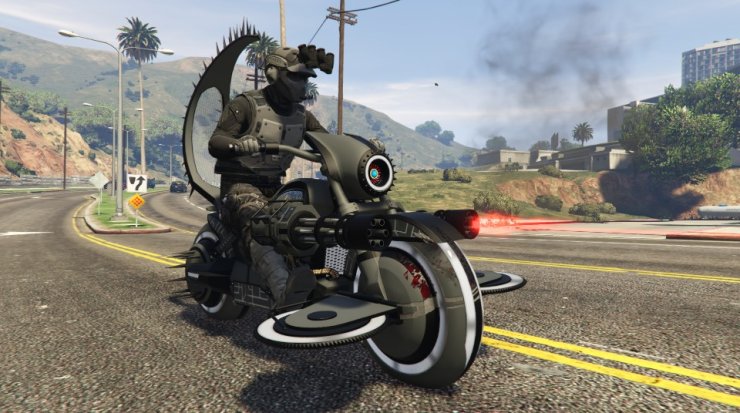 Best Motorcycles in GTA Online
5 - Shitzu Defiler
Price: $412,000
The Shitzu Defiler is a sports bike added to Grand Theft Auto Online as part of the Bikers update. It is based on the Suzuki Bandit 1200 Streetfighter. While its raw speed, looks and acceleration are great, the element that makes the Defiler shine is actually its controls. Rivaling that of the Hakuchou and Akuma, the Defiler's turn radius when tackling corners is excellent. You should be able to weave through traffics and maneuver around sharp turns with relative ease.
4 - Bati 801
Price: $15,000
The Pegassi Bati 801 is a sports bike featured in the base version of  GTA Online. It remains one of the cheapest and fastest bikes in the game, even after all those updates. It is likely that Rockstar wants to give new players a "default choice" right away so that they could perform at an acceptable rate against high-end opponents. The acceleration and speed are the biggest strength of the Bati 801, with controls and sharp turns being its weakness. Players need to reduce their speed by a lot in order to turn. The Bati 801 is based on the real-life Ducati 848 and Ducati 1098.
3 - Deathbike
Price: $1,269,000
There are three versions of the Deathbike: Apocalypse, Future Shock and Nightmare. While they are not the best bikes to use in a race, the Deathbikes are an absolute beast in everything else... especially combat. All Deathbikes come with sawblades that can instantly kill players and pop tires. >>> Read more: Top 5 Most Expensive Vehicles In GTA Online
The Apocalypse and the Nightmare can be fitted with miniguns, while the Future Shock can be equipped with Dual Lasers. Overall, they are the best bike you should get if you are aiming for some high-speed vehicle fights or win Arena War. 2 - Hakuchou Drag
Price: $976,000
The Hakuchou Drag is a modified version of the Hakuchou, including custom paintwork resembling stitched skin. It was introduced into the game as part of the Bikers update. It is mainly based on the Suzuki Hayabusa. You can consider this bike an upgrade over the Defiler. All other stats of the Hakuchou are about the same, but its handling is even better than the Defiler. Players can come into a corner at high speed without afraid of losing control.
1 - Oppressor MKII
Price: $3,890,250
Everyone probably expected this - the dreaded weapon Oppressor MKII is technically a bike. While its speed is nothing to brag about, the Oppressor MKII is a beast in pretty much everything else. You can hover over land, water, and even fly - this versatility makes the bike a popular choice for all kinds of griefers. This versatility also makes it useful in most missions as well. From CEO/VIP work to MC missions and Heist setups, the Oppressor MKII is probably amongst the best purchase you would ever do in this game. The bike can also be fitted with machine guns, explosive machine guns, and missiles.
Interested in more of our articles related to GTA Online? Please check out this post to find out more about the Top 5 Mistakes To Avoid When Starting Out In GTA Online.