Every year, more and more people start playing slot machines as a way to let off some steam, and maybe make a little extra disposable income.
Spinning the reels of a slot machine, either online or at a casino, doesn't have to be a dull affair of matching fruit symbols and treasure chests. There is an array of adult-themed sexy slot machines that get you matching different kinds of chests altogether, and offer a player booty as well as bounty. Here we are going to look at five of the sexiest slots the gambling world has to offer, that you can play for real money.
1. Playboy Gold Jackpots
If you want some sexy-themed entertainment, then you can rely on a brand like Playboy. Hugh Heffner's adult empire has been associated with responsible gambling for decades, and it continues that association today with a range of sexy slot and video poker machines. Playboy Gold Jackpots is the third in a line of successful slot machines developed for Playboy by industry powerhouse Microgaming. This machine is the ultimate combination of superior slot machine mechanics and the Playboy brand, and the Playmates. If you are playing slot machines for the first time, check out this Real Money Slots guide to playing slot machines. It is packed with information on how to succeed at playing slots.
2. Good Girl, Bad Girl
This sexy slot plays off a 'naughty and nice' adult theme, and uses voluptuous cartoon babes to fire up a player's imagination, and lets them decide whether they are going to be good or evil.
This is one of the most popular sexy themed slots in the world, and early on the player gets to decide whether they want to play good or bad. Choosing good means that the slot plays with lower volatility, giving a player a higher chance of hitting winning combinations, but for lower returns. If a player plays bad, then they play a high volatility game that can be more difficult to win but gives the player higher jackpots. >>> Read more: How To Earn Money To Paypal By Playing Games?
3. Agent Jane Blonde Returns
As the title suggests, this game is a sequel. The original Agent Jane Blonde was a smash hit for Microgaming, so they put everything they had into giving the titular Jane Blonde a sequel worthy of her success.
This slot is respectful to its star, and doesn't spend its time teasing you with flesh. The game creates a sexy atmosphere that draws you into Agent Blonde's dangerous world of espionage and intrigue. Risk is part of the job for Jane, and as you take your chances and spin the reels, you both progress together to the Jackpot.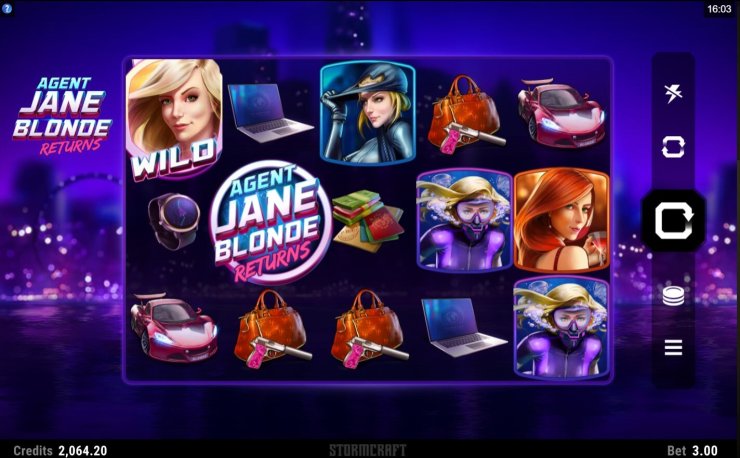 4. Jetsetter
This game keeps it simple, but sexy. There are five reels and twenty paylines on this simple slot, and the symbols are all icons of a jet-set lifestyle, including sexy ladies.
Match the symbols to win, just like any other slot machine, but with an added sexy highlight. The wildcard here is an attractive blonde lady, flashing the cash. If her symbol lands as a part of any winning combination, your jackpot multiplies and she spreads the money into a fan, to help her deal with all the heat. 5. Fairy Tale
Fairy Tale comes from Endorphina, who has made some great slot machines in recent years. This is their best sexy themed offering, taking its cues from mythology and fairy tales.
This game has some stunning visuals, particularly the stunning fairies, nymphs and sirens that bring an ethereal beauty to this elegant slot. This game is packed with bonuses and features, giving it a lot of action underneath its more sedate and heavenly aesthetic. The 'Set the Doves Free' feature is a highlight of the game. Fairies flutter across the reels, and a siren's call salutes your wins as you progress towards releasing the Doves of Peace. There are slot machines with all kinds of themes, from pirates and treasure to knights that slay dragons, and everything in between. Since casinos began, sexy slots have been around to offer a little extra razzle and dazzle to the gambling experience. Try one of the sexy slot machines on our list next time you fancy some adult-themed entertainment while you spin the reels.
>>> Visit Gurugamer.com daily to catch up with latest gaming news in the world.