Albedo, aka Kreideprinz, is one of the Knights of Favonius members and a genius alchemist. Though he is a handsome and top powerful swordsman in Mondstadt, it's not the only reason why Albedo is a famous 5-star character in Genshin Impact.
Gurugamer.com has gathered the most intriguing facts about him and the best build for Albedo Genshin Impact below.
Table of Contents Genshin Impact Albedo facts
1. Is Albedo human?
Genshin Impact Albedo is the youngest Chief Alchemist and the Investigation Team Captain of the Knights of Favonius.
This playable character is considered to have an intellect of genius level. They also said that he just appeared in Mondstadt one fine day and was immediately assigned to be the Chief Alchemist.
Despite the many talents he has, Albedo's exotic backstory points to him probably not being completely human. There is also a theory that Albedo is indeed a Homunculus – an artificial human being created by his master Rhinedottir. 2. How old is Albedo Genshin Impact?
Born on September 13, the Chalk Prince Albedo is 18 years old in Genshin Impact. However, it is reportedly not his official age. With his existence as a real person being questioned, it's relatively hard to deduct his age.
3. Are Albedo and Klee siblings?
Apart from Albedo's age, players also wonder whether Albedo and Klee are siblings. In fact, Klee is his adopted sister. They are not blood-related but have taken on a sibling-like relationship.
For your information, Albedo can even be seen spending a large amount of his energy trying to clean up after Klee.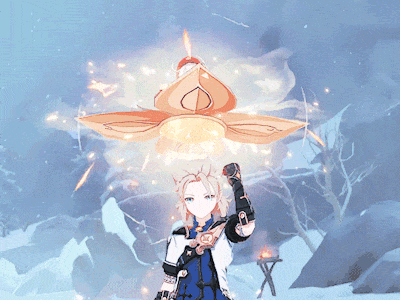 Genshin Impact Albedo skills
Albedo is a Geo character and a one-handed sword user who can summon a floating platform for elevation. This allows him to evade many attack patterns without much hassle and provoke Plunging Attack damage at any possible time.
1. Normal attack: Favonius Bladework - White
The normal attack Favovius Bladework of Albedo lets him up to five rapid strikes.
2. Elemental Skill: Abiogenesis: Solar Isotoma
Albedo Genshin Impact can summon Solar Isotoma that deals Geo damage once it appears. When it lands, it makes up Transient Blossoms and will deal bonus Geo damage as they hit the opponents.
If Albedo or his team member gets hit by Solar Isotoma, they would gain a crystalized podium to stand on. 3. Elemental Burst: Rite of Progeniture: Tectonic Tide
Geo crystals will burst out of him when dealing Geo Damage. Combining with his Elemental skill, Albedo's Elemental Burst can summon 7 Fatal Blossoms. They will explode and deal even more Geo damage.
4. Passive talents
Homuncular Nature
Calcite Might
Flash Of Genius
Albedo Genshin Impact build
While Albedo is a DPS with gimmicky Elemental ability, he is just the right character for fighting various enemies. Below is the best build for Albedo for those who want to make the most out of him.
1. Albedo's best weapons
Skyward Blade is the best weapon for the Chalk Prince as it increases his CRIT rate by 4 percent. However, it has the most effects after an Elemental Burst. Skyward Blade is also a great weapon for Lumine and Kaeya best build.
Meanwhile, Festering Desire can be the alternative because it offers Energy Recharge and Elemental Skill damage. 2. Albedo's best artifacts
If we have to consider what the best Genshin Impact artifacts for Albedo are, the topmost one must be the full Archaic Petra four-piece set.
Another artifact set that will also do you good is Harbinger of Dawn which increases Albedo's crit rate to 14% when his HP is more than 90%.
3. Albedo's best team
Gathering enemies into a small zone will maximize Fatal Blossom's burst damage. While one blossom will track each foe, it would result in massive damage if they are altogether clustered.
That is why Sucrose or Venti will be the best teammates for Albedo because they can use their ults to group opponents together. Kreideprinz also synergies well with Klee as they are siblings. Having both of them on a team is not just adorable but also incredibly power-stacked. Genshin Impact Albedo banner
Considering how good of a fighter he is, the Genshin Impact Albedo banner has been on the hunt ever since his first-ever Wish Event.
He was first revealed as a featured character on Version 1.2. limited gacha banner Secretum Secretorum. It started after the 1.2 version maintenance ended and ended on January 12.
Unfortunately, currently, you can only get Albedo via this kind of event. In case you made 89 attempts without getting a 5-star reward, you will be guaranteed a 5-star item on your ninetieth pull. The number may even hit 180 pulls and that is a hefty sum.
Currently, this high-profile character is up for grabs in the 2.3 version of Genshin Impact. You have a chance to pull for him between November 24, 2021 to December 14, 2021.
>>> Related post: Where To Find Albedo Ascension Materials To Maximize His Power?