Electro is one of the six elements in Genshin Impact and characters holding this vision have lightning-based features. An exclusive region for this element, Inazuma, has also been released quite a long time ago and players love this Japanese-inspired land.
More Electro characters Genshin Impact are being added in the main story on an "update" basis. We currently have 9 confirmed characters with Electro vision: Beidou, Fischl, Razor, Lisa, Keqing, Sara, Raiden Shogun, Traveler, Yae Miko. Which one of them is the best?
Table of Contents
I. Electro Characters Genshin Impact Tier List
9 - Lisa
Rarity: 4-star
Weapon: Catalyst The Electro librarian is one of the earliest characters you see in the game and you may get her for free in the prologue. She has a deep knowledge of basically everything in Mondtadt and Teyvat.
However, she is said to not scale too well. Lisa can help chain Elemental Reactions together using her rapidly applying abilities. However, the damages dealt are not too considerable if you don't build her as your main.
8 - Kujou Sara
Rarity: 4-star
Weapon: Bow Kujou Sara makes the ultimate support with her ATK buffs. The leader of the Tenryou Commission works for the Electro Archon – Baal.
In detail, this character thrives at boosting her Electro fellows up and gives huge ATK bonus with her Elemental Burst and Skill. This as well scales immensely on constellations, making Sara worthwhile to have in your team especially when you have several copies of her.
7 - Traveler (Electro)
Rarity: 5-star
Weapon: Sword You may unlock this element on Lumine or Aether once you have opened the Statue of the Seven in Inazuma. It is the third element that the Traveler can manipulate and can be changed at the Statue inside its corresponding region.
The Electro-aligned Genshin Impact Traveler disperses from its Anemo and Geo counterparts. They can buff the Elemental Energy and Energy Recharge of their allies with Abundance Amulets. It launches the highest amount of damage among all available Traveler sorts at the moment.
6 - Razor
Rarity: 4-star
Weapon: Claymore Different from other Genshin Impact characters, Razor does not live within human civilization but among a wolf pack in Wolvendom. They raised him since he was a child and taught him into a stoic fighter.
Razor shows off his power by turning into an Electro wolf using his Elemental Burst. In fact, his build is best for dishing out damages while on the field. As his effects do not work on swapping, make sure not to drop all the buffs this way as he is tearing through the foes.
5 - Beidou
Rarity: 4-star
Weapon: Claymore Being a 4-star character, Beidou actually has a very high damage potential. She does own some special mechanics that not many characters have, such as the damage reflect on her Elemental Skill if timed right.
If players build Beidou well, she can boast the highest DPS numbers thanks to the hard-hitting Burst.
4 - Yae Miko
Rarity: 5-star
Weapon: Catalyst miHoYo has confirmed her release along with other new characters and the return of Raiden Shogun in update 2.5.
Yae Miko has high attacks and a formidable elemental burst that requires a lot of energy to activate. Currently, she is recommended to play the sub-DPS role and a good battery that produces energy for her party.
The Head Maiden of Grand Narukami Shrine is known to have a special relationship with Raiden Shogun. To know about her story and to which extent she goes when it comes to the best Electro characters Genshin Impact, we shall learn more about it once the kitsune arrives.
3 - Fischl
Rarity: 4-star
Weapon: Bow The Prinzessin der Verurteilung is usually on top of all Electro vision Genshin Impact characters. Her pet raven, Oz, plays the most role contributing to her formal speech and her solid damage amount.
If you combine her Skill and Burst, you can practically keep the entire uptime on the raven. This comes in special handy though the player needs to be on the field to have it working.
2 - Keqing
Rarity: 5-star
Weapon: Sword Among all Electro characters Genshin Impact, Keqing quite stands out with her independent fighting style. The diligent Yuheng of the Liyue Qixing can dash across the war field godspeed using her Elemental Skill.
She also owns one of the most rapid attack speeds in the game, permitting her to melt opponents in the blink of an eye.
1 - Raiden Shogun
Rarity: 5-star
Weapon: Polearm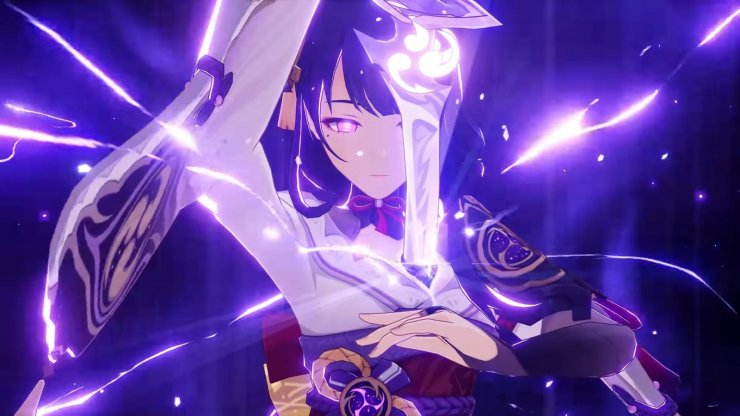 At the moment, the strongest user of Electro vision Genshin Impact is Raiden Shogun. The Polearm user can chain huge deals of Electro DMG together and buff her team members' Elemental Bursts at the same time. Moreover, she can recharge a huge Electro battery for allies thanks to her Burst.
For the unknown, her banner was one of the best-selling events and she even becomes a weekly boss in Genshin Impact for her extraordinary powers.
II. Genshin Impact Electro Weakness
For your Electro character to work most efficiently, it's important to know that each element reacts differently to the remaining elements and it can change its original form based on the combinations you get.
Electro is the most vulnerable to these elements:
Hydro: Electro-Charged happens when Wet is applied to Electro, dealing immense damage.
Cryo: Superconduct, is when an additional Cryo damage is launched.
Pyro: Overload occurs as an elemental explosion. The damage is Pyro-based.
>>> Related post: Every Artifact Domain Genshin Impact Solved: Best Characters & Tactics