Free Fire diamond hack is a sizzling topic we never get enough of. While there are many app and websites which promise to give away diamonds and coins for free, there is a website called Free Fire Diamond Hack Dotkom (freefirediamondhack.com) which appears to be a professional and trusted one. However, does this website work, or just another online scam that lures noob players into the trap of cyber attack? We've checked the websites and here is the truth about Free Fire Diamond Hack Dotkom that all Free Fire players need to know!
What is Free Fire Diamond Hack Dotkom
While looking for Free Fire diamond hack tricks on Youtube or a topic on social media, you might see some other players who give credits to a website called Free Fire Diamond hack Dotkom (freefirediamondhack.com), stating that the website completely works on giving you an unlimited diamond for FREE. According to the reference, the website is a trusted one and you can get diamonds easily without complicating the hack tool. Here is the homepage of the website: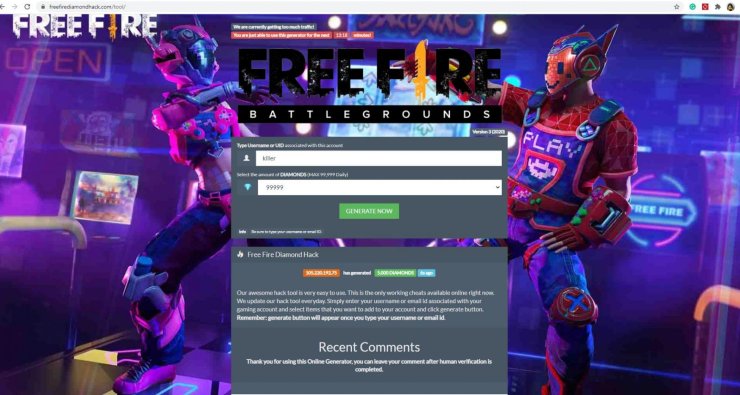 What does it offer?
Garena Free Fire diamond hack dotkom app is introduced with the following features:
Unlimited diamond: The websites promise to give you as many diamonds as possible and the limit number is up to 99999 diamonds.
100% safe & No-ban: In addition to that, it also promises to be completely safe for players to apply and you don't have to worry about being banned from the game like other hack tools
In general, Free Fire Diamond Hack Dotkom 2020 introduces themselves as the best FF diamond hack tool you can ever find in the market.
While the interface looks professional, the website also shows comments of other players and most of them claim the tool totally works and they received the diamond they asked for. However, is it true that Garena Free Fire Diamond Hack Dotkom is a legit website that can generate unlimited diamonds for any players? Keep reading to find out the truth!
Suggested post: Protect Your Free Fire Account From Hackers: Here Are 5 Things You Need To Do Right Now! Does the tool work or just another online scam to avoid
While you find a lot of comments which recommend players to use the tool for the diamond hack, the website turns out to be no different to many other fake Free Fire diamond hack websites. We know it for sure for some reasons as following:
1. Comments are all fake
While you can find many comments from Facebook accounts saying they received real diamonds after applying the tool, these comments are indeed created by scammers who built the websites, not real people. While you cannot check the profile of these players, the entry section doesn't work at all. It means that we cannot leave comments on the page so how come other people did? So it can be assumed that these comments are all fake and were created so inexperienced players will fall into the trap of scammers.
2. It requires a human verification method
As we're no strangers to diamond hacks websites that require players to install unauthorized apps as a step of human verification, Garena Free Fire Diamond Hack Dotkom is no different from others. The tool will require you to install an app called Big Cash which appears to be an untrusted online gambling app. 3. It does not add up any diamond!
Anyway, Let alone the fact that the site shows fake comments and requires users to download apps as human verification, after following the steps and install the app, players won't receive any diamonds into their Free Fire account at all.
It can be seen that just many many other online Free Fire diamond hack generator, Free Fire Diamond Hack Dotkom app is a fake one which uses tricks to gains more downloads for other apps. While downloading untrusted apps to your phone, you're facing the risk of cyber attack as these apps can get access to your personal data and information and steal it away from you phone for illegal purpose. Therefore, please be aware of potential risks when downloading apps to your phone as a step of human verification steps.
Meanwhile, you can double your diamond top up by using these trusted and authorised websites as following:
In addition to that, please note that any hacking methods are considered violating Garena Free Fire policies and terms of service that any users to try to hack might be banned permanently from the game. Please consider carefully before trying Free Fire Diamond Hack Dotkom or any other hack websites and tools on the internet!
Visit our website Gurugamer.com for more interesting news about games and entertainment!
>>>Throwback Videos Of The Real DJ Alok Playing Free Fire For The First Time, Is He As Good As His Character?