Free Fire is currently the most popular mobile Battle Royale title in India after PUBG Mobile's unfortunate ban. However, due to the fact that a lot of characters are locked behind a "diamond" paywall, it is hard to enjoy the game fully. This guide would help you install Free Fire Mod APK Unlimited Diamonds Download For Mobile to unlock everything you need.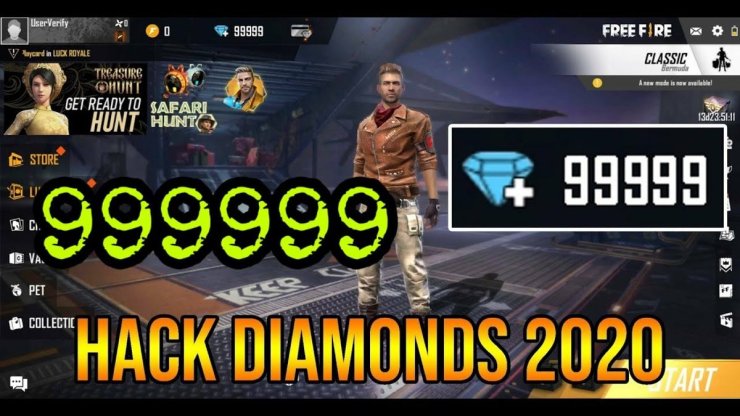 1 - Websites for Free Fire Mod APK Unlimited Diamonds Download For Mobile?
There are 2 reputable pages for Free Fire hack: an1.com and kingmodapk.com. Overall, kingmodapk is the better site due to its faster download mirrors. There are two versions of the hack, the first has only money cheat while the second also has gameplay cheats as well. You can also download lulubox. This is probably to cater to different types of gamers - some people just want to have those skins and characters... while others want to have unfair advantages in the game. Gameplay cheats are more likely to be detected, of course... while skin hacks are more often than not unnoticed. Kingmodapk also has various hacks for other games as well - if you play any other game besides Free Fire, it might be a good idea to download the hacks for them as well. From Clash of Clans to Ludo King, the page has them all. Usually, the hacked version would just have all the premium currency unlocked - the general gameplay would be the same.
You might be interested in:
2 - How to install Free Fire Mod APK?
To install the hack on your device, you would need to download the installation file .APK and the data file .OBB from the page. There are 2 best pages for Free Fire Diamond Hack.
https://an1.com/4695-garena-free-fire-18.html
kingmodapk.com/garena-free-fire-mod-apks/?download
You should subscribe or bookmark the Free Fire page of the site so that you would be able to know when the update hit. Kingmodapk also includes older versions of the hack under the download link for the latest one, however, it is not recommended to download them, as only the latest hack is safe from Free Fire's anti-cheat. You probably need to enable "Unknown Sources" on your device to be able to install this APK file. While you probably don't need to, it is best to just uninstall the legit version of the game on your device before this happens.
After running the APK file and install the game, you need to decompress the OBB data file with the RAR app then move it to the directory "Sdcard > Android > OBB". The RAR app can be acquired on the Google Play Store. After you are done with the move, just run the game and enjoy the unlimited diamonds.
You might be interested in:
3 - What can this Mod APK do?
Aimbot (auto-aim and fire weapon)
This feature is probably the most popular among people who want to cheat for real - they ensure that hackers would always win by automatically move their crosshair towards enemies' heads and shoot. While this only works if the hacker sees other players, the built-in wallhack makes sure that it happens. There are two extra features on this hack to modify between headshots and "more damage" shots. Overall, you should not use the headshot feature, as enemies might report you for it.
Wallhack
This hack would pinpoint the locations of enemies on the map - you would be able to see them through walls. Overall, this is also a good standalone hack as well - you can just turn it on and use your own ability to end the game, as no one would be able to get the drop on you. Unlimited Health
You should not use this hack as it is very likely to get reported... especially after your enemies weren't able to kill you after one magazine.
Unlimited Diamonds and Gold
You would be able to spend as much as you want on pretty much anything, with all currencies set to maximum. It is possible to buy everything in the shop, with magic cubes count sets to max. Bypass Cheat Detection
The main feature of this hack is the ability to bypass Garena's anti-cheat software - it is unlikely that you would get banned while using it. Just don't log in the normal version while having the hacked version on the same phone, as the automatic system might still be able to detect you.
No Root Required
You would not have to root your phone to install this modded apk.
Interested in more of our articles related to Garena Free Fire? Please check out this post to find out more about the Top 10 Best Battle Royale Games Android 2020.