It's clear to see that Battle Royale games are dominating India's mobile gaming scene. Most people will immediately think of PUBG Mobile as we mention this genre, but it'll be a complete miss if we leave out Free Fire. Developed by 111 Dots Studio and published by Garena, the game has taken the world by storm with new features brought to the battleground. Today, we'll help you get a great start in this popular title with a guide on Free Fire name font. When asked about the process that takes the most time and energy when starting a new game, most players agree it's coming up with a cool nickname. Yes, that's right. It's not learning about the mechanics, the characters, or how to control the gameplay, but naming your online avatar is actually the most difficult of them all. When you think carefully enough, it's actually easy to understand why. Most games only give you one free chance to name your character at the beginning. If things go wrong, you'll have to deal with a bad nickname or pay real cash for a rename card. The same thing applies to the Free Fire name font. Unless you want to stay with common names like "Proplayer1234", then read on as we guide you over how to find and use the best Free Fire name fonts. There are tools on the Internet that allow you to generate different fonts and styles for your nickname. But more on that later, first, let's start with how to think of a name that screams "YOU". 
Free Fire Name Font: Get Your Own Nickname
A great nickname doesn't have to be complex or loaded with special symbols. It should be something that speaks volumes about you as well as your styles, something that imprints on other players' minds after they matched with you. A common trick that many reckon is digging deep into their childhood, finding that "family nickname" to use as their in-game name. There is still a plethora of different ways to call your character. It could be the name of your favorite superhero, your role in the team, your weapon of choice, etc. Really, the sky is the limit when it comes to Free Fire name fonts.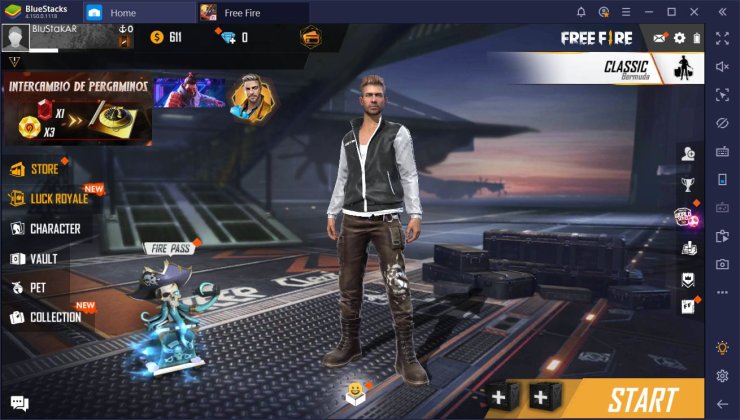 Here are a few "gender-neutral" suggestions for nicknames that fit both boys and girls: 
Ark Knight

Sneaky Master

Predator

Venom 

Carbon v.0

Free Fire Crusher

Demon Hunter

Golden Boy/Girl

Imagine Dragon

Grim Reaper

Black Panther

Crescent
Remember, these are just suggestions to get you going on creating your very own unique Free Fire name font style. Let's your imagination run wild to find the one that suits you the most.
Free Fire Name Font: Style Generators
Once you decided what your account will be called, it's time to find the suitable Free Fire name font style. An easy way to do this is by using available style generators on the Internet. Most players visit nickfinder.com or lingojam.com to seek out the best. Here, you can go for already pre-made names on the site for completely free or spice up your name of choice with a refreshing look. Just enter the nickname, click on generate, and let the AI does all the magic. From there, simply sit back and choose the one that suits you the best. Free Fire Stylish Font Generator Suggestions
Having trouble picking the best styles among the vast arrays of options available? Well, check out our recommendation right here:
❅Fℝeefΐℝe❅

▄︻┻═┳一

☬ᶜᴿᴬᶻᵞkíllєr☬

꧁༺₦Ї₦ℑ₳༻꧂

꧁☆☬κɪɴɢ☬☆꧂

꧁☆•[ҎƦƟ]ҎȽɅȲȄƦ•☆꧂

꧁༺J꙰O꙰K꙰E꙰R꙰༻꧂

꧁༒☬☠Ƚ︎ÙçҜყ☠︎☬༒꧂

꧁༒☬₣ℜøźєη•₣ℓα₥єֆ☬༒꧂

꧁༒Ǥ₳₦ǤֆƬᏋЯ༒꧂

꧁•☬₣ℜøźєη•ᴵᴰ☬•꧂

꧁༒❦ʜᴇʀɪ ᴘʀᴀʏɪᴛɴᴏ❦༒꧂

꧁☬ℜ؏αᏞ_ᏦιηGs꧂

꧁༒☬ꌗꍟꋪꀤᘔꍏꅏꍏ☬༒꧂

꧁ঔৣ☬✞𝓓𝖔𝖓✞☬ঔৣ꧂

◥꧁དℭ℟Åℤ¥༒₭ÏḼḼ℥℟ཌ꧂◤

🅑🅛🅐🅒🅚🅟🅐🅝🅣🅗🅔🅡

Fɪɴᴀʟ乂Sᴛʀɪᴋᴇ

꧁༒☬ℜ؏αᏞᏦιηGs☬༒꧂
Free Fire Name Font Style Tamil
These Free Fire stylish font generator websites don't just produce name styles for alphabetical characters, but they also work with Tamil ones too. How to do it? It's basically the same steps that we guided you above with the regular nicknames. The websites should give results in a matter of seconds for you to go to town picking "the one". Here are some of the prominent Free Fire name font style Tamil that many love: 
꧁༒மண்டபத்திரம்༒꧂

꧁☠︎ஓம்மாள வாடா ☠︎꧂

꧁༒☠︎அன்புதமிழன்☠︎༒꧂

கருவாச்சி

❀AK༻வி༽֟ல்༽ல༽ன்༽༼֟ஸ் ツ

.꧁☠︎சைக்கோ☠︎꧂

கைபுள்ளை

꧁☠︎☬༒~BALA RANJANI~☠︎☬༒꧂

꧁༒☠︎அபினேஷ் ☠︎༒꧂

꧁ঔৣ☬✞காளையன்✞☬ঔৣ꧂

꧁༒மாட்டுணா மட்டன்༒꧂

꧁புள்ளிங்கோ꧂

༒༺தொட்ட  நீ  கெட்ட༻༒

꧁༒☬மனோஜ்☬༒꧂

꧁༒அடவாடா༒꧂

꧁༒MS தமிழன்༒꧂
What's cool about these websites is that they constantly update the Free Fire name fonts new style based on actual users' vote. Therefore, you'll always know which one is trending to choose. So, keep tuning in regularly to get the best styles before anyone else!
Free Fire Name Fonts App
Apart from the common name-generating websites, there are also applications on Google Play Store fun and unique styles to use. The Free Fire name fonts app available to download for free, but it may contain some advertisements. However, if you don't have a computer nearby to visit the websites, it can be a great alternative. There are tons of results that appear when you search "Free Fire name generator" on Google Play, so make sure you choose the trusty apps with more than 1 million downloads. Plus, read the reviews. Free Fire Name Font: How to Add to Your Character's Name
Now that we're set with the name as well as styles, the next thing to is incorporating it into your Free Fire account. If you're signing up for a new one, just simply follow the instruction and paste the nickname generated in. What's about those who already have an account logged in and want to save their progress? Well, when there's a will, there's a way. Check out our in-depth guide as follows: 
1: Get your Free Fire name fonts new style of choice from nickfinder.

2: Copy the nickname and open the Free Fire application on your device.

3: Access the profile section located on the upper left corner of your home screen.

4: Tap on the yellow Notebook icon below your in-game nickname.

5: A pop up should appear, paste your new name here.

6: Make all the edit to fit your likings.

7: Save and pay 390 Diamonds to change the nickname. Yes, the only way to change your account's name in Free Fire costs Diamonds. So we suggest paying a little more attention to the process. 
That's all the thing you should know to get the best stylish names for your Free Fire account. Make other players wow with not just your crazy skills, but also your one of a kind nickname. This concludes our guide on the Free Fire name font. For more news, tips, and tricks on the world of gaming, visit our website at GuruGamer.com.