Free Fire's Rampage 3.0 event is almost here. This is the third run of this mode - the season will go live on June 18. For this occasion, there will be numerous exclusive themed items, including the M60 incubators, Katana, Emote, and more.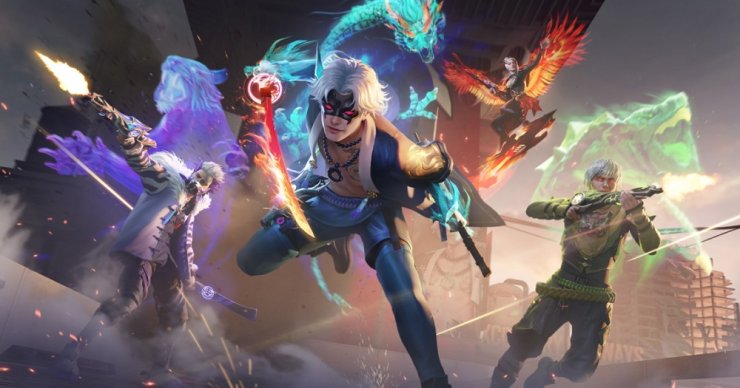 To let more players get access to these premium items, Garena has decided to release a special Rampage Pass that offers a lot of rewards for just a fraction of the cost. In this article, we are going to list out everything you need to know about this pass.
About Free Fire Rampage Pass
The Rampage pass is a special pass that costs only 99 diamonds, unlike the usual Elite Pass in Free Fire. For the number of prizes offered, this is definitely an absolute bargain. The Pass lasts for only one week - it will go away on June 21st. The Rampage Pass can be found in the News section.
The Rampage pass is divided into three parts: Daily Login Rewards, Daily Missions and Daily Spins. Below are the details for each.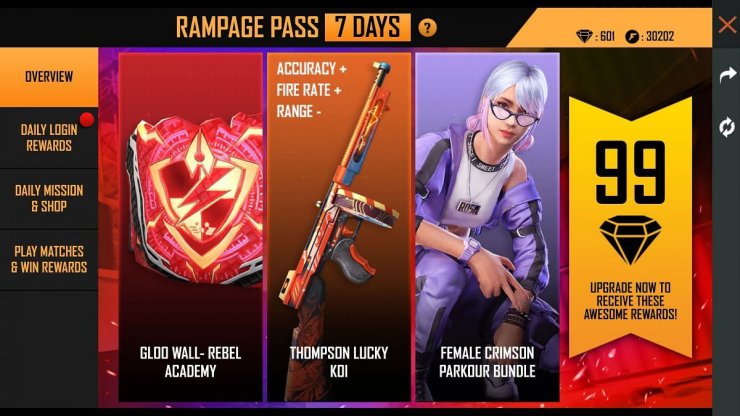 Daily login rewards
Free Fire Rampage Pass owners can log in every day to collect various rewards from this section. Below is the list of items included:
M60 – Shadow Earthshaker (1d)
Katana Whirlwind Blade (1d)
M60 – Volcanic Whirlwind (1d)
Mythos Four (1d)
M60 – Frost Sabertooth (1d)
Motor Bike Cobra (1d)
M60 – Azure Stormbringer (1d)
Gloo wall – Rebel Academy (Bonus Reward)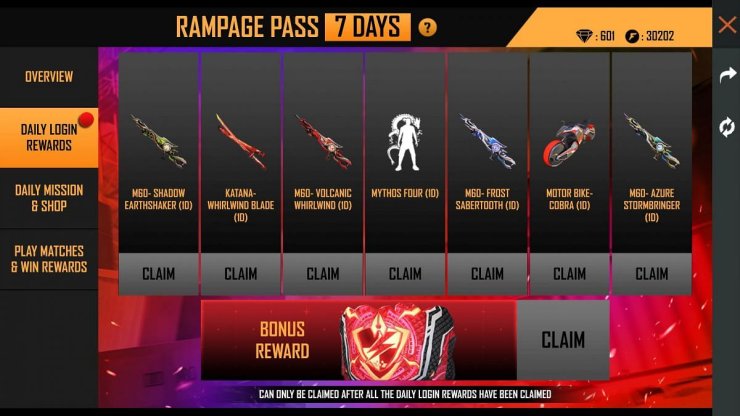 As we can see, all the Mythos M60 skins are included in this pass - in the order of cheapest to the most expensive. The final reward of the Rampage pass is the Rebel Academy Gloo Wall. You can get it on the last day, upon completion of the whole chain.
Daily missions and shop
Players can complete up to 3 daily missions per day, which yield tiger tokens. These tokens can be used to redeem for various other rewards from the shop. You can refresh the missions by spending gold.
Lucky Koi Thompson – 20 tiger tokens
Bounty play card (7d) – 8 tiger tokens
Magic Cube Fragment – 5 tiger tokens
Weapon Royale Voucher – 5 tiger tokens
Gold Royale Voucher – 2 tiger tokens
100x Universal fragments – 2 tiger tokens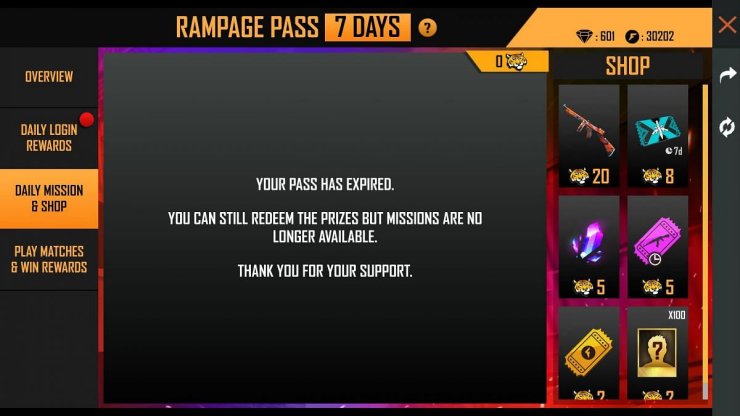 The biggest reward of this section is probably the Lucky Koi Thompson. This is a top-tier skin for the weapon, with bonuses for fire rate and accuracy.
>>> Read more: How To Download Free Fire Rampage Mod APK Unlimited Diamonds?
Play matches & win rewards
For each match completed, the pass owner would get one spin. It will draw one of the 4 rewards at random - including a diamond royale voucher and the Female Crimson Parkour Bundle. You can get up to 5 spins per day.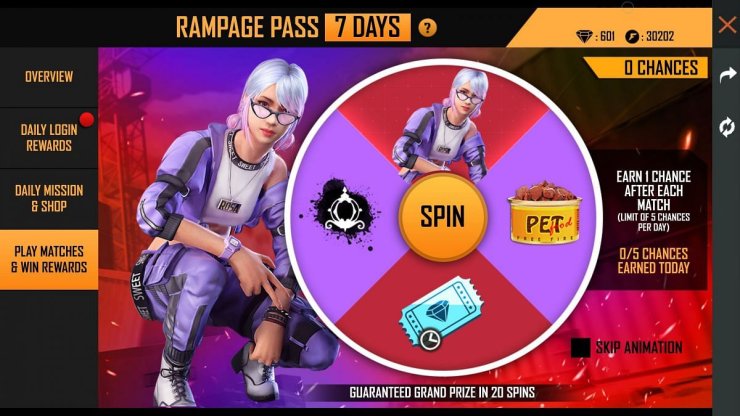 The grand prize, Crimson Parkour bundle, is guaranteed to drop after 20 spins... which is the equivalent of 20 matches.
Interested in more of our articles related to Garena Free Fire? Please check out this post to find out more about Free Fire: Elite Pass Season 39 'Flaming Scarecrow' Details Leaked.