Free Fire Zombie Badge India is a special set in Free Fire which is available in Redeem Section. This special outfit set looks really cool, impressive, and amazing, especially when you play Zombie mode. Therefore, lots of players want to own a set of Zombie Badge. So, this article will guide you on how to get Zombie Badge in Free Fire India. Check it out here with Gurugamer.com.
Free Fire Zombie Badge India
Zombie badge is a reward that you can get when winning a match in the Free Fire zombie India mode. You can use it to exchange items in Zombie Badge crate in Free Fire India. The special crate includes Plague Doctor's mask, a set of outfits, and shoes. These pieces of stuff will protect you from the plague in a Zombie war. Moreover, there is a fancy board titled Board of Sickness which helps you move faster and search for your next patient. Besides, the Zombie Badge India has many other items, such as vouchers, pet food, weapon skin, resupply map play card, diamond cards, and character fragments, etc.
Free Fire Zombie Badge India is the only currency that you can use to redeem these items. So, let's check the script zombie badge Free Fire India below.
>>> Read more: Free Fire Trigger: How To Make And Own A Trigger To Play Free Fire
How To Get Zombie Badge In Free Fire India?
If you get Booyah in Zombie mode in Free Fire, you can choose one of four cards to redeem items in the shop. These cards will give you coins, bundles, treasure maps, and other items. You need to open the card that gives you the zombie badge in Free Fire India, named Zombie Tokens to buy the cool Plague Doctor set. To receive the token, you need to win Free Fire games in zombie mode. In addition, you should be lucky enough to open the right card to get more than one Free Fire zombie badge India. Because each lucky card you choose will give you different prizes. Moreover, the players contributing the most or causing most damage also receive zombie tokens.
With those tokens, you can buy the items you want. The Top Plague Doctor costs 30 tokens, the Bottom Plague Doctor costs 25 tokens, the Shoes costs 25 tokens, and Mask cost 20 Zombie tokens. If you cannot get Booyah in Zombie mode, you can still play Lucky Card game to receive tokens. However, it will cost you diamonds to reveal. And the rule is the same. It means that you may receive other prizes, not zombie tokens.
How To Get Booyah In Free Fire Zombie India?
Free Fire Zombie mode is an exciting fight for players to shoot, kill zombies, and try to survive. You will face three zombie attacks and one battle with Zombie Boss. To get Booyah, you need to work with other players as a team to win those disgusting creatures. Here are some tips on how to win Zombie mode and how to get zombie badge in Free Fire India:
Kill zombies quickly with headshots. The headshot is the fastest and most efficient way to kill zombies and the Zombie Boss. You need to clear those enemies as quickly as possible before you are attacked by a large crew of zombies.

Have good teamwork and assignment.

Rescue your teammates when they are attacked by more zombies.

Avoid every attack and plague.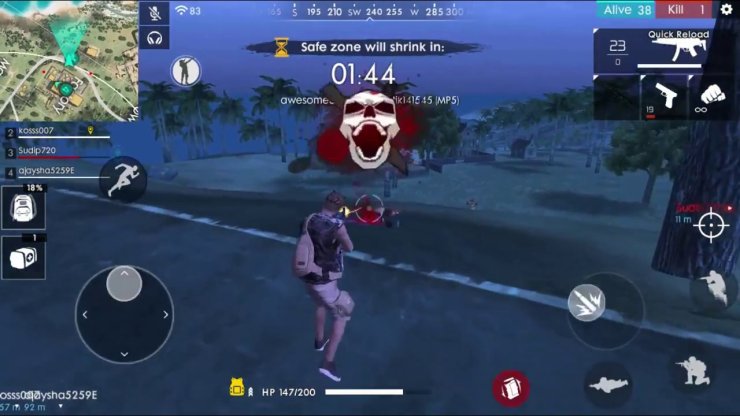 Good teamwork is the key to win Zombie mode games. Winning the match, you can get tokens to buy your favorite Plague Doctor bundle. It will make you look cool and pro in the next Free Fire zombie mode games.
Free Fire Zombie Badge Generator India
As players can pay diamonds to play Lucky Card game and win Zombie Tokens, you can still get Free Fire zombie badge India without winning zombie games. However, you need a lot of diamonds because, after each round of the Lucky Card game, the cost of one reveal will also increase. It means that you will need an unlimited source of diamonds to earn enough tokens. If you are out of diamonds, you need to recharge your diamond wallet by cash, or just hack it. The diamond hack is a pretty popular way to get unlimited diamonds and coins in this game. However, it's also illegal and risky as cheaters will lose their accounts when breaking the rules of the publishers. But if you want to learn more about Diamond Generator in Free Fire, we have given you the guide already. And you can check out how to get unlimited diamonds there.
Those are things you should know about how to get zombie badge in Free Fire India. To update the latest Free Fire game news as well as other useful tips and tricks to play the game like a pro, let's visit Gurugamer.com.