Like PUBG Mobile, Battlegrounds Mobile India also has the Royale Pass with many attractive rewards. Players can try to work well in their games and complete RP missions to gain these rewards. Check out the PUBG royale pass price in India here.
1. Battlegrounds Mobile India Royale Pass Price
Battlegrounds Mobile India has two types of Royale Pass, including Free Pass and Elite Pass. The Free Pass is totally free, but the Elite Pass and Elite Pass Plus cost you UC or real cash. The game publisher announced that BGMI will have monthly RP instead of new RP every two months. Royale Pass Month 1 (RPM1) started in July. It begins from the first update of BGMI after it was released officially. The price of BGMI Royal Pass Month 1 is 360 UC. It's lower than previous RP seasons in PUBG Mobile because each RP has only 50 levels with fewer rewards.
2. Is Royal Pass in PUBG Permanent?
Royale Pass is not permanent in both PUBG Mobile and Battlegrounds Mobile India. Previously, it lasts only two months. Then, the game always introduces a new RP season every two months. The game has changed its mechanism. Now, each RP season in PUBG Mobile and BGMI only lasts a month. Therefore, the Royale Pass rewards and missions are also contemporary. You need to complete all missions and reach the highest level within a month only before it ends in order to get all the RP rewards of this season. After the RP season finishes, players cannot get these rewards again. Therefore, it requires players to pay more attention and concentration on ranking up than previously to get their wanted rewards.
3. How To Get PUBG Royale Pass Free?
The Free Pass in both PUBG Mobile and BGMI costs you no money and UC. You can unlock it at no cost at the beginning of the new season. Then, PUBG Mobile and BGMI players can get all rewards from the Free Pass for free as long as they complete RP missions and collect enough RP points to level up.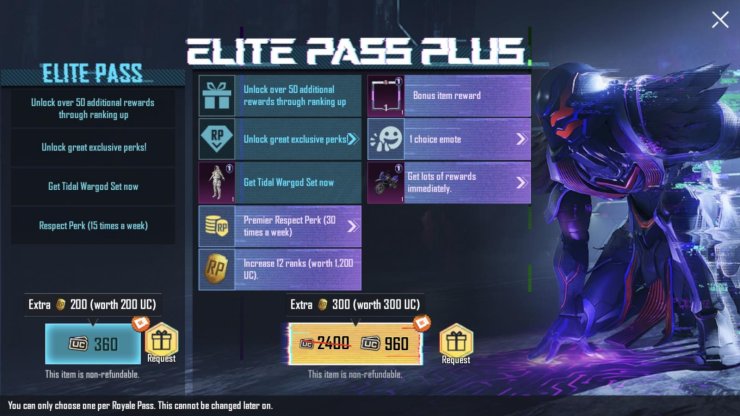 However, the Elite Pass and Elite Pass Plus in both versions cost you 360 UC or real cash. Therefore, BGMI players also need to top up UC like PUBG Mobile players if they want to purchase the Elite Pass or Elite Pass Plus. Here is the price of UC in BGMI 2021.
| | |
| --- | --- |
| Unknown Cash (UC) | Price (in INR) |
| 60 UC | 75 INR |
| 300 UC + 25 UC (Bonus) | 380 INR |
| 600 UC + 60 UC (Bonus) | 750 INR |
| 1500 UC + 300 UC (Bonus) | 1900 INR |
| 3000 UC + 850 UC (Bonus) | 3800 INR |
| 6000 UC + 2100 UC (Bonus) | 7500 INR |
From this chart, we can see that BGMI players need to pay at least 455 INR to top up 360 UC to purchase the Elite Pass in RPM1. Or else, you can choose a bigger package of UC to purchase in order to buy the Elite Pass Plus. The price of Elite Pass Plus in both PUBG Mobile and BGMI is 960 UC.
>>> You Mays Also Like: KRAFTON Reveals BGMI 1.5 Update Schedule - The First Major Patch For The Game
4. How To Reach Royal Pass Level 50 Within A Month?
Once you pay UC and real cash for Elite Pass and Elite Pass Plus in these battle royale games, let's try to reach level 50. If you reach level 43, you will get back many rewards, including the pack of 360 UC you invested in the Elite Pass. When you reach level 47, you get most of the RP rewards and 400 UC. But you should try to reach level 50 and get the exclusive season bundle at the highest level. In RPM1, the elite bundle is Night Stalker Set. To reach RP level 50 within a month, you need some tips below.
Complete All Daily Missions
You need to complete all daily missions every day. The daily missions are often easy to complete. For example, you only need to log in, play some matches with friends, kills some enemies, or loot the required items, such as weapons, vehicles, etc. There are some co-op missions that require players to complete them while being in a team with friends. These missions are often harder to complete. However, those missions also give you a lot of RP points. On average, you can earn about 75 points per co-op mission. Complete All Weekly Missions
Weekly missions also reward BGMI and PUBG Mobile players a number of RP points, ranging from 75 to 125 points for each mission. The requirements of these tasks are also higher. For example, players need to kill some enemies with required weapons, or they have to play assigned game modes. Play 1,500 Minutes Per Week
The game also rewards players with bonus RP points for the time they play PUBG Mobile or BGMI. The longer time you play, the more RP points you get. Therefore, hard-working players can reach level 50 after the first week of the new season. Another way to reach RP level 50 in these shooting games is by purchasing RP activity packages. You can spend 5,000 UC to buy 5 RP activity packages. Each package helps you increase 10 ranks. Then, you can reach level 50 in one minute. Those are all about BGMI and PUBG Mobile Royale Pass, including PUBG royale pass price in India. Try to level up with your effort or money to obtain all rewards before RPM1 ends.
>>> Also Read: Who Will Be Competing For $3 Million In PUBG Mobile World Invitational PMWI 2021?