Saree, sharee, or sari is the Indian women's traditional garment that clearly shows the national identity and has nothing in common with that of other countries. Especially, beautiful Bollywood actresses in saree always draw huge attention from the audience across the world so that many desire to try this special dress at least once in their life. Now, let's look at the hot Bollywood actress backless saree pics on the following list with Gurugamer.com! Who will be the most stunning actress in saree? It's not easy to give an exact answer.
Hot Bollywood Actress Backless Saree Pics (1/2)
Aksha Pardasany
When it comes to Bollywood actress backless saree photos, many Indians as well as the audience across the world first think about pics of Aksha Pardasany. Born in 1991, Aksha Pardasany has worked as an Indian actress and a model since 2007. For those unknown, she has joined in many movie projects including Goal (2007), Yuvatha (2008), Adi Nuvve (2010), Bangles (2013), Love You Family (2017), and Jamtara - Sabka Number Ayega (2020) that was released on Netflix in January.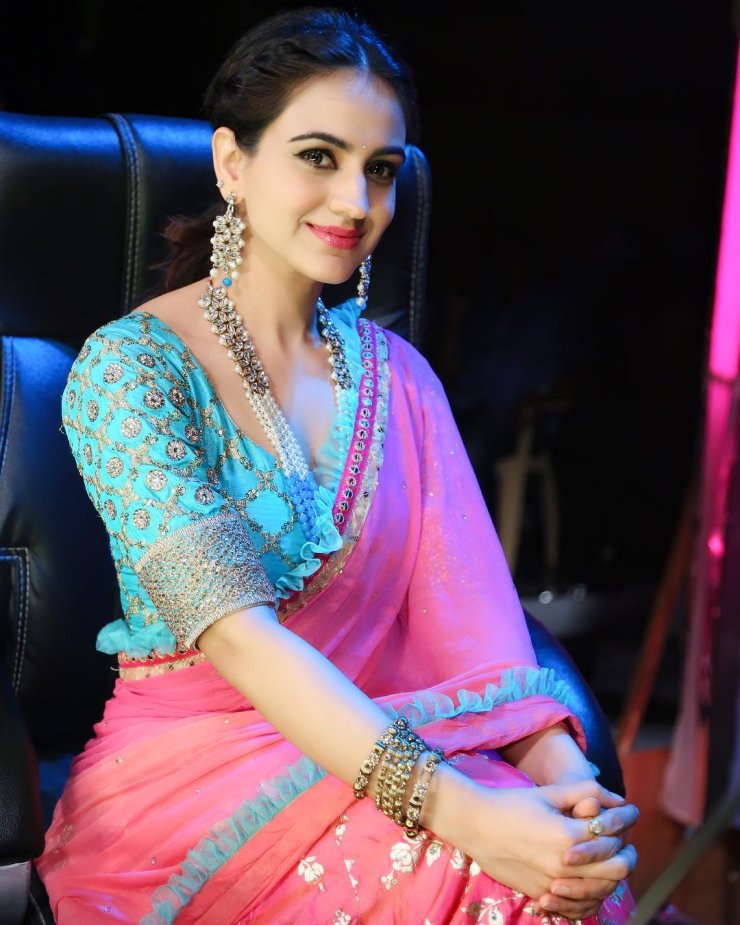 >>>Read more: List Of Best Daily Paytm Cash Earning Websites You Should Consider
Shilpa Shetty Kundra
For many people, Shilpa Shetty Kundra must be the most beautiful actress in backless saree. Although the Bollywood entertainment industry doesn't lack actresses with outstanding appearance, the 1975-born actress still attracts huge attention without any difficulty due to her sexy figure and gorgeous look. While many easily lose their beauty after childbirth, such as becoming fatter or skin becomes looser, Shilpa Shetty Kundra is an exception. Her beauty doesn't seem to be impacted a lot and the audience always sees her in the best conditions. She always looks stunning, young, and beautiful.
>>>Read more: List Of The Best Paytm Instant Money Earning Apps
Priyanka Chopra
Nothing to discuss more Priyanka Chopra's look. The 1982-born actress isn't just one of India's highest-paid entertainers but she was also listed among the World's 100 Most Powerful Women. With a perfect hourglass figure, Priyanka Chopra is a must-have name on the backless saree blouse actress list. Miss World 2000 loves sharing her beauty secrets including skincare and hair care tips to global fans. She has her long and sleek hair, glowing skin, pretty face, and sexy bareback. It's not surprising that the audience always goes crazy whenever she appears on air or in public.
Hot Bollywood Actress Backless Saree Pics (2/2)
Shriya Saran
At the same age as Priyanka Chopra, Shriya Saran now works as a famous Indian actress and model in South Indian cinema, American cinema, and Bollywood. Shriya Saran managed to attract the interest of many Indian filmmakers via her performance in "Thirakti Kyun Hawa". During her career, she has received lots of nominations and awards for her contributions. Additionally, when it comes to hot Bollywood actress backless saree pics, you shouldn't miss the stunning of this talented and beautiful actress.
>>>Read more: Best Documentary About Nature: A Journey To Discover The Beauty Of The Earth
Tamanna Bhatia
Tamanna Bhatia is a familiar celebrity endorser for lots of products and brands such as Chandrika Ayurvedic soap, Fanta, and Celkon Mobiles. Her excellent look makes the audience unable to take their eyes off her whenever she appears on air, in public, or in any magazine. For those unknown, she is now recognized as one of the leading contemporary actresses in Telugu cinema and Tamil cinema. Like Priyanka Chopra, Tamanna Bhatia is also amongst the highest-paid actresses in India.
>>>Read more: Best Documentaries About Space Including Cosmos: A Spacetime Odyssey
Mahie Gill
Rimpy Kaur Gill, better known as Mahie Gill, was born in 1975 in Chandigarh, India. Her great performance in the Hindi film Dev.D helped her win the hearts of the audience across the world and in India, as well as receive lots of positive reviews from the critics. Mahie Gill has appeared as a stunning Indian actress backless in saree in public many times and easily rocked the fan community. During her career, Mahie Gill has won two Filmfare Awards, one Screen Awards, three IIFA Awards, and one BIG Star Entertainment Awards. Accordingly, she won many awards for the Best Actress in many movie projects.
It's not hard to look for hot Bollywood actress backless saree pics on the Internet and each actress in this traditional garment manages to show her own beauty the most impressively. This special dress must be a perfect choice for both Indians and others to boast about their beauty, as well as to hide the weakness in their bodies.
Let's keep updating the latest news and movies on the Movies section at Gurugamer.com!