The year of 2020 is coming to an end. Despite the global health pandemic, we were able to watch a lot of new films coming out in the digital space. If you haven't watched all of the best films of the year, here are the 10 latest Bollywood comedy movies 2020 all moviegoers cannot miss!
Latest Bollywood comedy movies 2020
1. Angrezi Medium Angrezi Medium, produced by Maddock Films, is a comedy-drama that leaves a lasting impression on the audiences through a series of endearing moments between Champak, the main character, and his daughter. Leaving a comfy life with his teenage daughter, Champak, who is initially opposed to his daughter's plan to study abroad, eventually does everything within his power to realize her dream.
2. Dil Bechara This coming of age rom-com is an adaptation of John Green's renowned novel The Fault in Our Stars. It stars Sushant Singh Rajput and Sanjana Sanghi as the lead characters, who both suffer from terminal cancer. Audiences will be taken on a rollercoaster of emotions as the plot progresses from full of excitement and joy to a depressing shade of blue. With a down-to-earth theme and a brilliant storytelling style, Dil Bechara manages to touch people's hearts in the most profound way.
3. Lootcase Directed by the debutant director Rajesh Krishnan, Lootcase is a comedy thriller in Hindi Language that tells the story of a man who happens to come across a suitcase full of cash. The movie together with its improvised and clever script brings audiences to an entertaining journey watching the protagonist dealing with the enormous amount of money that he stumbles upon. Overall, Lootcase is a brilliant cinematic work, especially with the acting delivered by the stellar cast including Kunal Khemu and Rasika Dugal
4. Shubh Mangal Zyada Saavdhan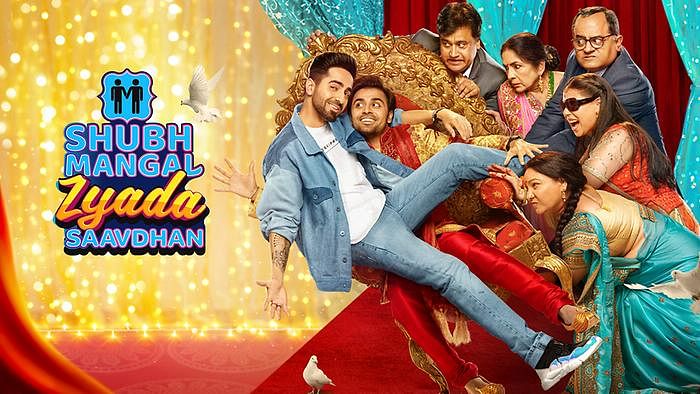 Directed by Aanand L. Rai, the Hindi-language comedy Shubh Mangal Zyada Savdhaan is about the struggle that gay couple Kartik and Aman have when convincing Aman's family of their relationship. Addressing a conflict between conservatism and freedom, the movie did a good job of delivering a heart-touching message but still entertaining viewers to a certain extent.
5. Jawaani Jaaneman Featuring Saif Ali Khan as the lead actor, Jawaani Jaaneman revolves around the protagonist named Jazz, who leads a shallow and troublesome lifestyle in London. His life takes an unexpected turn when Tia, his claiming-to-be daughter enters his life. With a unique urban touch, Jawaani Jaaneman manages to deliver an emotional message of fatherhood through its brilliant plot, gripping acting, and genuine conversations.
Also read: Jawaani Jaaneman's Actress Alaya Furniturewalla Makes You Turn Head With These Ravishing Looks
6. Shimla Mirchi Starring Hema Malini, Rajkummar Rao, and Rakul, Shimla Mirchi is a 2020 Indian Hindi rom-com that has attracted a great deal of attention in recent times. It revolves around Avinash, who finds himself in an awkward situation when his love letter to his crush Naina ends up in her mother's hands.
In general, Shimla Mirchi is a pleasant movie to watch although its plot is quite predictable. Despite the lack of humorous materials, the movie manages to reflect real-life problems that resonate with the majority of audiences.
7. Jai Mummy Di Under the production Luv Films, Jai Mummy Di is a Hindi romantic comedy that features actors Supriya Pathak and Poonam Dhillon. The movie focuses on the conflicting dynamics between the mothers of two main characters, who decide to take their relationship to the next level and get married. Their road to happiness is full of hardships with two mothers having been sworn rivals for decades.
Suggested post: From Sunny Leone To Katrina Kaif, Here Is How Much It Costs To Have Bollywood Stars In Your Wedding
8. Ginny Weds Sunny Produced by Vinod Bachchan, Ginny Weds Sunny follows a typical boy-meets-girl plot in which the protagonist couple encounters an arranged marriage situation. Upon the constant rejection from Ginny, Sunny, the bachelor puts a great deal of effort into winning over her mother. Although the script is pretty predictable, the movie did an incredible job of delivering an emotional message.
9. Shakuntala Devi Shakuntala Devi is a biographical drama that takes us to Shakuntala Devi, the mathematician who is well-known for his incredible skills in solving the toughest math problems. Besides paying tribute to her as an astounding mathematician, the movie also shows different aspects of her as a woman and a mother. From a family standpoint, the movie vividly depicts all the struggles and aspirations in the relationship of Shakuntala Devi and her daughter.
10. Happy Hardy And Heer Following the love-triangle concept, this 2020 Indian rom-com tells the dilemma of Heer, who finds herself sitting on a fence with an important decision of choosing her childhood sweetheart or her ideal man. Generally, Happy Hardy And Heer is an easy watch with great soundtracks, that adds up to its entertainment value. You can find Happy Hardy And Heer and new Bollywood comedy movies 2020 full movie in Hindi HD on different streaming platforms.
Editor's pick: Bollywood Actress For Night Rates: How Much Does It Cost To Spend A Night With Celebrities
Above is the top list of the latest Bollywood comedy movies 2020 that Bollywood fans cannot miss. As there will be more and more movies to come out in the last two months of the year, stay tuned with us to get updated on newly-released movies and serries.
Suggested post: India Unlock 5.0: Most-Anticipated Films To Hit The Theaters In The Upcoming Months