The Factory Challenge in Free Fire poses an amazing way to give the Classic BR matches a breakthrough. Although the challenge was created by YouTubers in a custom match, it instantly got popular.
For the unknown, players in the Factory Challenge have to land on the Factory's rooftop, a Bermuda zone as well as involve in a fistfight against one another.
Although gamers can opt for any character from the loadout, only some of them can actually help them win in this type of match. Chrono, DJ Alok, and Skyler are the three most potential characters for this challenge.
For players to have a more thorough look into whom they should choose between Chrono vs DJ Alok vs Skyler for the Factory Challenge, we have compiled their skills and put them on a scale. Table of Contents
Chrono vs DJ Alok vs Skyler skills comparison
Let's take a look at detailed skills and advantages of each character before putting them in comparison.
Chrono
Skill: Time Turner
Ability type: Active The active skill of Chrono, Time Turner, can make a force field that prevents 600 damage from opponents (Level 1). You can shoot enemies while they are still inside their force field.
The movement speed of players increases by 5%. Moreover, both effects take place for three seconds. This skill's cooldown time is 200 seconds.
Chrono's Time Turner enhances players' movement speed by 15% at level 6. The effect lasts 8 seconds, followed by a cooldown that lasts 180 seconds.
DJ Alok
Skill: Drop the Beat
Ability type: Active Drop The Beat creates a 5-meter aura that boosts ally movement speed by 10% and reproduces 5 HP/s within five seconds. At its maximum level, which is level 6, Alok's impact heals 5 HP/s for 10 secs and boosts ally movement speed by 15%.
For those unversed, Alok is also among the top 5 Best Characters for Free Fire Factory Challenge 2021.
Skyler
Skill: Riptide Rhythm
Ability type: Active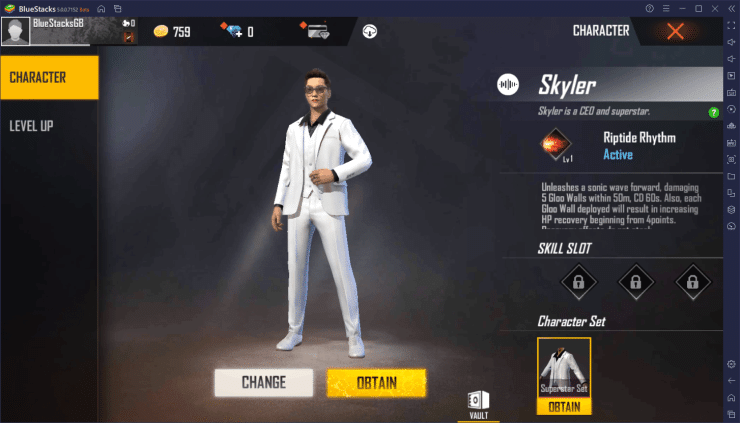 Now to the last character in the battle of Chrono vs DJ Alok vs Skyler, what does he have? Skyler owns an active ability called Riptide Rhythm. TA the default level, t generates a sonic wave that can damage 5 gloo walls in a 50m radius. With each deployed gloo wall, HP recovery will be improved by 4 points at the beginning. However, the ability's cooldown time is 60 seconds.
Who is better for the Factory Challenge?
Skyler's skill involves gloo walls while the challenge does not allow to use them. So Skyler is not the greatest choice. Meanwhile, Chrono's ability can be utilized to expand players' movement speed in fistfights. However, its cooldown time poses a great disadvantage. So to conclude, DJ Alok is the most ideal choice among these characters. He has a movement-speed-boosting and healing ability, both of which would give you an extra benefit in terms of speed and HP.
>>> Related post: Free Fire Change Your Fate Event Details: 80% Discount On Characters, Pets, Emotes, And More