Genshin Impact's 2.2 patch brings two rerun banners back to the game: Tartaglia "Childe" and Hu Tao. While the former is rather underwhelming in sales, the Genshin Impact Hu Tao banner literally crash the server and has been a massive success for miHoYo. Let's analyse why this character banner is so popular.
About Genshin Impact Hu Tao banner rerun
According to data from the Chinese server (which is about 40% of the full revenue), Hu Tao has become the second biggest banner ever released for the game, surpassing the original Klee and Venti banners. It is just a bit short in comparison with Raiden Shogun's spike.
The Hu Tao banner will last as long as the usual Genshin banner. It will end with the version 2.3 update, which is scheduled to come out at the end of November. After Hu Tao's banner was released, Genshin Impact rises to 1st place in Top Grossing Apps for the week on Apple's App Store and Google Play Store in multiple regions (30+).
This is a huge feat, second only to Pokemon Go (50+). However, you can say that Genshin is better... as it claimed the four biggest markets: China, Japan, Korea, and the United States. Pokemon Go was banned in China. This contributes to Genshin topping the chart for the highest first-year gaming revenue of all time, surpassing big names like Fortnite or GTA 5. Furthermore, the data from Sensor Tower does not include purchases from PC and Console, which means Genshin's revenue should actually be much higher.
The game is also one of the leading names in mobile games ranking in 2021 with the second highest grossing title only after PUBG Mobile. Why is the 2.2 Hu Tao banner so popular?
There are several factors that make Hu Tao banner a big hit. From the strength of this character herself to the bonus of Staff of Homa, all these contributors really boost the popularity of the latest Genshin banner.
Hu Tao is a strong DPS
Similar to most Pyro characters in Genshin Impact, Hu Tao is a top-tier DPS character, with the ability to deal massive Pyro elemental reaction damage. Every Genshin Impact player likes to see big numbers appearing, and Hu Tao's skills make her one of the best in that aspect. Her C1 improves damage greatly
C1 removes the stamina cost of Hu Tao's charge attacks during her Paramita Papilio state (activated by elemental skill). While this might sound simple on paper, in practice, the effect is insane. With stamina no longer an issue, Hu Tao can just spam her Pyro lunging attacks repeatedly for huge numbers.
This is one of the reasons why people spend on this banner. They want to get her to C1. She is considered to be a "high skill" character
As Hu Tao's main mechanic is to keep her HP lower than 50% at all times for bonus damage, she is one of the hardest characters to play in the game. Players need to shield her carefully to deal damage while avoiding deadly attacks from enemies. This makes Hu Tao more popular than the "easy" DPS characters like Diluc.
Weapon banner with Staff of Homa
Genshin Impact Hu Tao banner also comes with her weapon, the Staff of Homa. It has been widely regarded as the most broken weapon in the game, thanks to the amazing ATK bonus and Crit DMG stats. All polearm users can make use of this weapon.
At max level, the Staff of Homa provides the following ability: Reckless Cinnabar
HP increased by 40%.
Provides an ATK Bonus based on 1.6% of the wielder's Max HP. When the wielder's HP is less than 50%, this ATK bonus is increased by an additional 1.8% of Max HP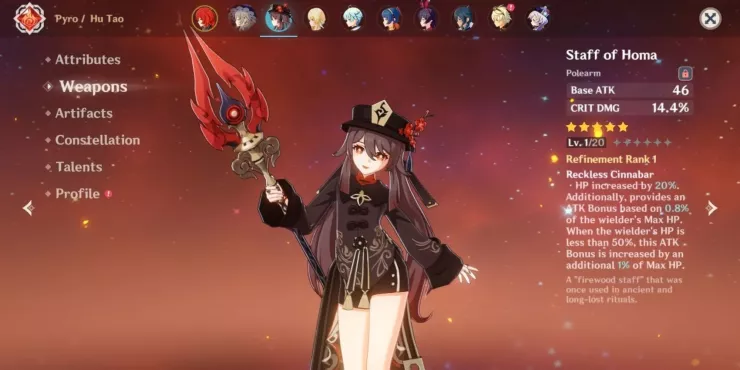 >>> Read more: Complete Guide To Find Conduction Components Genshin Impact In 'Shadow Of The Ancients' Event