Every Garena Free Fire player knows the power of Diamond in the game. It's the most sought-after currency capable of purchasing all sorts of items. From unlocking new characters to buying cosmetics such as skins and outfits, the sky is the limit when you have your hands on Diamonds. Unfortunately, this essential currency literally comes with a hefty price. You have to recharge Diamonds with real money - that's why they're considered luxurious. But today, we set out to change that perspective of yours with a Free Fire top up 5 Rupees guide! Why You May Need Free Fire Top Up 5 Rupees
If you're a veteran Free Fire player, then you surely know the power of Diamonds in the game. Those who own a large vault of this currency can become an unstoppable force and the center of attention everywhere they go. All the powerful characters, all the skins, outfits will unite at your disposal as soon as they hit the live server. You shall have the most awesome ability there is - to boast your gigantic collection with your friends as well as other players. But in order to do so, you must recharge your Diamonds, and that's where Free Fire Top Up in 5 Rupees comes to play.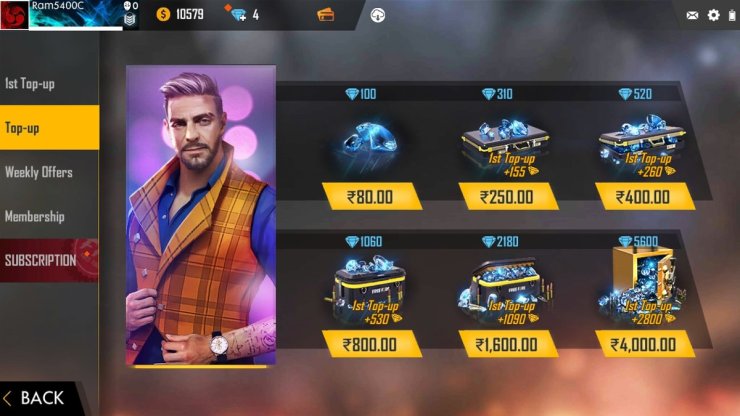 Despite all that, owning every item in the game costs a fortune of Diamonds - which only a fraction of Free Fire players can afford. But how about just a small amount? We're sure that Free Fire Top Up in 5 Rupees won't break your bank. Many would ask: "What can you do with just 5 Diamonds (the amount you get for 5 Rupees)?". Well, you can consider it some kind of savings and store them for future usage. In other cases where you're just a few Diamonds short, then Free Fire Top Up 5 Rupees is a life-saver. 
How to Use Free Fire Top Up 5 Rupees
Today, we will show you just how to do Free Fire Top Up 5 Rupees Paytm. Follow our step-by-step guide below to recharge your Diamonds. However, before we start, there's an important disclaimer that needs to be made. This Top Up Service trick will only work for Free Fire players in Indonesia. In other words, should you stay in any other country, it may not perform in the same way. You can't even use a VPN app to change the location for Free Fire Top Up 5 Rupees India since your account is not located on the Indonesian server. With that being said, here's how to top up Diamonds with 5 Rupees for Free Fire players in Indonesia: 
#1 Visit Seagm.com and log in or register to access the service 

#2 Find Free Fire instant Top-Up in the main menu

#3 Select the 5 Diamonds denomination (worth 5 Rupees)

#4 Enter your Free Fire ID and Nickname

#5 Select your payment method and confirm checking out

#6 Open Free Fire application on your device and check the Diamond amount you purchased
Free Fire Top Up 5 Rupees in India
Just a few months ago, Free Fire Top Up 5 Rupees in India via Seagm was actually a thing. Indian players were able to access the service back then, evidenced by the videos on YouTube like the one we linked below. However, for some unknown reasons, this top-up website Seagm stopped the service and now only provides it to the Indonesian region. It's such a shame to have that great deal slipped away. Yet, we still have some alternatives for Free Fire Top Up 5 Rupees India!
Free Fire Top Up 5 Rupees Alternatives
Though the Free Fire Top Up 5 Rupees Paytm service is currently unavailable in India, it doesn't necessarily mean we can't enjoy some wonderful perks in India. There are still viable methods for Indian players to earn Diamonds for free or gain 100% Top Up Bonus. On top of that, they're legal and you won't break any rules along the process. Check out these alternative ways to Free Fire Top Up 5 Rupees in India. Earn Free Diamonds 
Have you heard about the Get Paid To (GPT) concept? If not, you're in for a treat. They are an incredible tool to earn real Diamonds in Free Fire without spending any money. The idea is that you help complete certain tasks (like a survey for example) and get paid as a reward. The more tasks you finish, the more rewards you earn. Here are the two credible GPT app/website: 
Google Opinion Rewards: This app is owned by Google, so rest assured that it's trust-worthy. By finishing short and simple surveys, you will get Google Play Credit/Balance. Use this reward to exchange for Diamonds in Free Fire. 

Swagbucks is a popular GPT website that grants you rewards for completing simple tasks. You may be asked to do a survey, download an app, answer quizzes,... Users will get Google Play Giftcards or PayPal money. Friendly Reminder: The number of surveys is limited and the amount you make from them varies between regions. Therefore, some players could earn more from the same tasks as yours and vice versa. 
100% Top Up Bonus
Garena has created its own Top Up center, allowing you to earn a 100% bonus in the first purchase. It means that you will get double the amount of Diamonds you buy - what a great deal! It's a great alternative method to Free Fire Top Up 5 Rupees, considering that both require you to pay real money. You have to spend your budget anyway, so why not make it counts? How to Get 100% Top Up Bonus:
#1 Visit the Top Up website 

#2 Select Free Fire

#3 Choose your login option: via Facebook or Player ID

#4 Pick a payment method (Internet Banking, UPI, or Paytm)

#5 Select the top-up amount, the bonus provided 

#6 Confirm your payment and check the Diamonds in your account
Friendly Reminder: This 100% bonus only works for first-time buyers. The smallest amount you can top up is 50 Diamonds + 50 Diamonds Bonus for 40 Rupees. So for every Ruppe, you gain 2,5 Diamonds - much more efficient than the Free Fire Top Up 5 Rupees (1 Rupee = 1 Diamond). We hope that you now have a better understanding of the Free Fire Top Up 5 Rupees service. Though we can't really enjoy that in India anymore, there are still wonderful alternatives to take its place. So choose the one that suits you the most. And remember to stay away from the modded APK versions. They could get you in deep trouble. For more guides into Free Fire as well as a plethora of other titles, visit our website at GuruGamer.com.