Wheat is one of the most popular cooking and crafting ingredients in Genshin Impact. There are many ways to gather wheat in this game. It has many uses in Teyvat. Check out this guide on how to find wheat in Genshin Impact.
I. How To Get Wheat In Genshin Impact
Wheat is golden sun-kissed tassels that need to be ground to flour for cooking. There are two main ways to get wheat in Genshin Impact, including investigation and purchasing at grocery shops in Mondstadt, Liyue, and Inazuma.
#1. Purchase Wheat In Genshin Impact
You can buy wheat in Genshin Impact Grocery Shops in Mondstatd, Liyue, and Inazuma. It's sold by Blanche, Dongsheng, Aoi, and Kiyoko. Blanche, Dongsheng, and Aoi sell 100 wheat items every day at the price of 100 Mora for each item. So, you can buy 300 wheat items per day from these three shops with 30000 Mora. The stock will be reset after 24 hours.
Meanwhile, Kiyoko is a wheat merchant in Inazuma. She sells only 10 wheat items per week at a lower price of 60 Mora per item. But Genshin Impact players need to wait to purchase wheat from Kiyoko after a week. Besides, this female merchant also sells Milk, Tofu, Tomato, and Potato that are also necessary for cooking recipes in this game. #2. Get Wheat From Investigation
Another source of wheat in Genshin Impact is from Investigation. If you don't know how to find wheat in Genshin impact, you can use the Wheat Genshin Impact map to check out the best farming route for the biggest amount of wheat. Genshin Impact Interactive Map is very useful in collecting ingredients and materials in this game. 
Cooking ingredients, materials, weapons, and artifacts often spawn in certain locations around the map of Teyvat. These investigation spots will light up so that players can easily see and approach them, even in daylight. When you spot a spark, get close to it and touch the Investigation button. Sometimes, you will get wheat, but the other times, you get other ingredients or materials.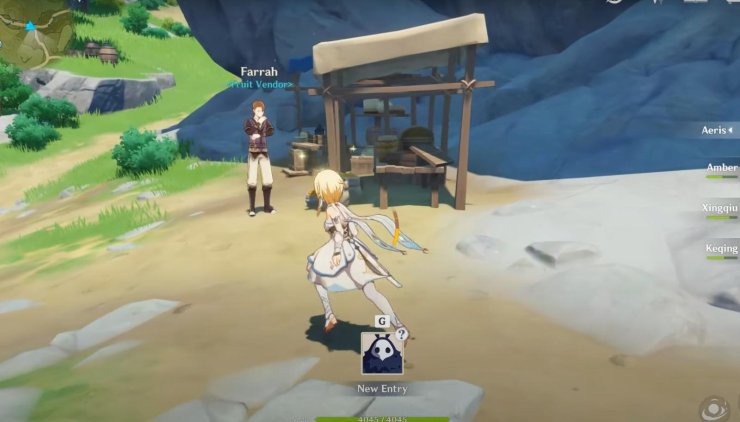 II. How Do You Grind Wheat In Genshin Impact?
Wheat cannot be used directly in cooking. It must be ground into flour in the Processing Tab. Follow these steps to grind the wheat into flour in Genshin Impact.
Buy wheat from grocery shops or gather it from the investigation.
Go to any cooking spot or kitchen on the map or in three big cities. There are many cooking spots on the map and many stoves in Genshin Impact restaurants. Dongsheng's shop also has a stove for cooking and processing ingredients.
Stand close to the stove and tab on the Cooking button to open the Cooking Tab.
Select the Processing Tab.
Select Flour and tab on it to start processing.
After the procession is done, you get the flour into the inventory. You can also cook dishes at these cooking spots with the four you have got.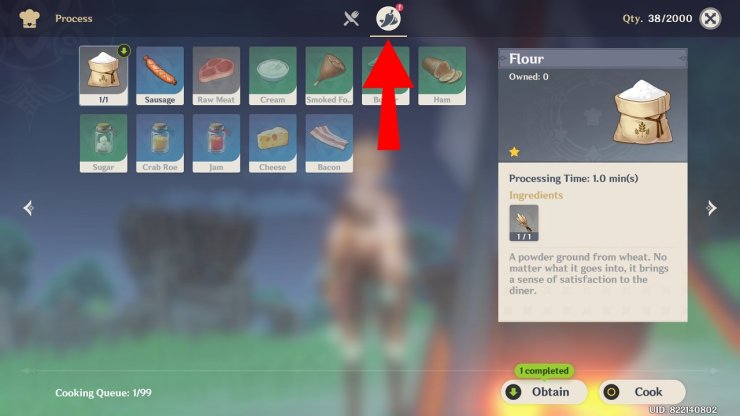 III. What Can You Do With Wheat In Genshin Impact?
Genshin Impact players need wheat flour to cook many dishes. Players also need wheat to make Fishing Baits after the recent update with the Fishing event.
#1. Recipes with wheat flour
Here are all recipes that require wheat flour in Genshin Impact now. This list can be prolonged when other recipes are added.
| | | | |
| --- | --- | --- | --- |
| Imported Poultry | Fried Radish Balls | Fisherman's Toast | Mixed Yakisoba |
| Soba Noodles | Sakura Tempura | Mora Meat | Golden Fried Chicken |
| Tea Break Pancake | Sautéed Matsutake | Invigorating Pizza | Golden Crab |
| Adventurer's Breakfast Sandwich | Mysterious Bolognese | Golden Chicken Burger | |
| Stir-Fried Shrimp | Tonkotsu Ramen | Qiankun Mora Meat | Fish-Flavored Toast |
| Noodles With Mountain Delicacies | Chili-Mince Cornbread Buns | Zhongyuan Chop Suey | Lotus Flower Crisp |
| Squirrel Fish | Tri-Flavored Skewer | Stormcrest Pie | Taiyaki |
| Cold Noodles With Mountain Delicacies | Moon Pie | Fullmoon Egg | Flaming Red Bolognese |
| Lighter-Than-Air Pancake | Mushroom Pizza | More-and-More | | #2. Fishing Bait Requiring Wheat
There are many kinds of fishing baits in Genshin Impact, each of which requires different ingredients. Fruit Paste Bait requires an ear of wheat and a Sunsettia fruit to craft 10 baits at the same time. After having enough ingredients, you go to the Crafting tables in three Cities or in the Serenitea Pot to craft this fishing bait.
You can catch six types of fish with this bait, including:
Medaka
Glaze Medaka
Sweet-Flower Medaka
Aizen Medaka
Dawncatcher
Crystalfish
Those are all about wheat and how to find wheat in Genshin Impact. Just go to gather as much wheat as possible to make flour and fishing baits now.
>>> Also Read: 7 Fun Facts You Might Not Know About Barbatos Genshin Impact