frBC is very important in PUBG Mobile Lite. You will need this in-game money for purchasing things and join events. The fastest way to get free BC in this game is by using hack tools. Here are things you need to know about PUBG Lite 280 BC hack. 
Table of Contents
About BC In PUBG Lite
PUBG Lite has a shop with a lot of stunning skins to equip. You need to spend Battle Cash (BC) to buy epic and legendary skins from the Premium and Classic crates. The chance to get rare items is very small, so you will need a lot of BC to get your wished item.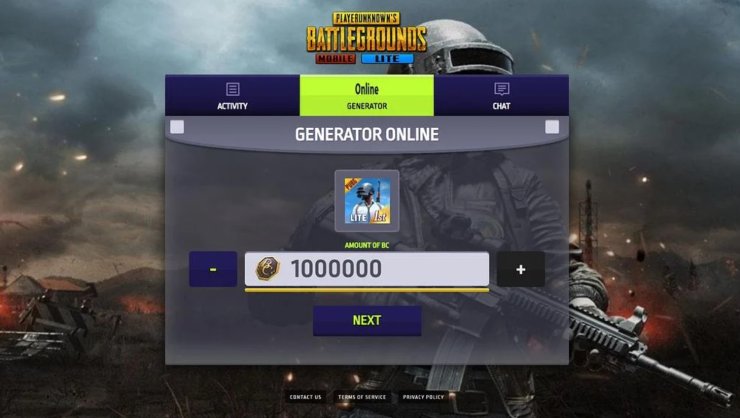 Besides, BC is also necessary for lucky spins and mini-games in special events. However, this currency is very expensive. You need to pay real cash to top up BC in this game. If you don't have real cash, you cannot exchange it for this currency to go shopping in this game. Therefore, many PUBG Lite players are finding a way to earn free BC for those purposes. You can either use hack tools or join surveys for free PC. Or else, players can use real cash to top up BC. There are many small packages of BC for players with low budgets.
How To Get Unlimited BC In PUBG Lite With Hack
The hack is often the most popular answer to the question of how to get free BC PUBG Lite. It's not allowed in this game and many other games. Game developers never want to see hackers in their game except for test progress in which they want to find bugs and weaknesses of the game. All hack tools and generators are illegal in this game. Therefore, you will get a ban from the game system when they detect your cheat. Think carefully before reading this guide for PUBG Lite 280 BC hack.
PUBG Mobile Lite MOD APK 0.21.0 Free for Android is the latest hack tool updated in June 2021. It has four cheats, including free BC, Winner Pass, Ammo cheat, and Life cheat. It only works on Android devices. Download the APK file of PUBG Mobile Lite MOD APK 0.21.0. Then, locate it in the download manager on your device. Next, install this hacked game app. Log in with your game account to get unlimited BC. However, you will also lose this account if it is reported.
Another method of PUBG Lite 280 BC hack is by using online BC generators. You can access the link pubglitehack.com to use a free BC generator. It has many advantages, such as no daily limit, unlimited free BC, anti-ban, and no installation required. Players have to enter their player names and the number of BC they need to get. The minimum amount of BC is 1000. Then, press the Start button to generate BC. This tool is safer than other hack tools because you don't need to install any app. How To Earn Free BC In PUBG Lite Legally
In PUBG Lite, players have several ways to get 280 BC for free. They are highly recommended for those who can't afford BC but they only need a small sum of this cash. Alternatively, you can also use various PUBG Cheats code from certain pages to earn free BC.
#1. Google Opinion Rewards
It's the most common way to get real cash on Google Balance wallet and top up BC. You will get a small sum of real cash for answering opinion surveys on this app. Then, the money will be sent to your Google Balance account. When you top-up BC via Google Store, you can use money in this wallet. #2. Swag Bucks
Its mechanism is pretty similar to that of the app Google Opinion Rewards. However, it has more activities to do and earn cash, such as answering surveys, questions, polls, playing games, and watching videos. #3. GymPact
This app will pay users money for doing gyms. You can earn money while doing exercises to keep fit. It's the best way to encourage PUBG Mobile players to do gyms for fitness after sitting for hours to play this game. >>> You May Also Like: PUBG Mobile Lite BC Top-Up Completed Guide In 2021
PUBG Mobile Lite 280 BC Top-Up Guide
280 BC is a small sum of game cash. It does not cost you too much money. So, you can top up it using money earning by Google Opinion Rewards, Swag Bucks, and GymPact. 285 BC only costs you Rs. 217.78. With this sum of money, you can buy the pack of 190 BC and get a 95 BC bonus. Follow these steps to top up 280 BC in PUBG Mobile Lite.
Open the game app and tap on the BC symbol in the lobby.
Choose the option of 190 BC which costs Rs. 217.78.
Complete the payment in Google Play Store.
In the payment options, choose Google Balance if you have enough money in that wallet.
Return to the game app to check out the BC wallet. You will get 95 BC extra when you top up 190 BC.
This full guide for PUBG Lite 280 BC hack has shown you many ways to get unlimited BC. But it's highly recommended for players to earn real cash from some survey apps and buy 280 BC legally.
>>> Related post: PUBG Lite Gun Damage List 2021: Which Gun Is The Best?