Fishing is surely a fun thing to do in Minecraft. This sandbox game offers a wide variety of loot from fishing, well, apart from fish. Each time you cast your fishing rod out onto the water, there's a chance of getting something pretty exciting. Here are the 5 rarest items that you can acquire from fishing in Minecraft.
#5. Enchanted Book - 0.8% Chance
For every time you cast your fishing rod, there's a 0.8% chance that there's an Enchanted Book at the end of the line. The odd is slim, but the reward is huge. On your lucky day, may even reel in a Mending Enchanted Book, which contains the best armor enchantment in Minecraft entire game. #4. Stick - 0.5% Chance
Coming in second place in the top 5 rarest items that you can acquire from fishing in Minecraft is actually stick. Yet unfortunately, no one really fishes for sticks. You can just craft some yourself using wood. Despite all that, the chance of reeling in a stick is just 0.5%. Technically, sticks are rarer than Enchanted Books! #3. String - 0.5% Chance
There's another item that also has a 0.5% chance of spawning as your catch. It's a string. Yes, another ubiquitous item that you can easily obtain from killing spiders. This is only useful when you have Minecraft at the Peaceful difficulty, which means no hostile mobs will spawn. In other cases, it's pretty much useless. #2. Fishing Rod - 0.2% Chance
The second-rarest item you can obtain from fishing is the fishing rod with a 0.2% chance. We guess this is a good thing, right? Catching a fishing rod means you can continue fishing for longer and get more loot from the water. However, with such a slim chance, you won't likely be running into a spare fishing rod any time soon.
If you need one, just make a fishing rod on your own with simple steps.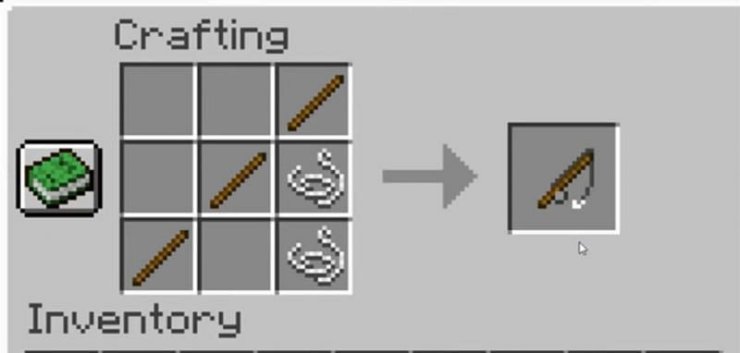 #1. Ink sac - 0.1% Chance
Concluding our list of 5 rarest items that you can acquire from fishing in Minecraft is the ink sac. This only has a 0.1% chance of happening. That means you have cast your rod 1000 times to have a chance of getting 10 ink sacs.
That's not something that we can stand behind. If you want some ink sacs, go kill some squids. They're easier to find, won't bite you back, and the process won't take you forever. >>> You May Also Like: Top 5 Sources Of Light In Minecraft