Free Fire India Championship, or FFIC 2021 all Open Qualifiers has ended on August 23, with thousands of matches played by numerous teams all over the country. Since then, teams have been waiting in anticipation of the event's result. In this article, we are going to list out the top 42 squads with the highest result in the Open Qualifier.
1 - List of qualified teams for FFIC Fall 2021 Closed Qualifiers
They will be connected directly via in-game mail from Garena for further instructions. Teams need to respond to the mail in 48 hours, otherwise, their result and slot will be forfeited for the next best eligible team. The next 50 ranked teams have also been selected to be on the waitlist. They will also be contacted via in-game mail in case there are dropout squads.
Below are all the qualified teams at Free Fire India Championship 2021 Fall Closed Qualifiers. Firstly, we have the 42 teams from the Open Qualifier:
Titanium: Army
UG-EMPIRE.
Team_Arrow
4-JODS!
Royal2Gurkha.
GALAXY_RACER_
THESTARZ!
HIGH-FIVE!
TEAM…ARROW
Asin-ClutchGods
HUSKIES..
YoungGurkhaESP
THE_IMPERIOUS
Trained-2Kill
MAVERICKS-ES.
STONE~CRUSHERS
LamaStone
PVS.GAMING.
LR7_ESPORT'S
XMATES!
EVIL-ARMY.
BACHELORS
4.Veterans
Magesh Gaming...
SILENTLY.LOUD
TEAM-GOA
LAVA>ESPORTS
TKM×ESPORTS
AMATERASUxRIP
AURA-GAMING!
STAY.AWAY.
RuLE…BREaKERS
GZxEG
We-Are-Kids
AFF-ESPORTS!
TEENAGER19
GSK-ES
38) Team_Logic7
LEADERS
FROM_THE_FUTURE
TEAM-PHOENIX20
MEGASTARS!!
Participants from FFPL 2021 Summer:
TEAM CHAOS
Team D Esports
Last Breath
Galaxy Racer
Life Hackers
Team S8UL
All teams on the top would be inspected heavily. Previously, the Anti-cheat system caught a player from team Jaanu Gaming for cheating. He was banned for his action and the team was disqualified for the tournament.
It is expected that more teams will be eliminated, as there are players who play for multiple teams in previous open-qualifiers in tournaments. This is a common rule breaking issue that plagued a lot of tournaments in Free Fire.
Free Fire India Championship Fall 2021 has a massive prize pool of ₹75,00,000 INR (~ $103,530 USD ).
2 - FFIC Fall 2021 Closed Qualifiers Schedule and Format
42 qualified and 6 invited teams will compete in two days of Closed Qualifiers on September 1 and 2. This is the biggest qualifier round, as only 25% of them will advance to the league stages. Squads in this round are from both India and Nepal. Competitors will be the Top 42 of FFC Mode Qualifiers and the 7th-12th of Pro League 2021 Summer.
On day 1 of the Closed Qualifiers, 48 teams will be split into 4 groups of 12 teams each. Each group will play a BO6 and the top 2 squads will advance directly to the FFIC League Stage.
3rd-5th from each group will move to the League Play-Ins and play a BO6 on day 2 of Closed Qualifier. The top 4 teams from the League Play-Ins qualify for the FFIC League Stage
The 10 advancing squads will be joined by the number 1-6 of FFPL 2021 Summer in the League Stage.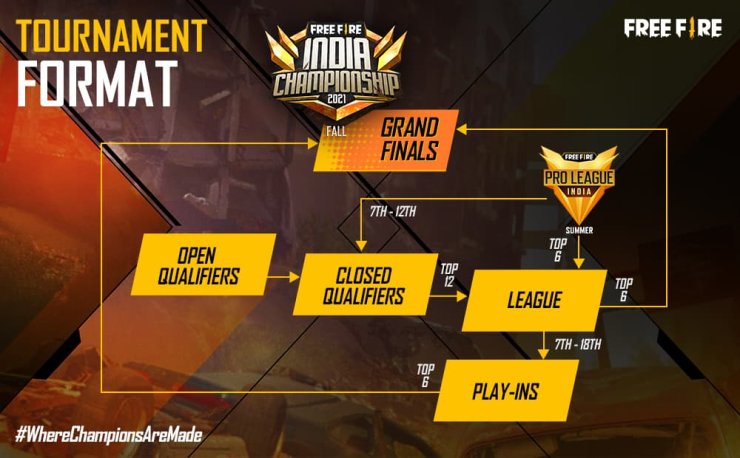 Interested in more of our articles related to Garena Free Fire? Please check out this post to find out more about Free Fire Musical Top Up II: How To Get Thrash Goth Loot Box And Thrash Metallic Gloo Wall For Free