Minecraft has many mysteries and unknown characters. Herobrine is one of some rumored legends and mysteries in this game. He is very famous in this game but most Minecraft players haven't seen him. Let's check out who he is and how to be a Herobrine in Minecraft here.
Table of Contents
Who is Herobrine in Minecraft?
Herobrine does not exist in the official version of Minecraft anymore. It's an urban story created and told a long time ago. It was introduced during the early days of the game in a live stream which then turned out to be a cheat. Up to now, a lot of Minecraft players have been seeking him but no one has really seen him in the official version. This character is only a creepypasta. There is only one way to summon this character. It's using the mod version.  This is a weird character with white eyes and a human-like appearance. Herobrine in Minecraft is rumored to be able to build and fight as a playable character in this game. He can dig a 2x2 tunnel. Moreover, he can build a perfect pyramid on the ocean, remove all tree leaves, and more.
These stories were told on a lot of forums and spread out quickly. It makes this mysterious character more famous. Those mysteries also make the game more attractive to both veterans and newbies in this game. Therefore, it must be a successful trick of Mojang.
How to become Herobrine in Minecraft?
Herobrine looks pretty like Steve, the default character in this game. The only difference to tell them apart is their eyes. The eyes of this mysterious character are totally white. To become a Herobrine in Minecraft, you can use a resource pack to customize your appearance to look like him then change your name to Herobrine. Make sure that you have turned on the Custom Item option. Follow this guide on how to be a Herobrine in Minecraft below.
Download Skins for Minecraft.
Open the app and search Herobrine skin.
Save the skin to the Photo application.
Open the Minecraft PE app and open the Clothes changing.
Tap on the option Choose new skin > select the downloaded picture on the Photo application.
Press on the custom you want before clicking on the Confirm button.
Go back to the Lobby and go to the Setting. Then, change your name to Herobrine.
After completing all steps in this guide on how to become Herobrine in Minecraft, you open the game and choose to play with the look of this character.
How to summon Herobrine in Minecraft?
You cannot spawn Herobrine in the official version of Minecraft because he does not actually exist. Players cannot find him in any version except for modded ones. So, you can only spawn this legend by using the mod. This is a full guide on how to summon Herobrine in Minecraft PE that you may need. >>> You May Also Like: Minecraft Full Version APK 0.14.0 | Free Download For Android
How to spawn Herobrine in Android?
If you play Minecraft PE on an Android smartphone, let's follow these steps to download and install the Herobrine mod.
Download and install the BlockLauncher app on Google Play Store. This free app helps manage and support mod versions in Minecraft PE. Next, download the mod version of Minecraft. You can download it from mcpedl.com. This is a very popular and reputable source for the Minecraft PE community.
Locate and download the Herobrine mode on this website. There are many different mods made by Minecraft players and fans on this website. Lord Herobrine and Herobrine/Holy Mod are the two most highly appreciated by Minecraft PE players that you can find here.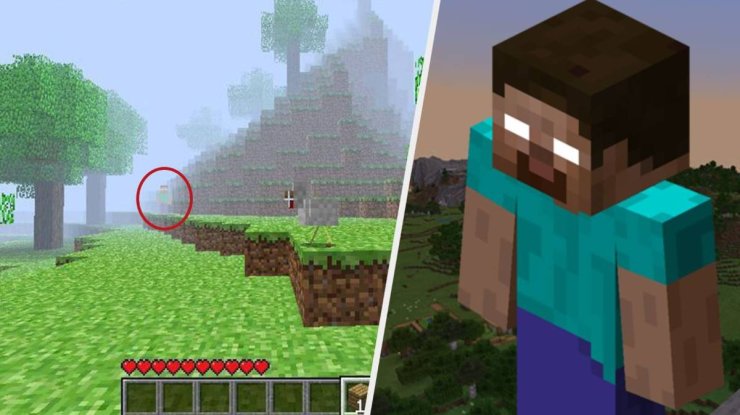 Click on the link of Download Script below the mod description to download the file with .js format for Android devices.
Then, click on the Download Texture Pack link to get the zip file. Next, run Minecraft PE. You will see the BlockLauncher app in the lobby. Tap on it to open the BlockLauncher. It will require you to restart the game. Then, it will start to download Herobrine Texture Pack. Click on Texture Pack > Select > open Download manager > select the downloaded zip file. Reopen Minecraft PE and also select the BlockLauncher option. Then, select the Manage ModPE scripts option to download Herobrine scripts. Click on Import > Local storage > Download > .js file. Summon Herobrine. You need to collect enough materials to summon this character, including Gold x2, Netherrack x2, and a Flint and Steel. Make a pillar of these four blocks, put 2 gold blocks below 2 blocks of Netherrack and make fire on the Netherrack block. Then, Herobrine will appear in your world.
How to spawn Herobrine in iOS?
To install the Herobrine mod on iOS devices, you need to jailbreak your iPhone. It may be harmful to your smartphone, so you need to think carefully. After changing your smartphone, you follow these steps to download this mod.
Open Cydia. iOS users can only download Herobrine mods on this app. Some mods even require you to download through Winterboard. Choose a good mod to download. Use the download link on Cydia to download and manage the file.
Open Minecraft PE on your smartphone and spawn Herobrine in the same way as in the Android guide. Or else, you need to learn the exclusive summon guide of the mod you use. Some mods also allow you to slap on the face of this character by a dead fish.
Those are things you need to know about Herobrine as well as the guide on how to be a Herobrine in Minecraft. 
>>> Related post: How To Make A Teleporter In Minecraft In 3 Steps