Have you ever wondered what Twitch streamers do behind their million-view live streams on the platform? Well, their lives are much more diverse than what has come up to your imagination. In general, they have a lot of jobs besides live streaming and some of whom even work in the adult entertainment industry that is considered quite profitable to them.
Putting aside every stereotype, five NSFW content creators below who are also well-known on Twitch will certainly blow your mind you.  
Note: This article reports news and photos that were publicized on social media or official channels of streamers for entertainment purposes only. Any information or comments that may cause misinterpretation, defame or distort the image of subjects involved will be REMOVED immediately once noticed. Please contact us at advertise@gurugamer.com for further actions. Thank you.
KneeColeSlaw (384k followers)
KneeColeSlaw is not only known for her argumentative animal abuse tendencies, but she is also rumored to be an NSFW camgirl. In terms of her streaming career, she is a gamer that takes part in a lot of multiplayer competitive games.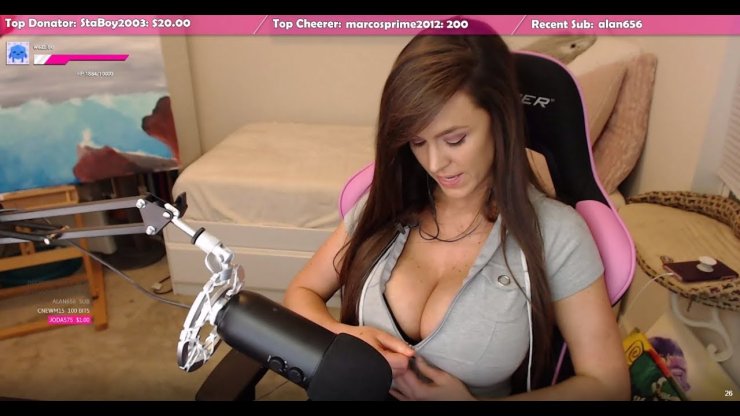 Not long ago, her appearance on Twitch playing Valorant has attracted a great amount of attention, which can bring her lots of advantages. As aforementioned, she is even popular for her NSFW videos and pictures that are always on the first trend of Twitch subreddit as well. If one day you can not see the notification of her latest streaming, then you know where to find her. 
Kaitlyn 'Amouranth' Siragusa (1.6M followers) 
With a huge number of followers, Amouranth is obviously one of the most famous Twitch streamers by far. She began her career path as a sole video game streamer, but soon after, she added much other access to her channel. Among which are contents that relate to her NSFW pornographic photos and her personal chat room on Discord which possibly used for NSFW purposes, too. Amouranth is usually regarded as the queen of NSFW. But apart from that calling, she also has other types of videos like ASMR and games such as Mario Kart 8, Donkey Kong 64, and Fortnite. 
Mia Malkova (339K followers)
Unlike other companions, Mia Malkova's starting point was a famous pornstar already. That is the reason why when she approached the Twitch streaming platform, she received considerable support from her loyal fans - those falling in love with her pornography products - who helped her attract more new followers. 
In addition, Mia has a special liking for Witcher 3. She enjoys entire features of the game, and without any doubt, it is predominantly a most streamed game on her channel. 
MissMiaRose (90.6K followers)
Compared to the other streamer in the list, MissMiaRose seems to have less reputation even when she also started from a pornstar. Her live streams are mainly about PUBG or Conan Exiles, both on her two Twitch channels. Currently, she is quite inactive on either channel, maybe for some personal issues. However, she still has a massive stable fan force. 
EmiOk (72.9K followers)
Talking about EmiOk, people tend to think of her highly entertaining VRChat live streams and videos at first hand. In fact, that is not the only field that she is making contents for. She takes interest in playing lots of competitive shooting games, and she masters the skills in both CS: Go and Rainbow Six: Siege as well. Recently, she has dipped her finger in making NSFW contents that can be the Twitch subreddits helping her earn huge profit in the future.