Michael Grzesiek, or better known professionally as Shroud, is a Polish-Canadian Counter-Strike: Global Offensive Legende turned streamer. He competed professionally for three years in Cloud9 before stepping down to dedicate to full-time streaming. Thanks to his extraordinary skills, Shroud quickly masters new mechanics in the markets and completely dominates every game that he plays, most notably, PlayersUnknown's Battlegrounds. Many of Shroud's fans are trying to find him in PUBG and play together, but only the lucky ones succeed. And after the introduction of restrictions on the game in some countries, it became almost impossible to play with him. Fortunately, real fans have found a solution in a VPN for PC. A couple of fans who changed their IP said that they were able to change servers in the game and even get into the game with their favorite pro player.
The famous streamer, though, rarely shares his personal life on air. Little is known about Shroud girlfriend, but, we're here to change that. Stay tuned as we unveil Shroud's significant other. 
Shroud Girlfriend: Jessica Rago - The One That Got Away
Before the current Shroud girlfriend, there was Jessica Rago. She's half-Korean, one-quarter Italian, and one-quarter Irish. Rago shared in a tweet that her father was in the U.S Air Force, and her family has settled in different parts of the world for years. After spending a decade in Europe, they returned to the States when she was at the age of 12. What Did Jessica Rago Do Before Becoming Shroud Girlfriend?
Rago studied a bachelor's degree in linguistics at the University of Georgia, and briefly attended the Soul's Yonsei University. She taught English for little children in Seoul at the Korean Poly School between 2012 and 2014. In 2015, she returned to the U.S with since then has been living in Georgia with her family. Jessica Rago and eSports have a long history. Rago was a volunteered writer and translator for OGN global - an eSports production company. She also worked in the content managing team of LolPro. Later, Jessica Rago spent three years at the premium gaming accessories brand - HyperX. That could be how she met Shroud, who was one of the brand's ambassadors. Why Shroud And Jessica Rago Broke Up?
It was uncertain when the two started dating, but they were surely a cute couple. She sometimes made an appearance in his gaming videos, or even on stream. The couple also used to show their affection towards each other on Twitter. Together, they owned two dogs. Troy, a German shepherd/Siberian husky crossbreed, and Miso, a Jindo mix. Shroud viewers are especially fond of Troy, who appeared regularly on his stream. The couple didn't show any indication that they were having problems. So when Jessica Rago announced on Twitter that they decided to split up, it was a surprise to everyone. Though being a private person, Rago still shared their status on social media platforms since there are fans of the couple who followed them for a long time. Apparently, Shroud and Rago parted with no hard feelings. She didn't reveal the explicit reason for their break-up, leaving only "our lives are taking us down different paths." And about the dogs, Rago has the main custody of Troy and Miso. Since their split, Troy only appeared once on Shroud's stream. Shroud Girlfriend: Hannah Kenedy - The Present Muse 
A few months later after his break-up, Shroud was reportedly dating Hannah Kenedy - who is now his present girlfriend. She's also a Twitch streamer by the name of "Bnans". Here's everything we know about her. Who is Hannah Kenedy?
Hannah Kenedy, also known by the Twitch name of "Bnans", is an American born gamer, streamer, and the current Shroud girlfriend. She got her nickname when she was a child. Family members have a tendency to name a child after their personality, traits, or something that stands out from others. Hannah got her very first nickname "Banana" for her cuteness and it sticks with her ever since. Gradually, it was reduced to only "Bnans" when she was in her teenage years. How did Hannah Kenedy Get Into Gaming?
People don't just know Hannah as Shroud girlfriend name, but she's also a hardcore gamer and famous streamer on Twitch. Bnans started gaming since she was only 6 years old with titles such as Oregon Trail and Concentration. Now, she has a large pool of games played across multiple platforms. She mostly streams shooting games such as Tom Clancy's Rainbow Six: Siege, PUBG, and Destiny (1 & 2). When the constant debate between fans of Play Station and Xbox continues heating up, Hannah is one of the few mavericks who take it well beyond. She also played on Nintendo and Sega as well as the other two famous platforms.
If you're curious about Hannah's gaming skills, make sure to visit Shroud girlfriend Twitch channel. Bnans And Shroud 
The couple confirmed they were dating back in April 2019, just a few months after Shroud broke up with his ex-girlfriend Jess. The fans show their support the two famous streamers, praising that they're made for each other on Shroud's sub-Reddit. Since then, Bnans has moved in with Shroud in his new gaming house and made various appearances on his live stream.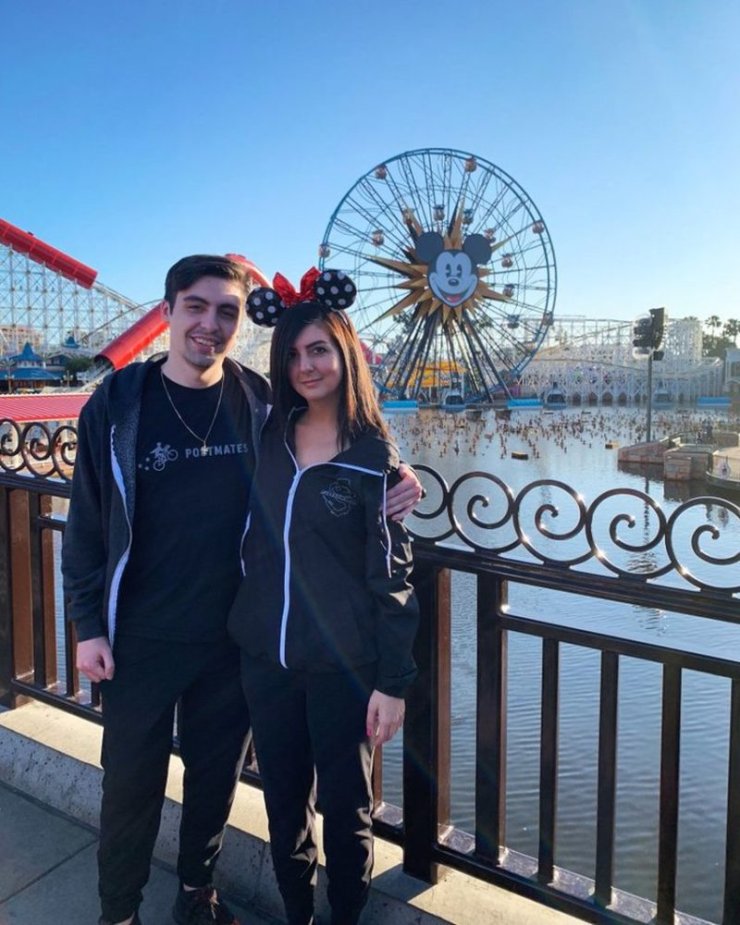 The female streamer, though isn't of the same level of popularity as her boyfriend, still rallies quite a success on her own. Shroud girlfriend Hannah Instagram account has 87,500 followers and over 100,000 on Twitter. But that's not where it's at. Being a known streamer, Shroud girlfriend Twitch channel enjoys over 1.7 lakh followers and a total of more than 30 lakh views. Shroud himself acquires over 1.1 crore subscribers across both platforms. Despite being one of the biggest names in the newly "hip" streaming industry, Shroud and his girlfriends rarely share their couple experiences on social media. The former "Twitch King" does post some of the moments on his Instagram account though. If you're up for news, updates, and useful guidelines into the world of gaming, be sure to head out to our website GuruGamer.com.