After the two days of Closed Qualifier, 12 teams have advanced to the next stage of the Free Fire India Championship or FFIC 2021 Fall. Alongside the top 6 teams from Free Fire Pro League 2021 Summer, they are going to participate in a lengthy League stage that lasts for 9 days.
In this article, we are going to showcase all 18 teams revealed for League Stages to see which ones amongst them are the biggest candidate for this tournament.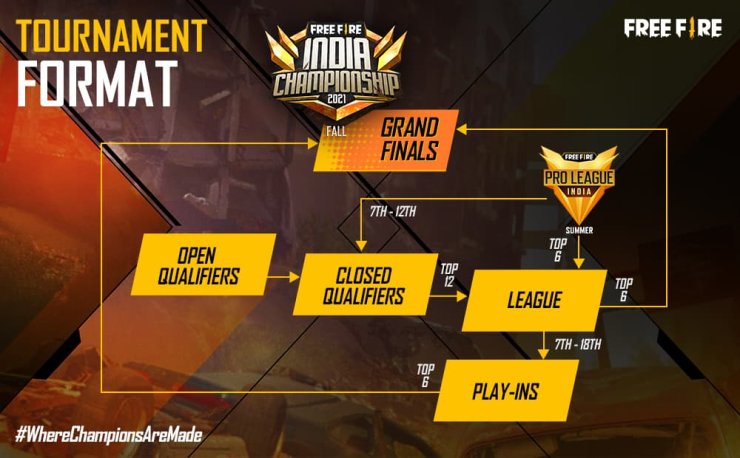 1 - Participating teams in FFIC 2021 Fall League Stage
There are 18 teams in FFIC 2021 Fall League Stage in total, including 6 teams from Free Fire Pro League with direct invites and 12 teams from Closed Qualifier. Here's the full list.
Top 6 of FFPL 2021 with direct invites:
Total Gaming
4 Unknown
Blind
Team Elite
TSM- FTX
Desi Gamers
Closed Qualifier participants:
Aura Esports
Team Arrow
LR7 Esports
Trained to Kill
Team Chaos
PVS Gaming
Titanium Army
Galaxy Racer
From the Future
Head Hunters
Skylightz Gaming
UG Empire
2 - FFIC Fall 2021 League Stage format & schedule
Format
This is the third of the 4 major tournaments announced earlier this year by Garena for Free Fire India. It boasts a massive prize pool of 75 Lakhs INR. The above 18 teams will be divided into 3 groups, with each team ranked based on its standing within the group only.
At the end of the League Stages, the top 6 (2 best teams in each group) will advance directly to the Finals. The rest of the teams will participate in yet another play-ins round for the other 6 slots.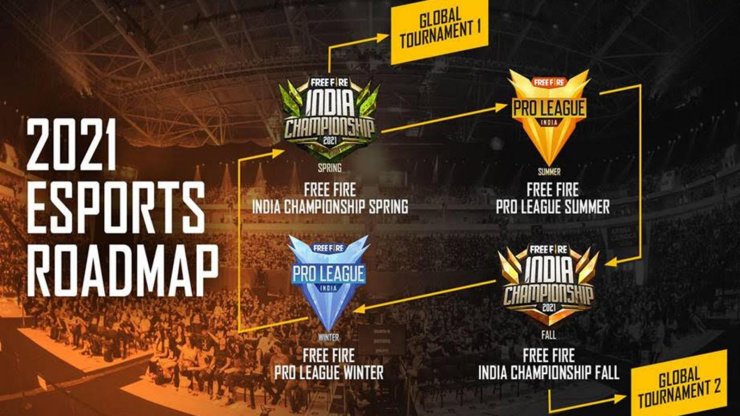 Schedule
The Free Fire India Championship Fall League Stages will start very soon, on Sept 17. Matches will be played from Friday to Sunday every week.
Day-1 - September 17 (Friday) - Group A and B
Day-2 - September 18 (Saturday) - Group B and C
Day-3 - September 19 (Sunday) - Group A and C
Day-4 - September 24 (Friday) - Group B and C
Day-5 - September 25 (Saturday) - Group A and C
Day-6 - September 26 (Sunday) - Group A and B
Day-7 - October 1 (Friday) - Group A and C
Day-8 - October 2 (Saturday) - Group A and B
Day-9 - October 3 (Sunday) - Group B and C
In the previous tournaments, the top teams will be able to participate in the World Series 2021. Sadly, it is now canceled due to the COVID-19 pandemic. We might see the return of regional tournaments like the Free Fire Continental Series later.
3 - Which are the strongest teams in the FFIC 2021 Fall League Stage?
The previous season, the Spring Split, was won by Galaxy Racer Esports. They have done pretty well since, taking the 4th spot in the recent Free Fire City Open Nationals. It is highly likely that the defending champion will be a big contender for the grand prize.
Last season's runner up team Chaos and third place team Elite are also here as well. They were also doing really well in earlier tournaments and will be a force to be reckoned with.
Outside of these 3, famous names like Total Gaming (FFPL Champion), 4 Unknown, TSM and Titanium Army are likely to perform well in this tournament. Blind and Head Hunters are also veterans from the recent FFCO. This League Stage is going to be stacked, with most of the teams are experienced squads from previous tournaments.
Interested in more of our articles related to Garena Free Fire? Please check out this post to find out more about Free Fire Upcoming Events In September