All Free Fire wants to get as much diamond as possible. With this virtual currency, we are able to purchase our coveted outfits, characters, weapons skins, pets, and many other special features that not only make our in-game character more professional but also give us some advance in the battle.
However, as most of Free Fire diamond hack websites and platform turns out to be a scam which lures kids and inexperienced played into the trap of losing money and even their account, many players have been searching for how to hack Free Fire diamonds 99 999 without human verification. However, among hundreds of websites you can find on the internet, is there any app where you can hack free fire diamonds 99999 without human verification? If yes, what are they?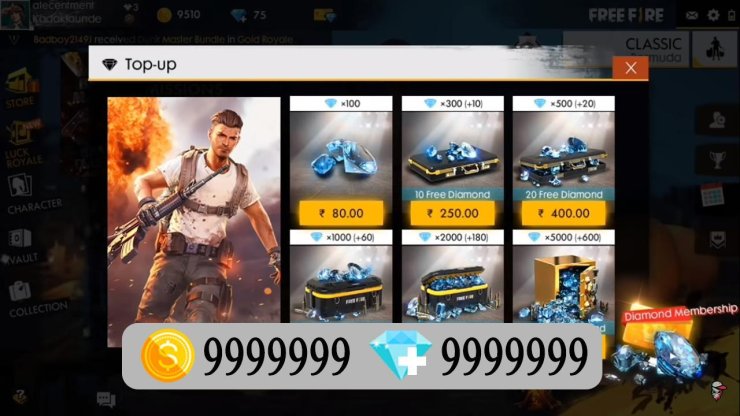 Hack free fire diamonds 99999 without human verification: why players need it?
Being one of the most popular mobile games not only in Indian but in all over the world, Garena Free Fire is being in full swing with more and more play to join every day. As most of them are students, topping up a big amount of diamonds to buy luxury in-game items is merely impossible. That is why so many websites and apps have been set up, promising to give away unlimited or 99999 diamonds FOR FREE.
The common point of these websites is to ask players to submit their game name, ID, the number of diamonds and coins they want to get. After processing for a while, these websites will ask the player to complete the human verification step to receive the expected diamond.
Also read: FACT CHECKED! Does Tiger Shroff Plays Free Fire And What Is His ID? As an anti-robot method, these websites will require players to complete missions to receive diamonds as rewards. The most common human verification methods on these websites are doing surveys and installing some software into their phones. After testing most of Hack free fire diamonds 99999 websites, we found out that all of these websites are all fake as players will not receive any diamonds or coins after completing the task. This is why many players are now seeking for how to get free diamonds in FF without human verification hoping that they can avoid scams and online frauds.
So is there any way to hack Free Fire diamonds without downloading untrusted apps or doing a survey? Hack free fire diamonds 99999 without human verification: everything comes at a price
By September 2020, we can state that there are no legit websites where you can hack free fire diamonds 99999 without human verification. Although there are a few websites like Lulu Box or Lucky Patcher which give you real diamonds, your happiness won't last long as your account will be banned by Garena after just a few days.
In fact, Garena pays no tolerance to any means of cheating including Free Fire diamond hacks. As the anti-cheat system is being improved In addition to that, please do not visit suspicious websites, click on untrusted links or download any unauthorized apps to your phones as you will face the risk of a cyber attack. As a result, your personal data like photos, videos, and other information can be stolen for evil purposes! Think twice before following some instructions to hack Free Fire free diamond link without human verification on these websites.
Suggested post: Free Fire Ultimate Guideline For Aggressive Players To Get Booyah In Every Match Legit ways to earn Free Fire Diamonds for FREE!
Just like many other games, to get the in-game currency in Free Fire and purchase virtual goods, players need to top up with real money. However, as most Free Fire players are young students who cannot afford a large amount of money, buying diamonds is really a matter. Instead of searching for how to hack ff diamond hack without human verification and put yourself at risk of being banned or hacked, why not try to earn some free diamonds via legit methods as following: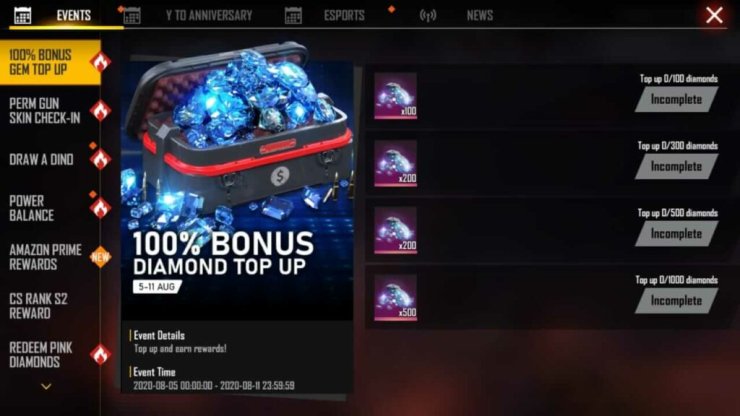 1. Via get-to-paid websites
The most popular way to earn vouchers for free diamonds is by doing a survey on get-to-paid (GPT websites) like Google Opinion Rewards or Swagbuck. Although the amount of money you earn for each survey is not so much, it won't take too much time and the most important thing is it's absolutely trusted and legitimate.
2. Completing missions in Free Fire
Another way to earn diamonds and goods from the game is by taking part in events and missions like login for 7 days in a row, sharing a link to your social media profile, and get rewards. All of these tasks are not too challenging and the prize you might get is also so worthy.
Apart from it, it's easy to top-up Free Fire diamond at a cheaper price as there are many different promotions and top-up events. On the other hand, instead of saving money on top-up, you should also learn how to make money from playing video games so you will never have to think about how to hack free fire diamonds 99999 without human verification again.