Free Fire OB28's Advance Server has finally been released, along with the various new features that Garena wants to test for the upcoming OB28 update. Players can also report bugs and glitches for a chance of a diamond reward.
In this article, we are going to list the various new contents and features available in this new patch. Take note that not all of these additions would make it to the actual update.
New Features In Free Fire OB28 Advance Server
1 - New Duck Pet: Dr. Beanie
Looks like the new pet added in this OB28 patch is going to be a duck named Dr. Beanie. His description states that he insists on people calling him "Dr" while he's obviously not one. Dr. Beanie's ability is called "Dashy Duckwalk". It is a passive ability that buffs the movement speed while crouched by 30% (60% at max level). This pet is deceptively useful, as crouch walking is actually pretty OP in Free Fire, especially when you are sneaking around in buildings. At the higher tier, everyone is used to footsteps detection... but crouch walking does not make any sound.
2 - New Character D-Bee
Garena often reveals one or more characters during advance server tests, and OB28's new addition is called D-Bee. He is a musician with a passive ability called Bullet Beats. With this ability equipped, D-Bee's accuracy and movement speed would increase massively if you fire while moving.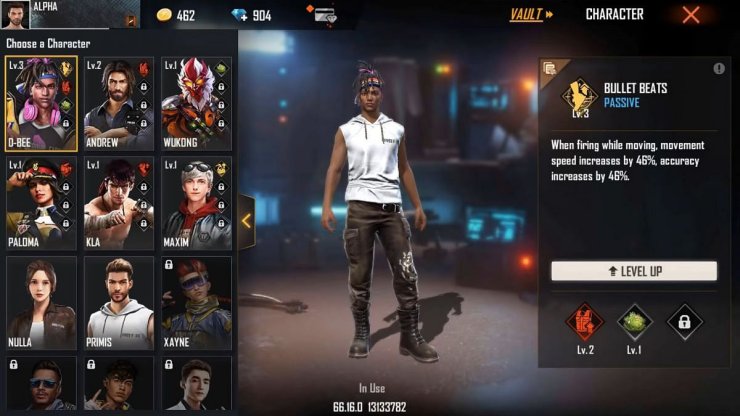 The value is a whopping 35% at level 1 and increases to 70% at the maximum level, which is massive. This skill has great synergy to "spam" type of weapons like the MP40 that you often fire while moving around. It is likely that Garena would rebalance the number upon release, as these values are just too high. At least D-Bee won't be as imbalanced as Chrono, as his ability does not really increase HP or damage.
3 - New weapons
Kingfisher
The new Kingfisher AR is going to be on the faster side, unlike the Parafal or the AK. ARs with a high fire rate is usually considered better than average, as you can headshot people easier. Uzi
The new Uzi is more like a pistol/SMG hybrid - it uses pistol ammo and is equipped on the pistol slot. Unlike other pistols, the Uzi has a very high fire rate and is very efficient in close-range combat. It is likely that they will add a feature for "akimbo Uzi" in a later patch, as many other games have it. >>> Read more: Free Fire × McLaren Collaboration: Everything You Need To Know
4 - New Ice Grenade and Hailstone Fist Skin
Apparently, two new ice-themed items are going to be added in OB28: a new Ice grenade and the Hailstone Fist skin. It works the same as the normal grenade but has the extra effect of slowing enemies caught in its blast. 5 - Other changes
The entire UI for the settings has been revamped to be simpler and more accessible. New options were added for the grenade slot and run mode.
A new mode called Rampage: New Dawn has been added.
New car racing mini-game. Interested in more of our articles related to Garena Free Fire? Please check out this post to find out more about Free Fire Shirou Vs Maro, Who Is Better In Ranked Mode.