Free Fire's character system is the highlight and most unique part of its gameplay. Players can build their own set of skills to use in combat, based on their playstyle. This is very important in the competitive ranked mode, in which every single little thing matters.
In this article, we are going to go through the two newest characters in Free Fire, Maro Vs D-Bee, to see which one is better in Ranked.
1 - About D-Bee's ability
D-Bee's ability is a passive skill called Bullet Beats. With this skill equipped, D-Bee's movement speed and accuracy would increase exponentially if you fire and move at the same time. Don't count too much on this ability while moving around - it only lasts for a very short duration.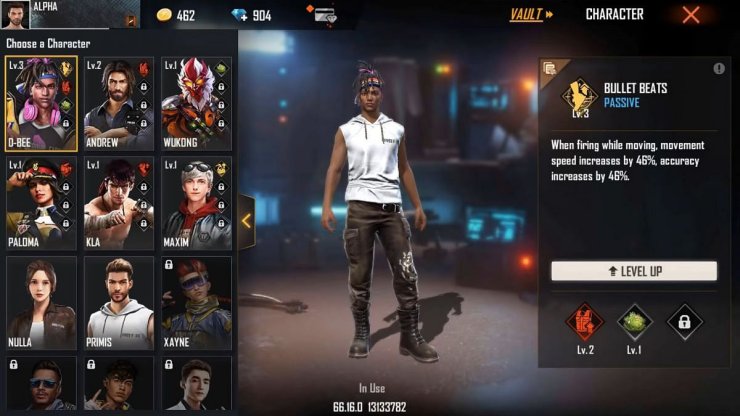 The most valuable part of this skill is its high numbers - this is probably to make up for the inaccuracy caused by moving and shooting at the same time. At max level, Bullet Beats gives you +15% of movement speed and 35% accuracy when firing while moving. This is amongst the highest speed bonus in Free Fire to date. Furthermore, it also stacks with Alok's bonus, which means you can move around the battlefield at a super-fast speed while firing.
2 - About Maro's ability
Maro's ability is a passive called Falcon Fervor. His ability is pretty straightforward - it just increases the damage you deal based on the distance to the target. At max level, the damage bonus is a whopping 25%. There is a 3.5% bonus damage on marked targets as well. This means you can combo Maro's ability with Shirou, Moco and Clu. Maro's ability is overall suitable for snipers and assaulters, who mainly use ARs, DMRs and SRs. Unlike Shirou who's restricted on Shotguns or SRs for the maximum damage, Maro can use other weapons just fine. Sniper rifles have the highest range in Free Fire therefore they are good to combo with Maro. Falcon Fervor also works fairly well on ARs and Marksman Rifles, as these weapons also have a decent range.
>>> Related post: Free Fire OB28 Patch Notes Analysis: New Character, New Pet, And Skill Rebalances
3 - Maro vs D-Bee: Who is better in ranked mode?
Overall, Maro is way better than D-Bee in ranked mode, as his skill is just easier to use. You can just grab any of the long-range weapons and go to town, unlike D-Bee's ability that doesn't really work on these kinds of weapons. Furthermore, in a battle royale like Free Fire, medium to long-range fights are common.
Maro is easier to combo with other characters as well, with his ability giving bonuses to marked targets. Clu's ability was buffed greatly in OB28 and she is the best candidate to combo with him.
Interested in more of our articles related to Garena Free Fire? Please check out this post to find out more about the Top 5 Indian Free Fire YouTuber With The Most Subscribers (June 2021).