A few days ago, a viewer accused Valkyrae of being shameless after this popular streamer didn't go to the gym (as she planned) and spent much time watching her ex's live stream. Valkyrae, born Rachell Hostetter, is known as a popular gaming YouTuber and streamer. Her playground is YouTube in which she attracts more than 23 lakh subscribers. Some of her favorite games consist of Hearthstone, League of Legends, Fortnite, and of course, Among Us - the game that has rocked the gaming community in a recent period.
Valkyrae has teamed up with many streamers to play Among Us on live streams. She honestly said on Twitter that she has got addicted to the multiplayer game. Accordingly, Corpse Husband and many other users commented on her tweet to share their feelings. The faceless streamer with a deep voice also admitted that like her, he is addicted to Among Us.
A Twitter user named Fluffycatt suddenly replied to his comment and criticized Valkyrae for not going to the gym and watching live streams of her ex-boyfriend Michael "Sonii" Sherman all night. Sonii now works as a YouTuber and Twitch streamer at T1 North America.
It seemed that Valkyrae said to her viewers that she was going to the gym on her live stream; however, she then watched her ex's stream instead. And the weird viewer immediately accused the 28-year-old streamer of being shameless, not transparent, and fake. He even said that her recent two streams were just trash. His comments didn't receive any support from other Twitter users. Some tried to speak sense to this guy while others frankly said that Valkyrae can do whatever she wants. However, he kept expressing his hatred for her, making netizens unpleasant.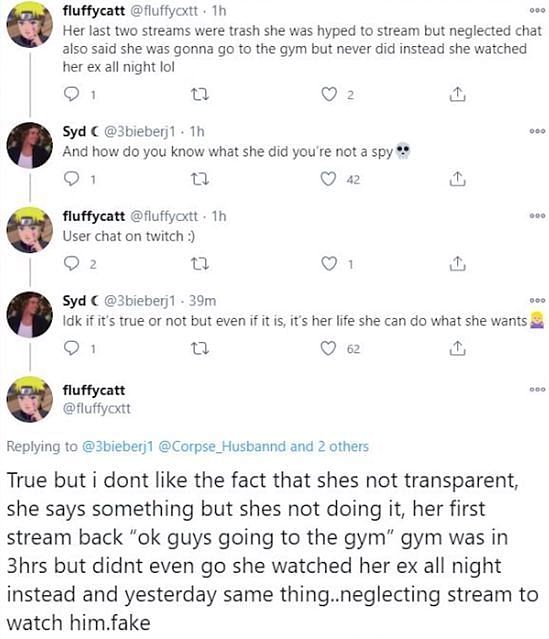 Apart from Corpse Husband, many streamers and content creators including Jake Lucky and even Sonii then knew about this incident. They all feel uncomfortable about this weird guy's dictation or obsession with Valkyrae's life.
Note: This article reports news and photos that were publicized on social media or official channels of streamers for entertainment purposes only. Any information or comments that may cause misinterpretation, defame or distort the image of subjects involved will be REMOVED immediately once noticed. Please contact us at advertise@gurugamer.com for further actions. Thank you.
>>>Read more: Join Kiss Or Kick On Balls Challenge, YouTuber Painfully Lost A Testicle