Garena is constantly adding new characters to Free Fire in order to make the game fresh and retain players' interests. One of the more crucial additions is the new characters, with the newer characters being much more powerful than the older ones. Chrono is a prime example - his shield skill was so imbalanced the metagame of the patch was changed forever. In this article, we are going to list out all the Free Fire New Characters 2021 and compare them to see which one is worth buying. Both new characters in OB28, Sverr and Snowelle, are also going to be on this list.
List of Free Fire new characters 2021
1 - Shirou
Backstory
Shirou has been working as a delivery boy since he was a child. Because of that, the guy grows up to be a master biker and fighter. While he's not on the job, Shirou trains at the Wukong Fight Academy.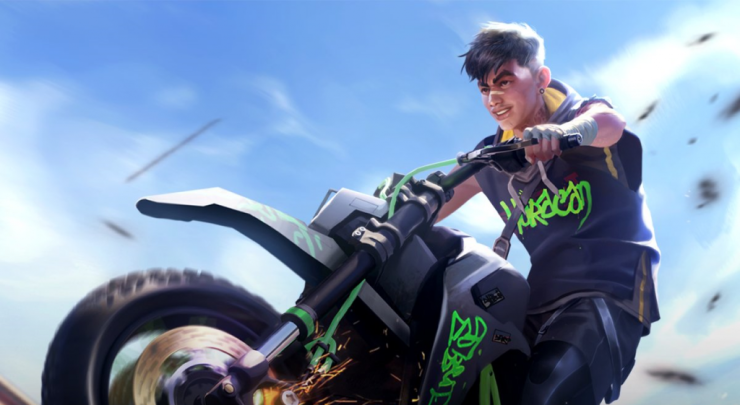 Ability
Shirou's ability is a passive skill called Damage Delivered. This skill would mark the first enemy who shot at him (marking only visible to the user). Furthermore, his first shot against the marked enemy will have extra armor penetration. At max level, Shirou's ability has 100% additional armor penetration and 20s CD. Usage
The best part about Shirou's ability is its multiple effects. Damage Delivered both tracks the enemy and provides bonus damage against them, which are super useful in both long and short-range combat. The 100% armor penetration shot can be pretty deadly if you are using a Sniper Rifle or Shotgun with Shirou.
2 - Skyler
Backstory
Skyler got his rise to fame as the hottest pop singer-dancer in the country, and he is now the CEO of a large entertainment company. Skyler strives to be the best musical performer in the business and to find other talents for his company. Overall, Skyler has no relation to the island of Free Fire or the battle royale experiment. Ability
Skyler's ability is an active skill called Riptide Rhythm. At max level, it would unleash a sonic wave forward that damages 5 Gloo Walls within 100m. CD 40s. Furthermore, for each Gloo Wall deployed, Skyler gains 9 HP regen.
>>> Read more: Top 3 Skill Combinations For Skyler Character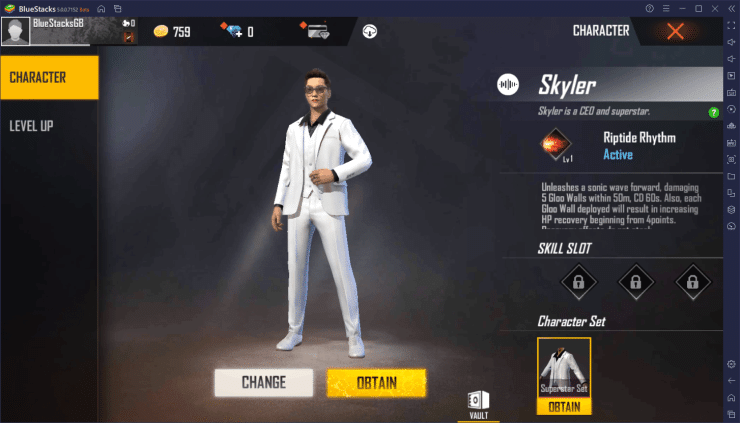 Usage
Skyler's ability is the second-fastest spammable heal in Free Fire. Its 9HP/s regen is almost doubled that of Alok. The Gloo Wall damage effect is decent when combined with high damage weapons like the M82B or AWM. You can destroy enemy walls with just one hit after skill activation. Remember to take the Mr. Waggor pet when using Skyler for those extra Gloo Wall Grenades.
3 - Xayne
Backstory
Xayne is a free-spirited girl and she was always interested in extreme and dangerous sports ever since she was a kid. Xayne is hooked to the adrenaline rush of these sports... and she wants to explore life and its limits.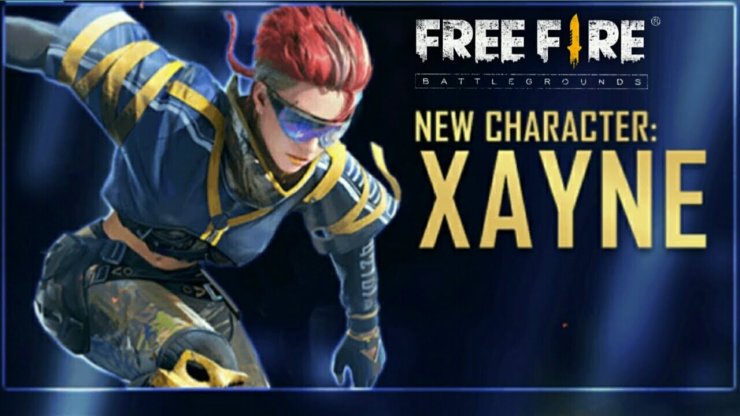 Ability
Xayne has an active skill called Xtreme Encounter. Upon activation, the user gets 80 HP temporarily, along with 100% increased damage to Gloo Walls and shields. The effect lasts for 10 seconds - after it expires, Xayne loses 80HP (non-lethal). Has 100s CD.
>>> Also read: Top 5 Abilities To Combo With Xayne Usage
Xayne's ability is one of the most straightforward solo skills in Free Fire. The instant 80 HP boost lets you have an edge in any direct fights... and the bonus damage on Gloo Walls aid in long-range snipes. Enemies can't just throw down a Gloo grenade to avoid your attacks anymore.
4 - Maro
Backstory
Maro is free-spirited a falcon trainer. He prefers the company of animals over humans. His aspiration is to be an agent of nature and bring other humans closer to nature using his birds. Ability
Maro has one of the best passive abilities ever added to Free Fire. His Falcon Fervor increases weapon damage based on distance, up to a maximum of 25%. Furthermore, it also gives 3.5% extra damage against marked enemies (from Clu, Shirou, Moco's abilities).
>>> More details at: Which Are The Best Skill Combo With Maro Character? Usage
Maro's passive is an essential component for all sniper builds. Marksman Rifles and Sniper Rifles already have high damage... with the extra 25% added on top of that from Maro, you should be able to one-shot kill players even with helmets.
5 - Snowelle
Backstory
Snowelle is an inventor working for the Free Fire organization in developing killer androids. Her first working prototype is the android A124. However, Snowelle seems to have a change of heart and orchestrates A124's escape, destroying the lab in the process. Ability
Snowelle's ability is a passive skill called "Nano Nerves". With this ability, the first enemy hit by her bullet would be unable to activate their skill or regenerate HP with EP. At max level, the cooldown decreases and the duration increases. Usage
Nano Nerves is the ultimate counter for almost all imbalance active abilities in Free Fire. If you got the drop first, enemies would not be able to activate their Chrono shield or Xayne boost... while even K's passive aura gets disabled. This ability could have work wonders when Chrono was dominating the meta.
6 - Sverr
Backstory
Sverr is an MMA fighter whose hobby is to battle strong enemies. He was having a good career until defeated by Kla, Free Fire's Muay Thai expert. It is likely that Sverr heads to the Free Fire island afterward for revenge. Ability
Sverr's ability is an active skill called "Going Berserk". It sacrifices some of his HP for temporary bonus damage. At max level, you only need 30HP for 20% bonus damage that can be stacked on top of Maro's Falcon Fervor. Usage
Sverr's skill is definitely going to be a top pick... especially in sniper builds. While engaging at a longer range, having 30 less HP does not matter that much. This ability can also play a part in boosting up Hayato's skill, whose bonuses get higher the lower your HP.
7 - Who is the best Free Fire New Characters 2021?
If you have to pick one character to buy, Snowelle is probably the top choice. Her ability is an easy-to-use passive that trumps over pretty much everything... as long as you get the drop on your foes. After Snowelle, Maro should be the runner-up - both their abilities are passive without any complicated requirements to use. They are the best Free Fire New characters 2021 so far.
To try out Snowelle, you can register for the Advance server ob28.
This is the end of our list for all Free Fire New characters 2021. Interested in more of our articles related to Garena Free Fire, check out similar posts below!
>>> Related post: P90 Gun In Free Fire: Everything You Need To Know About This Weapon